Four jewellery brands to watch from Handmade Contemporary Fair, Johannesburg
Natural materials and eclectic design unite jewellers at Africa's leading design fair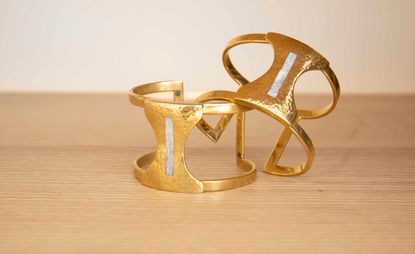 (Image credit: Elijah Palm)
Wallpaper* Newsletter
Receive our daily digest of inspiration, escapism and design stories from around the world direct to your inbox
Thank you for signing up to Wallpaper. You will receive a verification email shortly.
There was a problem. Please refresh the page and try again.
African design enthusiasts descended on Johannesburg over the weekend (1 – 3 September 2023) for the 17th edition of Handmade Contemporary, Africa's leading design fair. For founder Lesley Hudson, it was a passion project that has grown into a region- and sector-wide mandate. 'While some might feel that Africa is a continent with extraordinary talent, and a very rich and diverse heritage, much of this is unrecognised. Increasingly, however, makers of handcrafted African luxury products have found their voice and there is an increasing demand for what they have to offer.'
With the event now an integral part of the continent's design calendar, Handmade Contemporary 2023 was a particular tour de force for the jewellery landscape. Whilst Africa is home to much of the world's gold, diamond and coloured gemstone reserves, jewellery artists eschewed the expected and leant into imaginative material choices, celebrating and in some instances contemporising traditional craftsmanship and articulating the myriad stories that make up this vast continent. We select some of the fair's highlights.
Handmade Contemporary 2023 highlights
'We have a bit of a cult following and I think it is because what we do is so original,' observes Chimene Wynne, owner of Jade Melrose Arch, which is part of Jade South Africa that was founded by Karin Delport. Wynne makes one-of-a-kind pieces and whilst pearls previously took centre stage in her material choices, they have been joined by found objects from beach walks and gemstones that she often chooses to leave in their natural state for surprising juxtapositions. 'My favourite is the raw gem, and if you mix it with a pearl, it looks amazing as you're not expecting a classic component too.'
For Rwandan luxury house Mille Collines, jewellery was a natural progression from an exceptional sustainable apparel offering, which has also seen expansion from Kigali to stores across South Africa. CEO Maye Srouji explains: 'We strategically placed sisal or bone as centrepieces to our designs. Sisal as a natural fibre has been used in traditional Rwandan crafts for centuries and we wanted to showcase its beauty and versatility.' Recycled brass rather than gold acts as the metallic counterpoint and augments further the brand's circularity credentials.
Leigh Shakenovsky of Leigh Avenue creates jewellery that appeals to those who are drawn to uncomplicated pieces that riff on how place and memory often segue with colour. Regarding her breakout enamel collection, she notes: 'Livi's Road is inspired by the birth of my daughter but mostly by my African heritage and the culture of fireside chats, safari, sunsets and being outside in flora and fauna. This is why each piece has very a specific title, like "Calabash Couture", "Bohemian Baobab" or "Serengeti Sunday".'
Seeking a way to navigate notions of identity and upend systemic injustices that may end up internalised via striking pieces might seem like an audacious call to arms, but it is one that Faith Baloyi, founder and creative director of Negritude, takes up wholeheartedly. 'When I first came across the historic Negritude movement, I thought, what a beautiful offering to the world, from this group of scholars for Africa.' In Baloyi's hands, antique brass objects, beads, amulets and other elements she 'cosmically collides with' are fashioned by hand into contemporary takes for a future-present African Utopia.
The jewellery artists featured are but a snapshot of a larger discourse on what constitutes 'African jewellery design'. Cross-cultural pollination, sustainable practices and vivid storytelling all have their place, but perhaps most pertinent is that the lens of enquiry and expression is truly Africa-Centric.
Receive our daily digest of inspiration, escapism and design stories from around the world direct to your inbox