What can technology do for us? Hyundai investigates through art
Hyundai Motorstudio's exhibition 'Human (un)limited' explores technology's human impact through art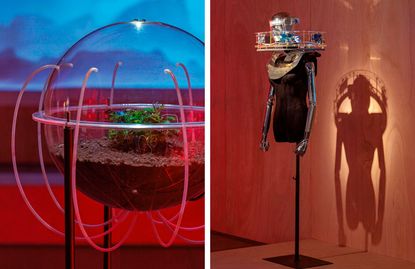 (Image credit: Photography: Jonathan Leijonhufvud)
The installation constructs a chain reaction of a loop configuration to express the interconnected relationship between organisms, machines and nature. In the age of information, the striving for economic efficiency from those in power is predicted to turn technologies, for example, electroencephalography (a monitoring method to record the electrical activity of the brain), into tools for surveilling without limits.
'Technology, like art, is a soaring exercise of the human imagination,' said Daniel Bell, the renowned late American sociologist, in the 1980s. 'Art employs techne; techne, too, is a form of art that bridges culture and social structure and in the process reshapes both,' he elaborated. This entwined relationship between humanity and technology takes centre stage in Hyundai Motor's latest Global Art Project: 'Human (un)limited – Between Human Limits and Limited Humanity'.

Since homo sapiens first appeared on earth, it didn't take long for civilisation to take shape; a world built on human desires as we change the biological, geographical and atmospheric nature of our planet. But, powerful as we are, nature continues to have the upper hand and the more we attempt to exert our control, the more problems we create for ourselves. The Hyundai project invites us to examine the restrictions we face in attempting to improve our future. In it, artists from both the east and west reveal their own cultural interpretations, using video, interactive installation, AR and sound to explore various art and technology theories and concepts.

Echoing Bell's belief in the evolution of art and technology, Wonhong Cho, chief marketing officer and executive vice president of Hyundai Motor Company, says: 'We believe that the value of art lies in its understanding and respect for humanity. Transforming people's lives for the better in the age of the fourth industrial revolution will be possible when the progressive ethos of art is combined with the right technology.'
Wonhong Cho, Hyundai Motor Company chief marketing officer and executive vice president, at Hyundai Motorstudio Beijing.
'Human (un)limited', a collaboration with the Austrian media art institution Ars Electronica, is a series of exhibitions presented simultaneously at Hyundai Motorstudio in Beijing, Seoul, and Moscow – experiential spaces that combine the features of a museum and car showcase. Martin Honzik, director of Ars Electronica says, '"Human (un)limited" is based on the assumption that the dynamics of evolution have always been shaped by the complexity of existential challenges. We have acquired creativity to master these situations in the best possible way. We have thus developed the ability to overcome natural limitations with our technologies. This existential gift forces us to constantly adapt to new situations – a logical consequence.'

The Beijing exhibition was co-curated by Fei Jun, professor of China Central Academy of Fine Arts (CAFA) and director of its Media Lab. 'Technology shapes us as a culture, but every culture, whether it is European old school or the Chinese New School, is also shaping technology,' adds Honzik. 'And that's why we have this wonderful mix of world perspectives on the current situation'.

The central discussion was: what can artificial intelligence do for us? How can technology help us provide democratic outlooks; and where are our are future technologies leading? Sixteen projects by creatives from China, South Korea, Turkey, Israel, Slovenia, Austria, Denmark, the Netherlands and the United States are showcased at the Hyundai Motorstudio Beijing space in the 798 Art District. Among them is that of Berlin-based American researcher and artist Adam Harvey, whose work focuses on computer vision, privacy, and surveillance. His VFRAME (Visual Forensics and Metadata Extraction) comprises open-source computer vision software tools that aid human rights investigations that rely on large datasets of visual media.
Machine consciousness is a hot topic but whether humans will (or should) ever succeed in developing an artificial system that has an intelligence that corresponds to ours is an open question.
Combining old and new knowledge – in this case, craftsmanship and engineering – Duo Skin, a collaboration between MIT Media Lab and Microsoft Research, produces customised devices which are attached directly on the skin to control the users' mobile devices, display information and store information on the skin. Using gold metal leaf, a cheap, robust yet skin-friendly material, the devices resemble metallic jewellery-like temporary tattoos.

Cornelia Schneider, vice president and head of space innovation of Hyundai Motor says, 'The exhibition leads us to technical solutions that can take our life in a better direction. And these combinations of ideas are what we would like to do with art and technology. We will continue the exploration and a new Motorstudio dedicated to "design" will also open soon.'

Since it was established in 1967, Hyundai Motor has recognised the importance of appropriating technology for people-oriented design and mobility services. In recent years, it has initiated collaborations with cultural institutions throughout the world, including London's Tate Modern, Los Angeles County Museum of Art and the National Museum of Modern and Contemporary Art in Korea, as well as its Global Art Projects and Hyundai Blue Prize (an annual award given to emerging curators in China), to make art part of the company's blueprint for a sustainable future. 'Artists are good at understanding and expressing humanity. Through the exhibitions, we learn from our artists, curators and visitors how we could better understand humanity and embed those understanding into our brand, product and service offerings,' says Cho.
The installation constructs a chain reaction of a loop configuration to express the interconnected relationship between organisms, machines and nature.
INFORMATION
hyundaimotorstudio-art.com (opens in new tab)