The debut Japan Mobility Show saw the country's carmakers preview the near future
The 2023 Japan Mobility Show offered up a vast array of futuristic transportation, from concept sports cars to autonomous taxis, and eVTOL aircraft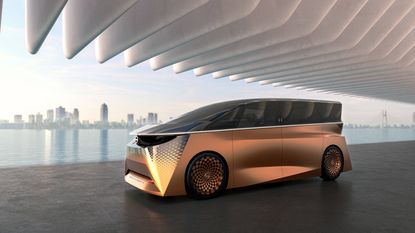 (Image credit: Nissan)
Previously known as the biennial Tokyo Motor Show, the newly re-branded Japan Mobility Show is making a fresh start after the cancellation of the 2021 event due to the pandemic. Wallpaper* has been reporting on this most esoteric of auto events since 2009 (you can read our past coverage here: 2009, 2011, 2013, 2015, 2017 and 2019).
With mobility now understood to embrace everything from flying taxis to high-tech wheelchairs and self-driving hypercars, there was not so much as a single focus to the JMS. If anything, the most vocal trend was the embrace of video game culture and aesthetics, spearheaded by Nissan. The manufacturer not only gave its five concepts their own Manga-style avatar, but announced they'd be parachuted into the online world of Fortnite as player-operated vehicles.
With the new decade well underway, what's changed in the approach and what was there to look out for? Read on for the first part of our show report, covering concepts from Lexus, Toyota, Honda and Nissan.
Lexus: a new way of building cars
Lexus revealed two concepts that showed near-future models, both using a similar design language and overall feel. The Lexus LF-ZC is a battery electric saloon concept which gives strong clues of the 2026 production equivalent. It was joined by the Lexus LF-ZL, an electric SUV that would become the luxury carmaker's new flagship model.
Lexus LF-ZC
Of the two concepts, the Lexus LF-ZC is lower and more sporting, demonstrating the company's new "Provocative Simplicity" design theme, with a large cabin enveloped with sleek, creased bodywork. Inside, there's the first iteration of the new Arene OS, a digital portal that is designed to evolve with the owner and adapt to their driving style.
Lexus LF-ZL
In comparison, the higher-riding Lexus LF-ZL focuses more acutely on the back seat experience, with a sliding rear door giving access into a cocooning, split-material environment that embodies the Japanese concept of Omotenashi, or mindful hospitality.
Both cars also represent a shift in how Lexus plans to make its next generation Battery Electric Cars, dividing each vehicle body into three parts: front, centre and rear, with the battery pack housed in the centre. Part of this innovation is the 'self-driving assembly line', in which cars drive themselves through the production process, eliminating the need for conveyors.
Toyota: mobility at every scale
Toyota's clutch of concepts ranged from vast to micro-sized, with an electric bike and the JUU electric wheelchair concept joining an electric iteration of the iconic Land Cruiser, a new pick-up truck concept and a folding tricycle.
Toyota Land Cruiser Se
Pick of the lot was the Land Cruiser Se, an inevitable evolution of the company's legendarily robust off-roader. The Land Cruiser model has stalked the earth since 1951, and this newest iteration retains the rugged characteristics, adds in seating for seven and is a viable challenger for the most capable electric SUV on the planet.
Toyota Land Hopper
At the other end of the scale is the Land Hopper, an electric three-wheeler that folds up for storage in a car or pick-up. Pitched at last mile mobility and intended to be driven without a license in markets like Japan, the Land Hopper is designed to cater for all ages to maximise independence across society.
Toyota FT-Se and Toyota FT-3e
Future passenger cars were previewed by two other new concepts, the Toyota FT-Se and Toyota FT-3e. The latter is a crossover-style SUV, with raked rear screen, simple external graphics and the capability to be a portable power plant, whilst the FT-Se sports car concept got enthusiasts' pulses racing.
This dramatic, low-slung two-seater implies that Toyota - like its rivals - still sees a valid future in electric performance vehicles.
Honda: marking 75 years of mobility design
Honda is marking its 75th anniversary in 2023 and unveiled a of new mobility products and concepts in celebration. These ranged from e-VTOL aircraft to autonomous mobility solutions for the elderly, taking in robotic assistants, micro-trucks and pocket-sized bikes. It also opened an AI-driven forum to invite visitors to the show to create their own visions of the future. Our five favourite reveals are listed below.
Honda Motorcompacto
First up, a delightfully minimal motorbike aimed at short urban journeys. With a top speed of around 15mph, this is the epitome of small footprint mobility, and a callback to Honda's origins as a motorbike manufacturer.
Honda SUSTAINA-C Concept / Pocket Concept
A visual evolution of the ideas and ethos of the earlier Honda e, the SUSTAINA-C Concept explores manufacturing using removable panels made from sustainable materials.
The SUSTAINA-C was paired with the Pocket Concept, another micromobility machine that's intended to be carried onboard a larger vehicle and then removed for that all important last mile journey.
Honda Prelude Concept
The Prelude Concept looks practically production ready. As Honda's first foray into the electric sports car arena, the company isn't willing to overlook the fact that driving is still a pleasurable experience for many.
Honda Cruise Origin
The road to driverless cars is still peppered with obstacles, not least those that the cars themselves somehow keep missing. Honda isn't daunted however, and has developed the Origin in collaboration with Cruise, the American autonomous car.
A classic 'box on wheels', the Origin is dominated by the four hefty sensor packages at each corner, evoking the carriage lanterns of traditional horse-drawn coaches. Inside, there's space for work and play, with a flexible interior that can be fully cocooned from the outside world. The company also announced a driverless ride-hail service in Japan for 2026, working together with GM and Cruise.
Honda eVTOL
Finally, an even more conceptual approach is taken with this eVTOL concept, which attempts to predict the form of urban mobility in the Thirties. Building on the experience the company garnered in building its own business aircraft, the HondaJet, this eVTOL machine is designed to integrate with other mobility systems, big and small.
Nissan goes Hyper
Nissan went to town at the Japan Mobility Show, exhibiting five related concept cars that attempted to splice the fast-paced world of online culture with the rather more placid realm of car design and manufacture. None of the five 'Hyper' projects shown here are scheduled for production, but they all make a nod to existing Nissans, past and present. Unified by a striking faceted design language, as well as dense information-laden interiors, each car is explicitly pitched at a certain demographic.
Nissan Hyper Punk concept
The Nissan Hyper Punk is perhaps the most explicitly 'trendy' of the quintet, a small all-electric crossover that Nissan hope will appeal to 'content creators, influencers, artists, and those who embrace style and innovation' (its words). The design is described as being origami-styled, with screens everywhere, with a footprint that's roughly analogous to the Nissan Juke.
The internal screens can display manga-style imagery, generated by AI using footage captured by the onboard cameras. This 'mobile creative studio' is intended as a mobile riposte to the fast-moving world of graphics, gaming and modern culture.
Nissan Hyper Urban concept
The Hyper Urban concept is perhaps the most realistic of the five cars shown at JMS. This mid-size electric crossover evolves the company's new Ariya EV and gives it an even more distinctive design. The kaleidoscopic interior is accessed via a quartet of butterfly doors, with seats inspired by sofas and easy chairs. Nissan suggests that it could even be used as an extension of your interior space.
Nissan Hyper Tourer
The Hyper Tourer is another concept that cites the influence of omotenashi. Essentially a modern upgrade of the minivan – a hugely popular niche in Japan – the Hyper Tourer is a wedge-shaped living room on wheels, with fully autonomous capabilities and an interior inspired by traditional Japanese lattice woodworking. Swivelling front seats transform the interior into a meeting space or living room, while an AI-powered infotainment system serves up music and lighting according to your mood.
Nissan Hyper Adventure concept
The Hyper Adventure is a conceptual vision of a traditional SUV like the current Nissan X-Trail. Like all the Hyper concepts, it has what Nissan is calling 'V2X capability', a power supply system that not only wirelessly charges devices but can also provide power to homes, businesses or even the local grid.
Off-roading is made easier by the dashboard that doubles up as a visual display of the terrain ahead, and the landscape can be taken in in comfort from the rear bench, which swivels through 180 degrees to provide a seat in the wilderness.
Nissan Hyperforce Concept
Finally, there's Nissan Hyper Force, a modern update of the company's famed GT-R, often cited as one of the most high-tech and advanced performance road cars ever made. Described as a 'hyper EV', the Hyper Force certainly shares elements of the GT-R's distinctive silhouette.
All-wheel drive, with up to 1,000 kW of power, the intention is clearly to create a machine that honours the original, complete with two driving modes, 'GT' and 'R'. Interior graphics were created in collaboration with Polyphony Digital Inc., the Japanese video game developer behind the Gran Turismo series.
Receive our daily digest of inspiration, escapism and design stories from around the world direct to your inbox
Jonathan Bell has written for Wallpaper* magazine since 1999, covering everything from architecture and transport design to books, tech and graphic design. He is now the magazine's Transport and Technology Editor. Jonathan has written and edited 15 books, including Concept Car Design, 21st Century House, and The New Modern House. He is also the host of Wallpaper's first podcast.