Streets ahead: the most forward-thinking vehicles from the Tokyo 2015 Motorshow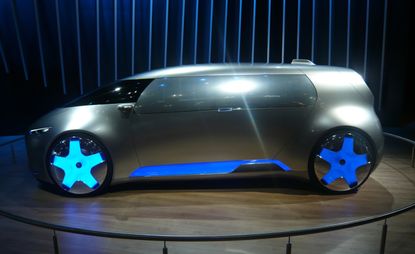 (Image credit: Mercedes)
You can't beat the Tokyo Motorshow for concept cars. Every two years the best Japanese car (and motorbike) manufacturers, plus a sprinkling of European and US brands, come up with new and thoughtful ideas for going faster (and slower, but more interestingly). Many of the designs are informed by a focus on small and well-packaged cars with eco powertrains suited to the city, and that look as good static as when moving. They are also underpinned by technologies often closer to production than the futuristic concepts that house them might indicate.

The 44th edition was one of the best of Tokyo Motorshows for years, perhaps reflecting a more optimistic economic outlook and better organisation and timing – moving to an earlier date in the calendar, rather than November – when it often overlapped directly with the LA Auto Show (opens in new tab).

Concept highlights included a Honda (opens in new tab) stand-up commuter vehicle resembling a stormtrooper helmet, a Nissan boxcar with a virtually-virtual interior and a Toyota fuel cell vehicle that doubles up as a portable energy generator. Production cars were also unveiled at the show – Mini's new convertible and a few BMW and Porsche go-faster variants – but Tokyo's emphasis is firmly on the conceptual, thus our emphasis here.

See above for the Top Ten Tokyo 2015 Motorshow concepts, as curated by Wallpaper*...
INFORMATION
For more information, visit Tokyo Motorshow's website (opens in new tab)
Guy Bird is a London-based writer, editor and consultant specialising in cars and car design, but also covers aviation, architecture, street art, sneakers and music. His journalistic experience spans more than 25 years in the UK and global industry. See more at www.guybird.com (opens in new tab)