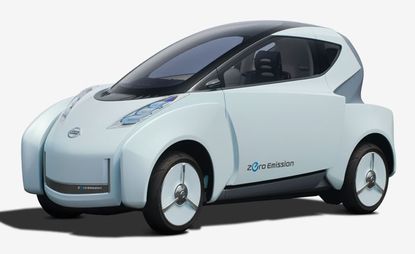 (Image credit: nissan.co.jp)
Nissan Land Glider
Narrow-bodied tandem-style one-plus-one driving pods could just become a new automotive trend. The four-wheeler Land Glider concept is only 1100mm wide, can tilt through corners like a motorbike and is being taken very seriously by Nissan as a possible future urban transport device as an addition to say, a weekend out of town GT-R super car. Power comes from two electric motors in the rear tapping into lithium-ion batteries mounted beneath the floor to ensure zero-emission motoring with wireless recharging at induction plate refuelling spots.
www.nissan.co.jp (opens in new tab)
Despite an effective 'no-show' from the rest of the world's major carmakers due to the recession, the 41st Tokyo motor show still managed to pull off the wraps to some of the most highly conceptual and futuristic vehicles seen anywhere this year.
Aside from three small European sports car exhibitors showing special editions – Lotus, Caterham and BMW's sporting arm Alpina – the 2009 event opened to the public last weekend as an almost exclusively Japanese affair. It also had a suitably Japanese catchphrase to match - "Fun Driving for Us, Eco Driving for Earth" – promoting the belief that driving fun and eco-awareness can both be accommodated.
Given the Japanese car industry's traditional expertise at tiny city vehicles – so-called 'kei' cars in its domestic market get special tax breaks – Tokyo's main emphasis was on innovative small cars majoring on efficiency and emissions awareness – and in most cases electric power of one sort or another.
Technologies on display ranged from super frugal combustion engines (the Daihatsu Deca Deca and e:S), petrol or diesel/electric hybrids (Honda CR-Z, Subaru Hybrid Tourer), to plug-in 'full electrics' (Nissan Leaf, Honda EV-N, Toyota FT-EV2) and 'range extender' technology (Mitsubishi PX-MiEV), where a small and efficient combustion engine is used solely to top up the power in the battery for the electric motor, rather than power the vehicle's wheels directly.
But among the 20 or so global car unveils there were also some sportier moments, from the world's first production-ready hybrid sports car in the shape of the Honda CR-Z, to the conventionally-powered V10 petrol two-seat Lexus super car. And to some extent, even these vehicles espoused the new industry-wide mantra of efficiency – in their case through excellent aerodynamics and lightweight design.
The 2009 Tokyo show may have seen its floor space halve compared to the 2007 event due to US, European and Korean manufacturers choosing to save their money in recessionary times, but what Tokyo 2009 lacked in quantity it more than made up for in quality.
Honda EV-N
This cute-faced electric city car concept is one of the undoubted stars of the Tokyo show. Retro influence – the 1967 Honda N360 being the 'sampled' car in this case – is more than balanced by modern detailing, a zero-emission powertrain and futuristic technology in the shape of the U3-X 'electric unicycle' strapped into its door panel.
www.honda.co.jp/ (opens in new tab)
Toyota FT-EV2
Another superb city car concept, the FT-EV II concept is shorter than the tiny Toyota iQ production car by replacing mechanical hard parts including brake and accelerator pedals with an electronic 'drive-by-wire' joystick. It also features an unusual extra front window under the main windscreen to improve vision and sliding doors for easy access. Product designer Stephane Etienne was behind the original interior with its delicately floating driver interface and graphically interesting yet highly functional seats.
www.toyota.co.jp/ (opens in new tab)
Daihatsu Deca Deca
Daihatsu's 'super box' features a flat floor and wide-opening suicide doors for great access to a massive cabin for storing mountain bikes or for sitting at a fold-down 35-inch LCD monitor if leisurely picture editing and viewing is more your thing. Finished with a stylish high horizontal slit window on the car's non-opening side, the Deca Deca concept could be a great new addition to the Japanese boxcar market. Daihatsu should build it.
www.daihatsu.co.jp/ (opens in new tab)
Honda CR-Z
The Honda CR-Z concept shown at Tokyo 2009 will become - with almost no changes - the world's first hybrid sports production car, hopefully available in Europe from summer 2010 for around £18,000. The stylish two-seater coupe is powered by a 1.5-litre petrol engine teamed up with a electric motor and – in a first for a hybrid vehicle – a six-speed manual gearbox to ensure a sportier drive than its rather more worthy Insight sister model.
www.honda.co.jp/ (opens in new tab)
Mitsubishi PX-MiEV
It may be a 4x4 but Mitsubishi is billing the PX-MiEV concept as a much more compact and greener 'crossover' example of the genre. Shorter, lower and wider than the current Outlander and more simply styled, it offers electric-only, electric with a range-extending 1.6-litre petrol engine and petrol/electric hybrid power options, depending on conditions. Mitsubishi aims to put something like it on sale by 2013, as part of its goal to have electricity power a fifth of all its vehicles by 2020.
www.mitsubishi-motors.co.jp/ (opens in new tab)
Subaru Hybrid Tourer
Subaru has recently been very hit-and-miss with its show car concepts but the 2009 Hybrid Tourer is a return to form. As new design chief Osamu Namba puts it: "In the past each vehicle had its own concept, now the system has changed to get total consistency for Subaru". Expect the concept's bold new hexagonal-grilled face and headlamps to morph into future production vehicles soon.
www.subaru.jp/ (opens in new tab)
Nissan Leaf
Much of the show talked about 'electric sometime' technology but the Nissan Leaf will actually be a fully electric mainstream car customers will be able to buy from late next year for the price of a VW Golf (with batteries leased separately on an affordable monthly basis). 100 miles of zero-emission motoring is promised from a conventional plug socket's eight-hour recharge (or 30 miles via a 10-minute quick charger) and the stylish interior is dominated by a central screen to inform drivers of the charging points and range possibilities. Nissan is also working on an iPhone app to remotely programme the car's charging time to benefit from lower electricity tariffs and inform users when their car is recharged. The future of motoring?
www.nissan.co.jp/ (opens in new tab)
Daihatsu Basket
Trust the Japanese to find a way to make pick-ups acceptable. Daihatsu's tiny Basket concept is a four-seater 'kei car' powered by a frugal 0.66-litre petrol engine that can convert from open-top roadster to practical all-wheel drive pick-up at the fold of a pair of seats – with a Mini Moke-style canvas roof thrown in if the heavens open. Smiley-faced, with button-style wheel trims and rugged hemp-style upholstery, the Basket seeks 'getting back to nature' types for simple fun. Highly production-feasible, it could easily lead to a future commercial mini vehicle for the brand.
www.daihatsu.co.jp/ (opens in new tab)
Honda Skydeck
More space-age Scooby Doo van than dull MPV, Honda's six-seat Skydeck concept sports scissor front doors and sliding rear ones but its importance is more in its interior packaging potential. Current production Honda cars are largely confusingly knob-and switch-heavy but all that is soon to change as the Skydeck's cleaner-surfaced and simpler dashboard layout shows. Controls are concentrated on or around the steering wheel and the six seats hang (and in some cases slide) from a high central tunnel hiding its hybrid powertrain.
www.honda.co.jp/ (opens in new tab)
Lotus Exige Scura
The highlight from the trio of foreign exhibitors was the special edition Exige Scura – a matt black, carbon fibre-enhanced and supercharged version of the normal Exige – that can reach 60mph in 4.1 seconds. Only 35 examples of the super-light 925kg model will be built for £45,000 each. We like.
www.grouplotus.com/cars/home.html (opens in new tab)
Toyota FT-86 Concept
Another sportier unveil at the Tokyo show was the Toyota FT-86 Concept. Exterior styling gently suggests it could be a next-gen Celica replacement and the compact rear-wheel drive layout featuring a conventional 2.0-litre petrol engine add to the car's feasibility. The interior is more experimental with an instrument panel cover featuring red zips around the air vents and neatly knurled knobs.
www.toyota.co.jp/ (opens in new tab)
Phiaro P70t Conch
Only a third-year student design from Tokyo Communication and Arts University – made real under the guidance of the designer behind the Mazda RX-8 – but a remarkably accomplished one nonetheless. The Phiaro P70t Conch proposes a high-roofed one-plus-two seater city car with a single sliding door on one side. The Conch was a neat non-mainstream design concept show surprise that deserves to be explored further.
Guy Bird is a London-based writer, editor and consultant specialising in cars and car design, but also covers aviation, architecture, street art, sneakers and music. His journalistic experience spans more than 25 years in the UK and global industry. See more at www.guybird.com (opens in new tab)