What we learned from Tokyo Motor Show 2019
With the axis of Asian automotive show influence long since moved from Japan to China in commercial terms — China is the biggest vehicle sales market in the world — the role of Tokyo's biennial Motor Show has increasingly been to push Japanese vehicle makers' high-tech creativity and advanced design skills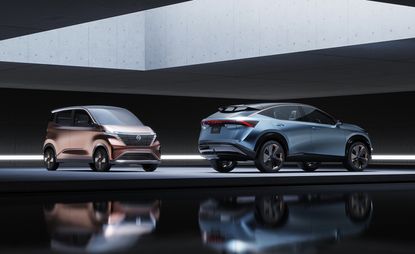 (Image credit: Nissan)
Long known for its conceptual bias, the 46th edition of the Tokyo Motorshow was again filled with Japanese brands showing full-size vehicle prototypes imagining near and far-out futures. With the 2020 Tokyo Olympics just around the corner, most of those makers, especially Toyota as a key sponsor, pulled out all the stops to showcase various eco-improved mobility solutions for all of society's needs – not just the able-bodied and young – from electric kei cars, to self-driving minivans and large fuel cell limos. Read on for the Top Ten Tokyo 2019 Motor Show concepts, as curated by Wallpaper*.
Lexus LF-30: Pitched as a circa 2030 future electric vision concept – thus the concept's letters and numbers – the LF-30 is what a limo-sized EV could look like in ten years' time. With designers seizing the packaging and space opportunities afforded by in-wheel electric motors and a more compact solid-state (as opposed to lithium-ion) battery powertrain, the driver-focused four-seat cabin offers more space than the current Lexus LS. Joystick-style steering controls for the driver resemble those of a horse rider's reins, symbolically pushing the notion of man and machine in similar harmony, while the front passenger has access to a large infotainment screen set forward and low on their side of the dash. The front seats feature tensioned strips of material across the seat backs to create more light and alongside a black wood floor, white driver's seat and grey Alcantara passenger seats. Design lead Ian Cartabiano describes the whole ensemble as "warm and inviting but also a bit dark and mysterious too." We agree.
Mitsubishi Mi-Tech: The 4x4 and EV specialist Mitsubishi showed its skills in both of those departments with its plug-in hybrid SUV Mi-Tech concept. The compact and chunky open-top buggy features a built-in gas turbine generator instead of a conventional petrol engine that can run on various fuels according to local availability – from diesel to kerosene and even alcohol – and a full-width and height augmented reality-enhanced head-up display windscreen aims to keep the driver's eyes informed while also focused on the road ahead.
Toyota E-Racer (and friends): Toyota had so many electric concepts on its stand it was hard to keep count. They numbered at least a dozen – from robots to delivery pods and people movers – but despite these AI-enabled, on-demand mobility aids, Toyota's senior management seemed most excited by the single-seater e-Racer pitched as an antidote to the machines taking over completely. As Simon Humphries, Toyota's global head of design, told Wallpaper*: "If we can harness shared autonomous driving and those things that really give the ultimate freedom in mobility, with all your nine-to-five, Monday-to-Friday needs met by that eco system, then the car you actually buy doesn't need to be an all-rounder anymore. You can just buy an open, no-doors, no-roof, adrenaline rush." Sounds good.
Nissan IMk & Ariya: Nissan rarely disappoints at the Tokyo Motor Show and the 2019 expo proved its concept game is still tight. A duo of electric concepts – the Ariya compact SUV and IMk city car – represent the two 'bookends' of the brand's new design vision dubbed 'Timeless Japanese Futurism'. Each exterior has ultra-slim lights and retains a large shield-like grille but as they no longer need to suck in air to cool a combustion engine, to create depth and interest both feature elaborate LED light displays instead. Flowing body surfacing is punctuated by precise light and metal details to keep the exteriors simple and that theme is continued on the inside with smooth dashboards with embedded controls on the Ariya and a bezel-less holographic driver display projected 'mid-air' within the IMk.
Suzuki Hanare & Waku Spo: Suzuki's twin concepts envisioned a far-future 2040 minivan and mid-future 2030 small car. The Hanare is a perfectly symmetrical MPV that envisages a fully-autonomous electric vehicle where friends and family can relax in private, as denoted by the markedly high window line on both sides. Seating comes in the form of a rear lounger that can face forward or swivel in an arc to watch a big 60-inch screen, while simpler front seats descend into a flat floor when not required. As a car that drives itself, no steering wheel or instrument panel is offered. Also of note was the Suzuki Waku Spo plug-in hybrid, with its non-symmetrical three-box silhouette (longer bonnet, shorter boot). The Waku Spo is also a transformer of sorts, able to morph from sedan to wagon, via a rear wood-effect deck that rises skyward alongside a hidden extra rear glass window. Truly transformational.
Daihatsu TsumuTsumu: Daihatsu offered four concepts on its 2019 Tokyo exhibition stand from a rugged small SUV for outdoor adventures (the WakuWaku) to a mobile people mover for the elderly or holiday makers with lots of luggage (the Icolco). But the one that caught our eye most was the TsumuTsumu (Daihatsu clearly likes to name their concepts twice). The slab-fronted, no-grille green truck channeled Japanese robot helmet-style vibes for its cab while showcasing an interchangeable cargo load box at the rear. The exhibition stand version featured a sizeable drone inside imagined as a crop-spraying tool for farmers but could equally be swapped for a box that acted as a private interior space for humans too.
Toyota Auto Body PMCV: Cool-looking boxy minivans are a very Japanese thing. And arguably the best manufacturer of them all is Toyota Auto Body – the truck division of the massive automotive corporation – which since late 2018 now oversees the two dozen or so commercial vehicle-related minivan and 4x4 passenger cars that Toyota sells, including the Alphard, Voxy, Noah, Hiace and Land Cruiser. Its standout 2019 Tokyo exhibit was the shapely and innovative PMCV (Personal Multi-Compact Vehicle) envisaged as a Level 4-autonomous electric minivan for the year 2030. With configurable seats for up to seven occupants or down to just one via various fold-ups-and-aways, the PMCV can switch from a cabin loaded with people to a transporter of bulky items like surfboards and bicycles. Only 4600mm in length, the PMCV's massive cabin cleverly fills almost all of that space – its large windscreen extends to the very front of the vehicle and there is no traditional bonnet – and was one of the freshest concepts at the expo.
All GaN For Future: The prize for 'Most fun car of the 2019 Tokyo Motor Show' could well be won by the All GaN For Future concept. Information on the electric city car was super-scarce and mainly in Japanese, but that just made the rakishly wedged two-plus-two-seater all the more enigmatic. After some digging and Google-translating what we did glean is that the 3050mm long, 1650mm wide and 1500mm high zero-emission city car has a fold-flat-into-the-floor rear bench seat, features a high-efficiency in-vehicle inverter which can cut CO2 by 20% and has been developed by Nagoya University, the Japanese Ministry of the Environment and the Toyota Advanced Power Electronics Research Division. Big-hitters all, suggesting that the eye-catching All GaN's exterior –which evokes Japanese custom truck designs plus a sprinkling of Giugiaro-familiar design cues – houses some serious future function to go with its striking form.
INFORMATION
tokyo-motorshow.com (opens in new tab)
Guy Bird is a London-based writer, editor and consultant specialising in cars and car design, but also covers aviation, architecture, street art, sneakers and music. His journalistic experience spans more than 25 years in the UK and global industry. See more at www.guybird.com (opens in new tab)