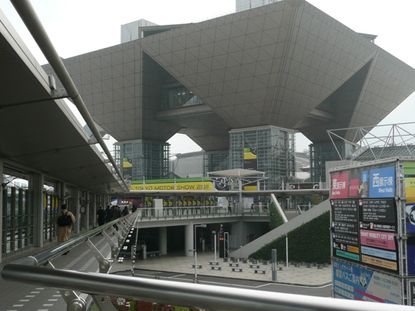 (Image credit: press)
Wallpaper* Newsletter
Receive our daily digest of inspiration, escapism and design stories from around the world direct to your inbox
Thank you for signing up to Wallpaper. You will receive a verification email shortly.
There was a problem. Please refresh the page and try again.
After a bad year, the Japanese car industry is once again relying on what has always made it great - ingenuity and innovation - and the 42nd Tokyo Motor Show was a pure celebration of this.
Besides the effects of the earthquake and tsunami, the high yen has been hampering competitiveness on the international market. 'The yen is a huge handicap for exporters from Japan,' said Renault-Nissan chief executive Carlos Ghosn, further revealing that Nissan, the country's second largest carmaker, will have to gradually shift production to Thailand, China and Mexico to ease the effect of the strong currency.
Japan's largest car manufacturer Toyota only built 43 percent of its vehicles here last year, with Nissan and Honda under 30 percent. Worst still, according to the Japan Automobile Manufacturers Association, is the forecast that domestic car sales are to drop 14 percent to 4.25 million this year, compared with 7.77 million at its peak back in 1990.
Yet in complete contrast to the 2009 Tokyo show, this year's exhibition - at its new central city home in the Tokyo Big Sight - felt very optimistic with a number of products pointing confidently towards the future of mobility.
With the exception of a few cars unveiled by non-domestic brands, two general themes dominated the show - pod size urban commuters and pure sports cars - mostly with a focus on sustainability.
On the green front, Toyota is pushing ahead with hybrid technology, Nissan and Honda with electricity. Said Honda's chief executive Takanobu Ito at the show: 'Honda will set a goal to reduce CO2 emissions from our motorcycles, automobiles and power products around the world by 30 percent compared to 2000, and we will strive to attain this goal by 2020.'
The display on the stand reflected this commitment with seven new concept cars each covering one form of mobility - an electric super sports motorbike, a range of electric urban runabouts, a small electric sports car and one designed for long distance travel.
This being Tokyo - a compact megacity housing around 30 million - the venue felt apt for its display of small electric cars designed for urban commutes. Here, Nissan stole the show - the marque having initiated this trend back in 2005 with the first Pivo.
The good news is that the third and final Pivo, unveiled here, will go into production. Francois Bancon, head of their advanced design studio, told us that the design will remain almost the same when it is mass-produced in the next five years. The group, which includes the Renault and Infiniti brands, hopes to sell around 1.5 million electric vehicles by 2016, so cars like the Pivo are pivotal to this plan.
Kei car concepts were also featured at the show. Only sold domestically, these tax-saving small, boxy cars are perfect for city driving and, as with Honda's N-Concept, can also be timeless in their design. Sadly the commercial failure of the Nissan Cube in Europe has deterred others to risk a similar venture.
On the sports car front, Toyota's GT 86, designed to bring some much-needed sex appeal to the marque, was one of the stars of the show. Revealing a more contemporary design though, was the Honda EV-STER - an affordable electric sports car that harks back to the 1990s Beat. The firm confirmed the EV-STER would go into production in the next couple of years.
Much like Tokyo's exhibition pavilion stands, car design here is not polished and perfected - in many ways it sits completely on the opposite side of German car design. Instead it is a wonderful fusion of a thoroughly modern Japanese minimalist aesthetic and inventive concepts.
Where else would you have a child-size humanoid robot - Honda's new ASIMO - equipped with the world's first autonomous behaviour control technologies, as the star of a motor show?
Audi Samurai Blue

Based on the A1 but aimed strictly at the Japanese market, this is a concept that celebrates the world championship success of the country's ladies football team. It is likely to appear as a limited edition model

www.audi.com
Daihatsu D-X

The Daihatsu D-X is a compact multi-purpose two-seater concept that is powered by a two-cylinder turbocharged engine and is due to be produced soon

www.daihatsu.com
Daihatsu Pico

Daihatsu's Pico is an electric two-seat pod positioned between a light car and motorised bicycle

www.daihatsu.com
Daihatsu FC ShowCase

This mono-volume mini van runs on fuel-cell technology and is designed to be a mobile theatre to keep its occupants entertained on the road. The boxy car seats four and features giant wing doors, side-view cameras instead of mirrors, a touch panel steering wheel and a vast 60-inch television screen

www.daihatsu.com
Honda AC-X

Honda's AC-X (Advanced Cruiser Experience) is a hybrid car designed for long-distance travel. It offers two driving modes - Engine-Drive for aggressive and Automatic-Drive for autonomous driving. The front bumper, sideskirt, rear diffuser and front running lights adjust to express all this. Inside too the ambiance light changes to reflect how the car is moving. In autonomous mode, with a simple switch of a button, the steering wheel retracts, vanishing into the instrument panel for a spacious cockpit that allows the driver to relax and get on with other tasks. It may all sound far-fetched but Honda believes this way of driving could be the future of motoring

www.honda.com
Honda EV-STER

EV-STER is Honda's vision for a lightweight and affordable sports car for the future. This roadster concept is electrically powered using a small motor with 10 kWh batteries to send 78 horsepower to the rear wheel. Lead designer Ryo Sugiura said although he wasn't intentionally inspired by the Honda Beat of the 1990s when sketching this car, he feels the two have much in common. At the core of the concept though is its interior - a futuristic cabin featuring what the marque calls 'twin lever steering' (a kind of push-and-pull system) - to replace the conventional steering wheel. Honda creative director Yoshinori Asahi is confident that this kind of steering feels more natural and will be something that the firm will look into for the future. Honda plans to make this car, though it will be a little smaller to comply with Japan's tax regulations

www.honda.com
Honda Micro Commuter

The Micro Commuter concept is Honda's vision for personal transport in dense cities. It acts much like a personal gadget that can be highly personalise by simply placing your mobile phone in the front slot. You can even customise the exterior graphics - a sort of personal gadget, a smartphone with wheels

www.honda.com
Honda Motor Combo

The Motor Combo is a foldaway electric scooter, with a battery that can also be used to power personal gadgets

www.honda.com
Honda N-Concept

Honda showed four different variants on the N-Box kei car that will be sold only in Japan. The small mini-vans are pivotal to Honda's domestic growth and are expected to double company sales. Only 4m long, the N-Box cars' clever interior layout means the cabin is roomy at 2180mm, the reconfigurable rear compartment allowing for a generous boot space. The cars will be sold in Japan from Spring 2012

www.honda.com
Honda RC-E

The RC-E is a powerful electric motorbike - the design follows the marque's classic RC series. The batteries are positioned in the traditional fuel tank and at the bottom of the vehicle

www.honda.com
Nissan LEAF Nismo Concept

This sports version of the electric Leaf features an aerodynamic body kit and revised bumpers. It showcases a bold new future for Nissan's Nismo performance arm

www.nissan.com
Nissan Pivo 3

Nissan's Pivo 3 is the marque's third take on the fantastically futuristic 2005 bubble car that saw its passengers spin 360-degrees around in the cabin. This final Pivo is more tamed as it is almost production ready and will be made in the next five years. Head of Nissan's advanced design studio in Japan Francois Bancon admitted that the design does take from anime and manga. 'This isn't on purpose but our designers are exposed to it all the time,' he told W* at the show. Pivo3 features Automated Valet Parking that will automatically drive, locate a parking space and park without driver assistance. It can also charge itself and return to its driver when called by smartphone. Bancon said this was pivotal in megacities like Tokyo where parking is strictly designated to tightly packed parking slots

www.nissan.com
Smart Fourtwo

Mercedes-Benz's young brand Smart showcased its Fourtwo but tailor made for Tokyo

www.smart.com
Subaru Advanced Tourer Concept

Subaru's Advanced Tourer Concept is a vision for what the next-generation Legacy will look like

www.subaru.com
Suzuki Fuel Cell Bike

Based on the same technology as the Crosscage fuel cell bike shown in 2007, the scooter now has a fuel cell which is air cooled, light and compact

www.suzuki.com
Suzuki Q

The Suzuki Q is a two-seat micro mobility pod positioned between a motorcycle and car. Only 2.5m long and with two seats in tandem configuration, this fun little mobility solution is ideal for dense cities

www.suzuki.com
Suzuki Regina

The Regina concept weighs only 730kg and boasts low carbon emissions of just 70g/km. It is Suzuki's vision of a next-generation global compact car

www.suzuki.com
Toyota Fun-Vii

The Toyota Fun-Vii (Fun-Vehicle interactive internet) is a smartphone on wheels designed to capture the attention of the younger generation who have lost interest in the automobile, says new chief of design Tokuo Fukuichi who is keen to find new ways of attracting this vital group. The overall design is very much aero-driven and the exterior and interior graphics can be highly personalised

www.toyota.com
Toyota GT-86

Toyota is returning to the sports car with the GT-86 to inject a little bit of excitement into a brand that is these days associated purely with the Prius. To be sold in 2012
Volkswagen Cross Coupe

The VW Cross Coupe concept was a genuine show surprise especially since it is unusual for a German carmaker to unveil a brand new show car in Tokyo. It represents where the marque aims to go aesthetically with its sports-utility cars. Much like Audi, VW cars have been criticised for looking much the same and group design director Walter de'Silva is keen to inject visual differentiation in the various segments
Receive our daily digest of inspiration, escapism and design stories from around the world direct to your inbox