Koja treehouse by Polestar is embedded in the Finnish landscape
Paradoxically, Sweden's premium EV maker Polestar wants us to drive a little bit less – and to immerse ourselves in the wilderness that surrounds its new ultra-ecological treehouse, Koja, designed by Kristian Talvitie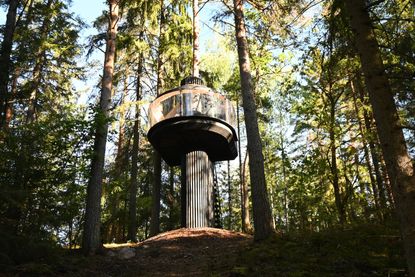 (Image credit: Naomi Moriyama)
Polestar has always pushed for an agenda outside that of familiar four-wheeled transportation. Recently awarded a Wallpaper* Smart Space Award (opens in new tab) 2022 for its striking retail concepts, the company also partnered with Cake, Konstantin Grcic, and Hydro to explore the future of urban deliveries (opens in new tab).
That's not to say its cars aren't intriguing as well. The Polestar 2 (opens in new tab) has received great acclaim, while the 2020 Polestar Precept Concept (opens in new tab) and 2022 Polestar (opens in new tab)O₂ Concept (opens in new tab) both herald striking next-generation production cars.
Now the company invites you to immerse yourself in nature in a whole new way, in comfort and safety, in a space that echoes Polestar's stunning design aesthetics. 'Koja' is a Swedish word for a hut; it's also the name of this minimalistic, ecological treehouse located in the woods on the edge of Fiskars Village (opens in new tab), the burgeoning art and craft community one hour's drive west from Helsinki.
Koja was designed by Finnish native Kristian Talvitie, a master's degree student majoring in transportation design, and was awarded an honourable mention for the 2021 Polestar Design Contest themed 'Progress' – you can see the original renders here (opens in new tab).
For Polestar, Talvitie's concept was too beautiful to stay digital. It had to be made real. The result is an end-to-end immersive ecological journey and overnight stay that can be achieved with a short, all-electric journey in a Polestar 2.
Polestar asked Ultra Design & Strategy, the Helsinki-based agency where the designer had been working, to bring the vision to reality. All parts of Koja were produced locally in Salo, a town only 30 miles (50 km) away.
In Fiskars Village, Polestar Koja's guests can enjoy locally harvested, foraged, and crafted meals, beverages, beers and spirits at the restaurants, cafés and brewery, as well as hike the 2.5-mile (4 km) Rissla Forest Trail and rent a mountain bike to explore a number of local trails. There are also art galleries, boutiques and workshops run by the artists who live and work there.
But doesn't telling people to 'travel less' contradict the very action Polestar wants to encourage people to do? Martin Österberg, Polestar Finland's head of marketing, explains, 'One does not need to go across borders to see or experience things. Koja provides a solution for positive change through local travel and discovery.'
Polestar is deeply committed to sustainable design and the circular economy. It makes its products' life cycle assessment (LCA) available to consumers and hopes to set standards that others who want to make similar claims can follow.
Polestar 2's raw materials, such as different types of aluminium, are kept separate in the production phase so that each type of aluminium component can be melted and reused afterwards. Batteries are built with repairable modules. A failed part can be fixed without wasting a whole battery.
With every incremental innovation in every aspect of production, the company aims to build a car that is carbon neutral by 2030 — the project dubbed 'Polestar 0'. Polestar's customers are already carbon footprint-conscious, having made the decision to drive high-performance electric cars. Driving less is a logical next step.
From a distance, Koja gives off a high-tech air, thanks to its black exterior, futuristic shape and smooth surfaces. However, it is built entirely with locally sourced spruce in the form of CLT (cross-laminated timbers, which are green and sustainable materials). The only exceptions are the curved Plexiglas windows, textiles used for interiors, and two iron triangle beams attached to the tree.
Getting close, faint grains become visible and the warmth of the wood is felt.
When you step out of your Polestar and into Koja, you'll experience a continuous aesthetic, from the design to the materials.
Two full-size foldable beds are strapped to the walls, using the special edition gold seat belts from Polestar 2's Performance pack. The treehouse is perched at a high level, giving you a completely new perspective of the lush Finnish forest.
The circular structure envelops the tree, implying a harmonious relationship with nature; you can even hug the exposed trunk at the heart of the interior. Koja is not a one of a kind, custom-made treehouse, but a 'product' that can be replicated, as long as the right size and types of tree are available.
The idea is that the unit forms an inclusive and economical way to experience luxury in the wilderness. The Polestar Koja journey is not about travelling to the other side of the earth to see the world's highest mountain peak. It is about reimagining how we live and experience more with less.
Early one autumn morning, I was lucky enough to walk from my Polestar 2, along a gravel path beneath the shadows of the tree canopy. I climbed the steep stairs and unlocked the door to Koja. Shafts of warm sunlight were pouring horizontally into the transparent space bubble.
Once inside, the tree branches and leaves reflected light shafts and shadows that danced all around me. All was quiet as I felt like I was floating in the air. And I was able to hug a tree.
INFORMATION
Polestar.com (opens in new tab)
Naomi Moriyama is a contributing writer for Wallpaper*. She is co-author of 'The Sisterhood of the Enchanted Forest: Sustenance, Wisdom & Awakening in Finland's Karelia,' which explains, through personal journeys, how connections to nature and democratic design principles have helped make Finland the world's happiest nation. She also co-authored three books on the health benefits of traditional Japanese foods. Naomi is a Tokyo-born New Yorker who spends much time in Helsinki.