The innovative material palette of the Polestar Precept
Materials used in the Polestar Precept include flax-based natural composites, seat covers made from recycled plastic bottles, cork-based vinyl for head rests and carpets made from reclaimed fishing nets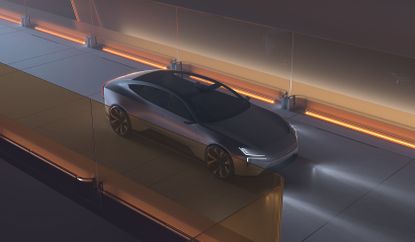 (Image credit: press)
The Polestar Precept is a low-slung four-seater concept car, launched this Spring to showcase the Scandinavian-Chinese brand's vision of the future. 'In an ideal world, the Precept says everything about the future of Polestar – it was how it was supposed to be,' says Thomas Ingenlath, the German designer-turned-Polestar CEO. 'I was asked about Polestar's future so often by the media and customers, about our ambitions and plans. Most people only know the brand through Polestar 1 and 2, and these cars still have the genes that connect them to the Volvo design story.'

Precept is defiantly different from the parent company's design approach and yet also entirely credible. 'It's much more extreme and further away from Volvo,' Ingenlath admits, 'it's on the way to becoming truly sustainable, beyond just in terms of electrification.' Ingenlath oversaw Volvo's recent renaissance, heading up the company's design department from 2012 until he took over at the nascent Polestar in 2017. Before that he was director of design at VW's Potsdam studios.
The evolution of the Polestar ethos is ably demonstrated by 1 and 2. 'We got away with creating a very modern treatment of colour and graphic,' says Ingenlath, 'but the Precept embraces a new interpretation of Scandinavian minimalism. I'm really convinced that this car has a real substance to it, design-wise.' The graphic language is pure and unfussy, with bodywork creases that pinch the bodywork to create a slim profile. The deep coach doors have a curving profile that incorporates the lower sills, allowing easy access to the airy, light interior.

The Precept also bucks the industry trend by being a saloon, rather than an SUV or Crossover. 'I won't accept that the world is entering an SUV-only phase,' Ingenlath says emphatically, 'that cannot be true. A saloon is much more efficient and aerodynamic than a giant SUV.' The low-slung seating position is deliberately sporty, with a tapering rear with its dramatic right-angled edges and absence of conventional rear window. 'Sportiness is how you make a saloon attractive again – you can't just fulfil the dogma that people only want SUVs,' he says, describing his 'personal challenge' to confront this thinking.

The next challenge is to turn the Precept into a product. 'I think we've been smart enough,' Ingenlath says, stressing that although this is still very much a concept, it speaks volumes about future forms, materials and technologies. 'It's about what kind of style and design you propose for the future,' he says, 'yes, this car is edgy but we haven't given way to a brutalist, sledgehammer approach. It's scary to think of the public realm being dominated by brutalist forms,' he adds. It's hard not to think of Tesla's much-vaunted Cybertruck, especially when Ingenlath says that 'we can do razor-shapes, of course, but our aesthetics aren't that of a dark, dystopian vision like Blade Runner.'
The Polestar Precept presents a comprehensive portfolio of future materials, including flax-based natural composites instead of virgin plastics, seat covers made from recycled plastic bottles, cork-based vinyl for head rests and carpets made from reclaimed fishing nets. In addition to these sustainable credentials, the car is very up front about its technology, with a prominent LIDAR bump above the windscreen for autonomous tech. Inside, Google's Assistant is completely embedded in the car's operating system, 'This car is an early communication and dialogue – we want to prepare people,' Ingenlath says.

Since Polestar became a standalone brand in Geely's portfolio, Ingenlath has taken steps to ensure it has its own corporate identity, HQ and dealership. The flagship Polestar 1 hybrid is hand-made and limited to just 1,500 examples. Polestar 2, which should start deliveries in the Summer after the company's Chinese factories re-opened, is a pure electric premium machine pitched at Tesla's Model 3. 'The industry has seen so many over-intellectual show cars in the past that try to predict the future,' says Ingenlath, 'but they're only seen for just a blink of a moment. We're trying to be more responsible and more serious about how we think about the future.' It's tempting to think of Precept as production-ready, but although there's a lot more work to be done Ingenlath is serious in his disdain for 'unrealistic show cars'. 'Having put this out is challenging to the organisation - it's a statement that we now have to deliver.' The Polestar Precept might only be a manifesto, but it's a bold sign of things to come for a better world, created by a company that has carved out a strong sense of identity.
Now, six months after the concept's launch...
Six months after the concept's launch, Polestar has committed to making the Precept, pledging to retain the car's forms and use it as a showcase for sustainable materials inside and out. 'We are committed to reduce the environmental impact of our cars and our business. The aim has to be climate neutrality, even though I recognise that is a long-term goal,' says CEO Thomas Ingenlath.

As these exclusive renders of the concept show, the production Precept has a lot to live up to; it'll be hard for Polestar to delete or dilute any of the pioneering materials used in the concept. These included recycled plastic bottles, cork vinyl and old fishing nets, as well as a pioneering new flax-based composite material. This move away from the traditional combination of leather and virgin plastic is the next frontier for car interiors – Jaguar Land-Rover has recently announced it's working on similar themes.

Polestar will build the cars in China, at its manufacturing facility in Chengdu. The company has also started producing accurate lifecycle analysis of how their cars compete with their Volvo equivalents. These are the very opposite of greenwashing, showing that right now, EVs and their petrol-engined rivals stay practically neck and neck for the first few years of their respective lives – it's only when big mileages are taken into account that the EV starts to edge ahead (or quicker still if it gets electricity from renewable sources). With tempting designs cars like the Precept in the mix, the gap can only get wider.
INFORMATION
Polestar 1, from £140,000, Polestar 2, from £50,000
www.polestar.com
Jonathan Bell has written for Wallpaper* magazine since 1999, covering everything from architecture and transport design to books, tech and graphic design. He is now the magazine's Transport and Technology Editor. Jonathan has written and edited 15 books, including Concept Car Design, 21st Century House, and The New Modern House. He is also the host of Wallpaper's first podcast.