Geneva Motor Show digital showcase: the technology edit
A digital walkthrough of the best technology due to be shown at Geneva Motor Show 2020 in light of its precautionary cancellation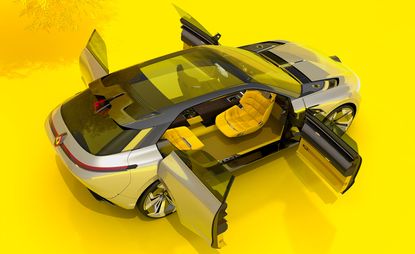 (Image credit: Renault)
BMW Concept i4
The Concept i4 coupé is BMW's first mid-size all-electric car. Joining the i3 and i8 in the marque's expanding electric i family, the design and engineering study is a clear indication of what to expect when the i4 enters production next year. The design evolves the i Vision Dynamics from three years ago with its sharp and clear exterior surfaces, and subtle aerodynamic measures including lightweight wheel rims and a new kidney grille which, in the absence of a traditional engine and required cooling, is covered to house the various sensors, thus signifying the i4's electric drive. Inside continues this serene theme but with a light, open cabin and an intuitive, touch operated, single-surface curved display. BMW figures suggest the 80kWh battery, and these clever aero tweaks, have helped boost a range of up to 373 miles, an output of some 530-horsepower and acceleration to 62mph in four seconds. What's more, the marque has involved celebrated composer Hans Zimmer on the sonic characteristics, composing a musical note to define BMW in the age of electrification.
On sale 2021, bmw.com (opens in new tab)
Polestar Precept Concept
The Precept electric concept reveals the design and technological direction for the upcoming Polestar production cars. It completes a trio of studies by Volvo's sustainable performance brand to include Polestar 1 and 2. These cars are highly technical, and the Precept continues the clinical, electronic gadget feel with its angled front headlights and slender wraparound rear light bar. The traditional motor car grille is replaced with a camera and two radar sensors providing semi-autonomous technology, with a 'Lidar' pod above the windshield offering further driver assistance. The rear-view mirrors have also been digitalised – an ever-growing trend with electric cars. The interior offers a test bed for imaginative sustainable material use in automotive. Recycled fabrics feature widely, while 3D-knitted plastic bottles, cork and fishing nets surface the seats, headrests and carpets, and the seatbacks are made of the lightweight Bcomp flax-based composite materials.
Concept only, polestar.com (opens in new tab)
Renault Morphoz
The Morphoz is a futuristic modular concept that showcases Renault's electric vision for 2025 and beyond. Designed to support an electric drive ecosystem with vehicle-to-grid technology and conduction charging, it uses artificial intelligence for an intuitive, adaptable and responsive cabin with a focus on the occupants' wellbeing. Working with the marque's latest modular electric platform, the Morphoz offers a number of different configurations for power, capacity and range, user-options and boot space. It also previews level three autonomous drive technology. Renault often explores grand ideas with its concept cars, though expect to see some of the more realistic ideas here in a forthcoming electric crossover.
Concept only, groupe.renault.com (opens in new tab)
Jaguar Land Rover Project Vector
The Project Vector is an electric city vehicle concept with autonomous-ready technology. It forms part of Destination Zero, a collaborative initiative between Jaguar Land Rover, UK academics and transport providers. The idea is to explore workable solutions for the autonomous, electric, connected urban mobility, conceived through a range of progressive products and services. This Project Vector is compact, measuring just four meters in length. The battery and drivetrain components are neatly packaged within the flat floor to allow for a variety of transport applications in city environments. The modular cabin space offers flexible seating configurations, so the vehicle can be used for private and shared transport, or commercial use, including last mile deliveries. JLR plans to integrate the platform into future smart city infrastructures, delivering services for private and shared transport needs.
Concept only, jaguarlandrover.com (opens in new tab)
Volkswagen ID.4
The ID.4 is Volkswagen's first all-electric SUV. The design, though camouflaged for the Geneva digital reveal, appears to have evolved the earlier ID. Crozz concept to be a more subtle take on electric cars. VW hasn't spoken about the exact mechanics other than it will be built later this year on the firm's advanced modular electric drive platform, where the compact, electric drive technology will provide a battery range of up to 300 miles. The ID.4 has a digital cockpit operated primarily using touch surfaces and intelligent, intuitive voice control. The car will initially be offered with rear-wheel drive in Europe, the US and China, while an electric all-wheel drive version will be added to the portfolio at a later date. Alongside the ID.3, the ID.4 represent an important milestone in VW's quest to become entirely carbon-neutral by 2050.
Price TBC, on sale late 2020, volkswagen.com (opens in new tab)
Fiat 500 electric
The new Fiat 500 will be all-electric. This is the third generation of the cinquecento, since its recreation as a highly successful retro-style urban commuter in 2007. The mechanics are entirely new and will be constructed on Fiat's advanced electric platform. The electric motor has an output of 87kW for a maximum speed of 93mph and acceleration to 62mph in nine seconds. The 500 will offer a battery range of some 199 miles, with a fast charger supplied as standard with the launch edition. Packaging the electric drive has resulted in a slightly bigger car, though with the bonus of added cabin space inside this compact vehicle. Fiat is planning some special editions of the electric car too – Italian-themed models to include the 500 Giorgio Armani, B.500 by Bvlgari and the 500 Kartell. Finally, the Fiat 500 La Prima convertible launch edition, available to order now, comes replete with a vehicle alert sound tuned to Nino Rota's score for Federico Fellini's Amarcord.
Price: La Prima launch edition from £29,000, fiat.com (opens in new tab)
Citroën Ami
The Ami is an electric urban commuter by Citroën. Developed simultaneously with the Ami One concept (we drove an early prototype last year), this electric pod captures the zeitgeist for shared urban transport. It is tiny – 2.41 metres long, 1.39 metres wide and 1.52 metres high – and the 5.5kWh battery has a range of 44 miles and offers speeds of up to 28 mph. The Ami is technically a quadricycle so it can legally be driven in Europe by those over the age of 16 without a driving licence. The design is more akin to personal electric gadgets with its modular structure. And although the production Ami dials down some of the more provocative ideas on the concept car, mainly for legal reasons, it retains the fun exterior look and stripped-out cabin. Your smartphone replaces the conventional central display, is placed in a holder high up on the fascia to be the infotainment hub and navigation screen. Citroën is exploring novel cost-cutting manufacturing ideas such as using the same body panels in the front and rear, so the two doors open in different directions. The Ami will enter production this month and be available for car-sharing, long-term rental or personal purchase thereafter.
citroen.com (opens in new tab)
Morgan Plus Four
You'll have to look hard to find the technology here. The Plus Four is Morgan's latest entry level sports car, but its styling remains as timeless as ever. The brand ventured into electrification a few years ago with the EV3 three-wheeler, only to cancel the promising project. This new car is strictly internal combustion only. The younger sibling to the Plus Six, shown last year at the Geneva Motor Show, here an all-aluminium chassis replaces the outgoing model's steel, and the new car comes with a six-speed manual option. The engine is a 2.0-litre BMW TwinPower Turbo, which produces 255-horsepower and up to 400Nm of torque. With most of the components being new, the marque says the Plus Four signifies the most radical advancements in the heritage marque's history. Innovation the old school way.
From £62,995, available from late 2020, morgan-motor.com (opens in new tab)
Rinspeed MetroSnap
The MetroSnap is a clever multi-use electric transport concept by Rinspeed. The Swiss marque is on a mission to explore the possibilities of shared transport systems with a realistic eye on what can economically work for us in the future. The vehicle is autonomous and modular, evolving the firm's Snap and Microsnap concepts with an eye on series production. The core is based on a chassis that can support multiple cabins and allow them to be swapped about – depending on usage. The general idea isn't new, though Rinspeed has developed and patented the technology for what it sees as a simple, fast, safe and inexpensive system which can work commercially. The Microsnap has a battery range of 80 miles, but the unique swapping system means the batteries are split between the chassis and cabin area and can be charged separately. So, if the vehicle is running low, one section can effectively be turned off to save on energy. Rinspeed says, this new technology will allow for entirely new vehicle applications to become possible.
Concept only, rinspeed.eu (opens in new tab)
Fisker Ocean
The Ocean is a fully electric SUV by niche Californian luxury maker Fisker. Its claims are high – to be the world's utmost sustainable vehicle with its clean power and high reuse and vegan material content. The standard four-wheel drive promises more than 300-horsepower, with an ultra-high-performance version targeting zero to 60 mph in less than three seconds, and the powerful battery offers a range of up to 300 miles. Available from 2022, central to the Ocean is a flexible customer ownership scheme through Fisker's leasing programme. The design, including the narrow light graphics and chrome detailing, evolve the 2018 Fisker Emotion concept. The front-mounted radar replaces a traditional grille, and side indicators can be used as charging notices, turning green when the battery is full. Lastly, the 'California mode' sees a single button lower all glass elements, including the roof, for an open-top cruise.
Release date TBC, fiskerinc.com (opens in new tab)