Citroën Ami One considers the future of the urban commute
An all-electric car made from novel sustainable materials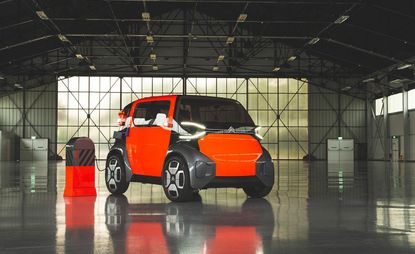 (Image credit: press)
In the early sixties, Citroën produced a car name Ami. It was conceived as a more adult and urban alternative to the French marque's popular tiny 2CV. The Ami 6 and 8 ran for two generations, and were nicknamed 3CV for their boosted power. Today we're about to experience an entirely different 'ami'. In the spirit of both cars, Citroën is presenting the Ami One, a concept conceived to gauge the possibilities of the urban commute in a car with an approximate footprint of the 2CV, but with a thoroughly modern outlook.

The original deux chevaux was famously designed to help motorise French farmworkers in the 1930s, a time when horses and carts were still the primary mode of rural transport. The Ami One conceptually does the same, albeit for the modern, metropolitan worker. The study vehicle offers a glimpse into how mobility might look in our ever-sprawling cities in the not too distant future. Citroën says the technology is all possible today, and that a similar mobility solution could possibly happen in the next five years.
So, what is it like to experience? The car we're testing is purely a prototype, so the feel and drive are not as polished as a fully-fledged production car. That said, the short run in the confines of a controlled environment is fun and easy – everything on this little friend is considered and intuitive.

The Ami One is fully electric, and it seats two adults comfortably offering plenty of room in front of the passenger and in the rear for bags and shopping. The design is more akin to that of a personal gadget than a motor car, with a simple cubic form in which you sit upright and tall. Some exciting ideas for automotive come into play too. For instance, the doors are made of identical panels – rear-hinged for the driver and front-hinged for the passenger – to minimise the number of parts produced and cut manufacturing costs. Similarly, the front and rear bumpers are the same parts – only positioned differently. Then, for a dose of extra cost-cutting and an unfussy touch, the Citroën double chevron logo is simply a flat sticker.
'We debated this at first,' says Pierre Leclercq Citroën's new design director as he sits in the passenger seat, 'but it felt like the right thing to do with this car. Our design approach was to be restrained, and we looked to product design and manufacturing processes for this car'. The Ami interior continues this modest approach, pared down to the basic needs of short distance travel, without looking too austere. This is mainly due to the pop colour scheme and modern textiles. Leclercq says novel sustainable materials will be explored if this car is to get the green light. The driver seat adjusts back and forth, and tilts to make room for luggage (a set of which is designed by the team to blend with the interior). There are no electric window winders; you have to manually operate these, the slim wing mirrors and canvas roof.

The Ami One is designed to be a shared, hop-on-and-off, or privately-owned transport idea for young urbanites. Your smartphone essentially acts as the central interface – place it behind the steering wheel and it provides the info and music through the Bluetooth speaker. If you change car, your settings come with you. Citroën has rightly identified that the next generation is unlikely to love the motor car as much as their forebears. What matters is simplicity and personality. As a hire car, the Ami One is easy to clean and maintain, with on-board elements made of materials inspired by garden furniture and public transport. If, however, someone wishes to buy an Ami One for themselves, there would be the option to remove these panels and add your own personal touch; Leclercq is keen to encourage this personal artistic freedom.
The mechanics are also straightforward. The battery sits under the occupants' floor and a small electric motor drives the rear wheels. Electric range, we are told, is somewhere around 100 miles with charging predicted to take a couple of hours. What's more, the Ami conforms to quadricycle regulations, which means it requires the same licensing as a scooter, and with a top speed of 28mph, in some countries it can be driven by under seventeens without a driving licence.

There's something else. As we start to drive, the Ami One 'hums' 'Free to Feel', a track composed by Alex Jaffray and Gilles Facérias especially for this car. With new regulation insisting that silent electric cars have a sound to warn other road users, Leclercq says Citroën is exploring its sonic options for an electrified future. Surprisingly, the subtle track seems to work well.

Alongside parent company Groupe PSA, Citroën is fully committed to electrification. This Ami One has egalitarian ambitions. It provides mobility for young urbanites in any city around the world. The Ami has some maturing to do, but as a concept it is an inspired product, a 2CV for a new generation of drivers.
INFORMATION