Technically speaking: hi-tech products in old-school shells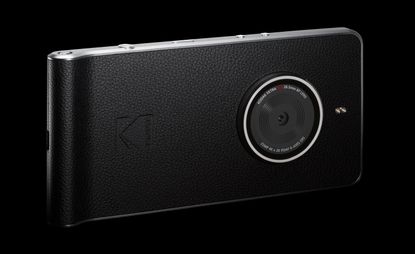 (Image credit: Kodak )
This year, technology has been leaning more heavily than ever on an ultramodern aesthetic. The clean white lines of the Google home technology suite, and Dyson's space-age Supersonic hairdryer spring to mind. As much as we like to indulge this fashion for the future, it's refreshing to see a handful of big names looking to eras past for their design references (like Hasselblad's recent X1D), without sacrificing the innovation of the concepts inside.

Kodak Ektra
No strangers to retro revivals, Kodak has taken inspiration from the 1941 Kodak Ektra camera for its new smartphone. It's fair to say that the iconic film and camera company is not known for its connected devices. But its newest offering, on the market from this month, celebrates all that we love about Kodak – the photographic simplicity, the streamlining of complex framing processes – as well as offering all the mod-cons we expect from our mobiles.

With smartphones leading the future-seeking technology trend, Charlie Henderson, chief brand officer of Bullitt Group (who partnered with Kodak on the project) explains why they looked to the past instead of the future for their design references. 'The 1941 Ektra was the pinnacle of design and engineering in its day,' Henderson explains. 'It possesses a style that feels natural to and attracts creative types – either those who are inspired by the "maker movement" and share our desire for creativity, through to sophisticated photographers looking for a familiar style brought bang up to date in terms of industrial design, user interface design and hardware and software capability.'

So is it a phone or a camera? Critics have complained of a little confusion in this regard. But, as Pixel capitalised on earlier in the year, camera quality is now the key driving force behind smartphone purchases, so it's easy to see why Kodak wanted a piece of the action. We're firmly in the camp that enjoys Kodak's foray into phones, and Ektra balances its dual functionality with classic 1940s style.

Ruark R7
While many designers go to great lengths disguising the technology elements of their products, aiming to make them invisible, Ruark has created a complete home entertainment system you'll want to place very much on show. The family-owned British brand seem a little niggled by engineers who excess in innovation at the expensive of style and class. Indeed, 'style' and 'class' are two words that sum up the Wallpaper* Handmade veteran. Ruark has stayed true to classical form with the release of its R7 'high fidelity' speaker system. 'Many of our fellow manufacturers get wrapped up in what technology goes inside but seem to forget the fundamentals,' explains Richard McKinney, Ruark's sales and marketing director, 'like how the product sounds, what it looks like and the materials used to build it.'

The design of the R7 is based on the bulky, simple and quintessentially British 1960s radiogram. These historic pieces of furniture combine a radio and record player into an (often bovine-esque) wooden sideboard, and, as McKinney sees it, 'sat pride of place in many of our parents', grandparents' or indeed our own homes'. Although original versions are being snapped up for pennies by eager hipsters, traditional radiograms aren't the easiest on the design-eye, nor are they consistent with modern home entertainment needs. For McKinney, it was time to re-introduce this classic, 'making it compatible with the technology we use in current day-to-day life'.

It's achieved this by adding everything we've come to expect from our home entertainment: Bluetooth connectivity, CD-quality direct-streaming and a USB device charging port, while gifting tech disciples the extra present of a silky, ultra-black, fluorescent display panel. Although Ruark removed the record player, which would have pushed things over from hawkish to kitsch – the token CD port is as retro as the R7's specifications get.

Leica Sofort

Leica – a po-faced German optics enterprise – has taken a side-step away from its oh-so-serious image to create the Sofort, the brand's first instant print analogue camera. The boxy, compact design hides a fair whack of clever, contemporary technology, including party, people, sport and action settings, a double exposure ability, and even an obligatory selfie mode.

Unlike the Kodak Ektra, which nods to the nostalgia of photography's past era, the Sofort bows to it. It brushes aside the millennial need for instant gratification, asking users to wait for their image to develop. The small rear viewfinder gives you an approximate representation of the shot, but with a sense of novelty, you don't know exactly how your photograph will emerge until the image pops from the printer – embedded within the camera – a minute or two later. The resulting snap has a satisfying, almost sentimental, physicality lacking in digital images, without the grainy texture of traditional Polaroids.

Despite its welcome levity and retro lunch-box colour scheme, Leica's esteemed little red dot of approval justifies the higher-than-average price tag. Welcomingly, like Ruark and Kodak, Leica is grappling with how brands can rethink retro design staples, merging the old school aesthetic with today's expectant, hyper-connected world.
INFORMATION
Kodak Ektra from £449; Ruark R7 from £1,999; Leica Sofort from £229
Kodak will host a week-long festive pop-up from 5 December at 70 Berwick Street, London W1F. The Kodakery hub will give visitors a chance to trial and purchase the Kodak Ektra as well as showcasing a capsule collection of Kodak products while offering experiences and creative counsel
Elly Parsons is the Digital Editor of Wallpaper*, where she oversees Wallpaper.com and its social platforms. She has been with the brand since 2015 in various roles, spending time as digital writer – specialising in art, technology and contemporary culture – and as deputy digital editor. She was shortlisted for a PPA Award in 2017, has written extensively for many publications, and has contributed to three books. She is a guest lecturer in digital journalism at Goldsmiths University, London, where she also holds a masters degree in creative writing. Now, her main areas of expertise include content strategy, audience engagement, and social media.