Technically speaking: new 'flexi-tech' for smart homes missing an off-button
Our monthly dissection of technology happenings the world over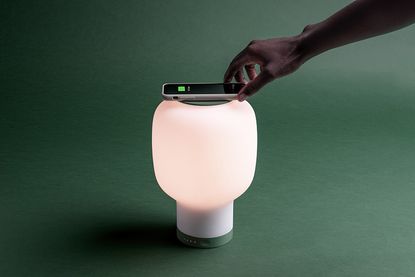 (Image credit: Noli)
The internet of things is becoming the internet of everything. Our homes are increasingly cluttered with cable-webs; we have butler-bots in every room; our drawers are over-flowing with single-purpose gadgets. The result? A constellation of flashing LEDs that keep us up at night, and a choir of chattering Alexas that distract us from each other.

The questions are obvious. Have we reached home tech saturation? Is filling our homes with all these devices negatively impacting our wellbeing? The solutions, less so. In response, technologists and designers are turning their talents to what industrial designer Benjamin Hubert calls 'flexi-tech', multi-functional products that integrate seamlessly and discreetly into our interiors, contributing positively to our homes and mindsets – without having to embark on a full digital detox.

Rise smart lamp, by Nolii
According to its designer Benjamin Hubert, 'discreetness' is high on the design agenda for the Rise lamp; the first product to be released in Nolii's debut collection of wireless tech products. The multi-functional smart lamp has integrated charging capability for two mobile phones; one wirelessly (preventing the web of cables mentioned above), and can also be used as a 'digital sunrise' visual alarm clock.

'We all hate our alarms going off in the morning, whether it's about health and wellbeing, or just general sanity; a gentle sunrise is simply less abrupt,' Hubert explains of the app function that allows the lamp to slowly illuminate a room – imitating the rising sun. It's a welcome add-on that aligns with Nolii's mission statement: 'technology (opens in new tab)should improve the user's lifestyle, not complicate it'.

'People want less stuff, particularly as homes get smaller,' Hubert says of his decision to combine a number of things you might own anyway (like a lamp, phone charger and alarm clock) into one, elegant product. The minimal lamp is made from mouth-blown, lightly frosted glass, so it appears as a 'non-threatening' object, as well as a smart one – a balance tech designers have been trying to strike since the rise of the smart home.

Nest Thermostat E
Like the Rise lamp, the newly redesigned Nest Thermostat E aims to blend into existing interiors. 'In 2011, we reinvented the thermostat category to make it easy for people to save energy,' explains Lionel Guicherd-Callin, global head of energy product and services, of the first Nest thermostat, once lauded as the 'coolest looking thermostat ever', which eventually became critiqued for its bulky profile and unintuitive functionality. 'Fast forward seven years: Nest owners have globally saved more than 25 billion kWh – and now we are bringing beautiful design and proven energy saving capabilities into even more homes. To do that, we needed to simplify. The more subtle look and feel of the Nest Thermostat E will seamlessly blend into any environment.'

The original plastic casing has been replaced with a soft, grey fabric cover, making the thermostat feel more like a piece of furniture, while the industry-first frosted display helps keep annoying flashing and brightly-lit screens glossed-over, if not completely absent, from our living rooms.

Wireless charger, by Courant
A relative newcomer to Brooklyn's blossoming start-up scene, Courant aims to seamlessly integrate technology (opens in new tab) into everyday life. Co-founded by Monish Sabnani and Evan Moskal from a local incubator called Assembly Brands that focuses on creating tech-forward consumer products (not just tech), where the focus is on using materials – in this case high-grade matte aluminium alloy and premium pebble-grain Italian leather – to elevate the often clunky and tangled charging experience into something fit for display.

As well as sourcing their leather from the same tannery as luxury leather goods companies, Sabnani and Moskal chose to add a dipped display dish to the wireless charging area, offering a designated place for your watch or wallet; so your tech accessories can sit side-by-side with your analogue ones; each equally with pride of place.

Google Home
Google is embracing society's craving for digital dieting (in the oft-overwhelming face of a full digital detox), with this month's launch of new wellness software for Pixel phones, Digital Wellbeing. The software mutes notifications when the screen is facing the table with the flick of the 'Flip to Shhh' button in settings, also allowing us to monitor app usage time.

Meanwhile the new wireless charging system, Pixel Stand, transforms your phone into a Google Home system while its charging. Simple say 'Hey Google' and its front-facing speakers activate; and you can control it remotely. This includes the all new Sunrise Alarm, an ambient visual alarm system, which slowly displays gradient tones of the sunrise – à la Hubert's Rise lamp – across your home screen.
Elly Parsons is the Digital Editor of Wallpaper*, where she oversees Wallpaper.com and its social platforms. She has been with the brand since 2015 in various roles, spending time as digital writer – specialising in art, technology and contemporary culture – and as deputy digital editor. She was shortlisted for a PPA Award in 2017, has written extensively for many publications, and has contributed to three books. She is a guest lecturer in digital journalism at Goldsmiths University, London, where she also holds a masters degree in creative writing. Now, her main areas of expertise include content strategy, audience engagement, and social media.