Technically speaking: battle of the smart speakers
Our monthly dissection of technology happenings the world over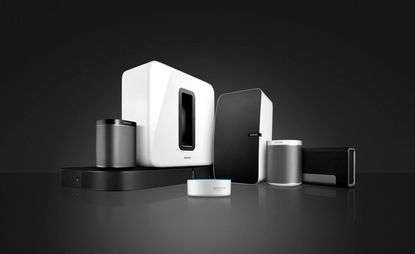 (Image credit: TBC)
This time last year, we praised designers who put the 'home' back into 'smart home'. Things escalated quickly. Over the last 12 months, tech designers have upped their AI game with a host of new releases, and as a result, it seems we have become more willing than ever to accept virtual assistants as part of the family. As of January 2018, one in six Americans own one. That's 39 million people in the US alone chorusing commands at a semi-inanimate object.

What started as a one-on-one battle between the visually clunky (but wildly popular) Amazon Alexa and the striking, white-on-white Google Home suite has become a crowded brawl. At the premium end alone, there's a well-matched tussle going on between Google Home, Sonos One, Apple HomePod, Samsung Bixby (set to launch later this year) and now, if the rumours are to be believed, a Spotify smart speaker. But which should we open our homes, and minds, to? Ok Google, game on.

Beosound 1 and 2
Audio quality has been Bang & Olufsen's core strength from day one. Its haute speaker offerings have stood the test of time over its near-century in business, and continue to blur the boundaries between technology and interior design.
The Danish designer bided its time before revealing its AI-infused tech debut. The pinnacle of its 360-degree audio game, the wireless Beosound 1 and wired Beosound 2 speakers have been revisited, and now ring true with the voice of Google Assistant.
The speakers remain sculptural, and contain premium parts pushing domestic sound, including a powerful exposed tweeter with an acoustical lens, a 5.25 inch woofer and dual 2 inch midrange drivers. In their new iterations, B&O has added a set of four new Favourite Buttons, that aim to push the user experience a step above those of its contemporaries. At the push of a designated button, users can now stream a favourite radio station, play a particular music playlist or be reminded of today's calendar entries.
Coming in at $1,750 and $2,250 respectively, Beosound 1 and 2 are deep within the upper bracket of the smart speaker market. Then again, price certainly reflects quality – both visual and sonic – making the Beosound speakers some of the most powerful currently available.
Google Home Max
If a connected, home-spanning system is what you're after, Google's your guy. The tech titan wants your house transformed into a whirring technology hub, alive with the sound of 'Ok Google'. Don't lift a finger, there's no buttons to press on the Home suite, which Google launched back in October 2016, adding the Home Max to the table (for US audiences only) in December 2017.
The Home suite has become known for its highly effective, reactive and scarily savvy AI element (which can do everything but tie your shoelaces). The butler bot has some Google-only features that are genuinely useful. It can contextualise your requests in line with your habits. Ask it to say 'hello' in Japanese, and it will say 'kon'nichiwa'. Ask it to say 'Goodbye' a few minutes later, and it will remember what language you're learning, and chirp 'sayōnara'.

The newest, mammoth edition offers the same quality of smart assistance, with upgraded sound specifications. It's not cheap, at $399, but delivers the noise. Google 'obsessed over every component to make sure you get pure, crisp sound'. Its two 4.5-inch woofers each have 22mm of excursion, an extremely high range for their size, delivering deep, powerful bass. What's more, Max plays it loud – it's 20 times more powerful than the original Google Home.
Sonos One
Sonos was a front-runner in the multi-room home speaker race, practically inventing the category in 2005 with its wireless SonosNet interconnection system. But, like Apple, Sonos lagged behind the AI bandwagon. In 2017, Sonos cleverly made use of Amazon's Alexa technology, embedding it inside a pre-existing Sonos shell. The result? It doesn't feel like an AI home invader, but has all the capabilities of one. It's a speaker first, (rich with all the audio assets Sonos is famous for) with all the hands-free functionality of Alexa.
Now in its second generation and with several derivative versions available, Alexa continues to expand its digital-assistant abilities, to rival the industry-leading Google technology. Whether its quite there yet is still up for debate.
But built on the mini-but-mighty blueprints of the PLAY:1, Sonos One's capabilties as a speaker are unquestionable. Backed by a pair of Class-D amplifiers and custom-built drivers, meticulously tuned to the speaker's unique acoustic architecture.
Apple HomePod
Apple is famously averse to first moves. It waits in stealth while others pitch in with new technologies and then hits the market with something it promises is comprehensively better. It's a strategy that has worked so far and it's one that it has taken with the launch of HomePod. Priced at $349, HomePod is bristling with acoustic armaments powered by its A8 chip, including seven beam-forming tweeters (unusually, placed at the bottom of the speaker and each with their own amplifier) and a high-excursion woofer (weirdly, in a good way, set at the top of the speaker). It adjusts the way it plays music, depending on where you place it in your room, and works out how to get the best from your selection on a track-by-track basis – adjusting bass output, for instance, if it fears a fluffiness or lack of focus.
Of course, it looks great, too. An antidote to Google's all-white suite, HomePod is a moody black wire mesh, punctuating the white walls of any minimalist, tech-forward interior.
Samsung Bixby
We couldn't not mention the mysterious Bixby. Samsung's long-discussed, never-seen, answer to the smart speaker is set to arrive sometime in the second half of the year, said president of Samsung mobile division DJ Koh, at the rumour-mill that is Mobile World Congress 2018. Whisperings have been doing the rounds since August 2018, pegging a sizable (but not outragerous) pricepoint of $200. As of yet, there's still not much information about what the Bixby speaker will look like, or do. It will likely make use of existing Bixby voice activation technology used in the Samsung Galaxy S series. All we know for sure is that it's going to be 'premium', so it'll be jostling for shelf-space in an already crowded showroom.
The smart speaker conversation is a noisy one, fueled by our enduring (slightly morbid) fascination with the rise of the robot. Chatter is only set to get louder still with the rumoured introduction of a Spotify
Elly Parsons is the Digital Editor of Wallpaper*, where she oversees Wallpaper.com and its social platforms. She has been with the brand since 2015 in various roles, spending time as digital writer – specialising in art, technology and contemporary culture – and as deputy digital editor. She was shortlisted for a PPA Award in 2017, has written extensively for many publications, and has contributed to three books. She is a guest lecturer in digital journalism at Goldsmiths University, London, where she also holds a masters degree in creative writing. Now, her main areas of expertise include content strategy, audience engagement, and social media.