Technically speaking: how designers are putting the home back into home tech
Our monthly dissection of the best design-minded technology happenings the world over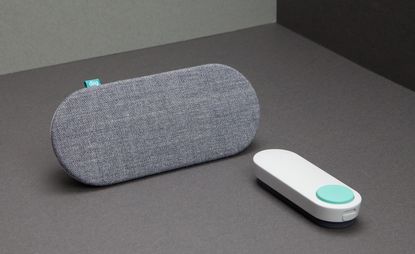 (Image credit: Ding)
Wallpaper* Newsletter
Receive our daily digest of inspiration, escapism and design stories from around the world direct to your inbox
Thank you for signing up to Wallpaper. You will receive a verification email shortly.
There was a problem. Please refresh the page and try again.
Merchandising slogans like 'intelligent home' and 'automated home' have been banded around since the 1964 New York World's Fair. In recent times, these have become increasingly difficult to decode. Despite the unprecedented potential of smart home technology, when faced with the prospect of AI butlers and networking kitchens, it's easy to see why even the most plugged-in tech disciples begin to switch off.

New products range from the bewildering to the bizarre, as any trawl through crowdfunding platform Kickstarter reveals. This being said, there are a few brave pioneers breaking through the home-tech firewalls, building genuinely smart, beautiful solutions fit for the W* House. Unsurprisingly, it isn't the newfangled, futuristic ideas that we've been most impressed by of late, but the witty, stylish reinventions of old classics...

Ding doorbel
The doorbell is one of the original home tech inventions, remaining largely unchanged since it emerged in the mid-1800s. Yet Ding has fixed what wasn't broken – to brilliant effect. When a visitor presses the Ding doorbell, a pebble-shaped WiFi 'chime' sounds in the home, placing a voice call through to a smartphone app, allowing users to talk with the person at their door. It works when you're busy in the kitchen, at the bottom of the garden, or on the other side of the world.

'You could just pin a smartphone to your front door,' creative director and co-founder Avril O'Neil tells Wallpaper*, discussing the difficulties behind creating true home technology innovation. 'It has a button, screen, access to the internet and can do almost anything, but it's completely out of place. A lot of smart home products currently on the market are like this, they are driven by the technology rather than considering peoples' lives, homes and what they need.'

Bucking the trend, and finished with high quality fabric, the Ding chime looks unobtrusively at home anywhere, and can be table- or wall-mounted. The button itself is slim enough to fit on doorframes with a simple 'click in' installation. According to O'Neil, simplicity is an essential premise of successful home technology. 'It should make your life easier, rather than adding complexity. We've designed Ding to be simple and intuitive, working with how you run your life.' Already making noise on Kickstarter, Ding will be available from the end of November.

'Snoo' baby crib
Designer and father of four Yves Béhar has a 'no personal technology' rule at home, as long as the children are awake. 'But other technology, like the 'Snoo' smart bassinet, can actually augment our ability as a human, and can improve our daily lives and our health,' he explains.

The 'Snoo' crib, created in partnership with Dr Harvey Karp of the Happiest Baby company, is built on a wealth of personal experience and sleepless nights. The see-through mesh bassinet imitates the rhythmic sensations of the womb, helping babies sleep and responding to their fussing with increasing motion and even white noise. It is also lined with a patented 'sleeping sack' made from swaddling cloth that supports the baby in the best possible position, promising to be the safest crib ever created.

The simple genius of 'Snoo' is that despite having AI qualities, it doesn't look like a robot. Béhar explains, 'The philosophy of these discreet and integrated technologies is that the tech is designed to be invisible: the experience is in the background and causes no distraction.' There's an air of familiarity that makes 'Snoo' reassuring and homely; 'transparent, ultra-safe, pure and iconic', as Béhar says. 'Snoo' is like your own personal night nurse.

Miito kettle
Having collected their $150,000 Kickstarter goal in just 38 hours last May, the Design Academy Eindhoven graduates behind Miito have been busy finessing their kettle replacement, which will finally be available for purchase next summer. This kettle uses induction technology to heat any non-ferrous material placed on its surface, cutting down on the excess water, time and energy usage of traditional kettles.

Bells and whistles abound, which is impressive considering Miito's minimal aesthetic. The 'Precise' function allows a specific temperature to be selected, and it switches off automatically when your tea is brewed – all controlled by an iPhone-esque 'home' button. With an accompanying eco-tea brand landing next month, ahead of Miito's commercial launch, we predict big things from this lifestyle meets technology team.

'Eclipse' cable tidy
From the firm that brought us nautical cables, and the DOCK charging device, Native Union is 'thrilled to be back on Kickstarter' with this streamlined cable tidy and USB charging port. With the rest of the technology world going wire-free, this cable tidy might seem mistimed from the accessory gurus. Fabien Nauroy, head of design at Native Union, emphasises why broader tech trends often don't translate in the home. 'We've been waiting for wireless charging to become the norm, but the reality is we are still very much in the cable era. We continue to rely on cables every day to charge our tech, and with that comes the familiar eyesore of messy cables in our homes.'

Eclipse is a masterclass in judging the moment, balancing user-lead technology with style. A capacitive sensor emits a subtle light halo with one touch, so you don't have to fumble around for your cable in the dark. Smart IC technology ensures that all three devices are charging at their maximum speed. Clever stuff, neatly disguised inside a classy cherry or walnut wood casing.

It seems the most successful home technology products start with the user's wants and whims, with beautifully designed human interaction at their core. As these ingenious inventions prove, we shouldn't be forced to pick between aesthetics and cybernetics when our home style is at stake. Call us greedy, but we demand both.
INFORMATION
Doorbell, by Ding, from £120; 'Snoo' crib, by Yves Béhar, for Happiest Baby, $1,160; Kettle, by Miito, from £81; and 'Eclipse' cable tidy, by Native Union, from £69.99
Receive our daily digest of inspiration, escapism and design stories from around the world direct to your inbox
Elly Parsons is the Digital Editor of Wallpaper*, where she oversees Wallpaper.com and its social platforms. She has been with the brand since 2015 in various roles, spending time as digital writer – specialising in art, technology and contemporary culture – and as deputy digital editor. She was shortlisted for a PPA Award in 2017, has written extensively for many publications, and has contributed to three books. She is a guest lecturer in digital journalism at Goldsmiths University, London, where she also holds a masters degree in creative writing. Now, her main areas of expertise include content strategy, audience engagement, and social media.