Technically speaking: rewinding a busy year of technology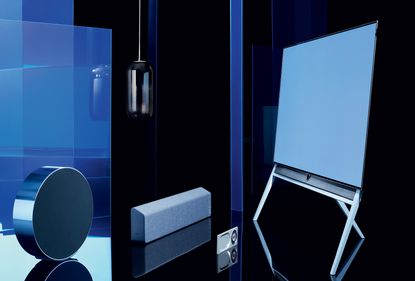 (Image credit: Philippe Fragnière.)
For our December 2018 issue, we scoured Silicon Valley to Zhongguancun to find the most function-serving, room-improving new technology products, eschewing Black Friday-fever in favour of considered curation. Here, we look back on a very busy year for technology products, where innovation merged with aesthetic engagement.

Launched at IFA Berlin in August, the Beosound Edge speaker, by Michael Anastassiades was one of the hits of the summer, impressing with its perfectly circular shape rendered in aluminium and deep black fabric. The London-based designer drew inspiration from the classic British pound coin, users can slowly rock the speaker backwards and forwards to increase and decrease volume; reminiscent of a retro twist-button on an audiodeck in a recording studio. 'Quite surreal', Anastassiades calls it; welcomingly applying a term infrequently afforded to home speakers.

Also announced at IFA, the Loewe bild 5 OLED TV, designed with German creative director Bodo Sperlein, answers the longstanding design question of The Television; a near-necessary element of the modern living room, and more often than not, an eyesore. We're pretty sure this is the first TV ever created that takes design queues from Bauhaus colour theory (with its three new colourways), and adds to the creative legacy of Sperlein's impossibly chic, art deco-inspired bild 9, launched last year.
The Gople lamp by Artemide and Bjarke Ingels Group caught our eye at its launch in July for its life-giving properties. Stealing the spotlight as the only lamp on our list, Gople is specially formulated using Artemide's patented RWB lighting system to aid the growth of your house plants. A meeting point of traditional Venetian glassblowing artistry and modern lighting technology, the transparent pill-shaped glass lamp can be adjusted by colour setting, according to the phases of your photosynthetic plant growth.

Elsewhere, in the ever-crowded smartphone aisle, Blackberry's Key 2 Smartphone received a welcome reception in New York in June, quickly positioning itself as the 'defiantly different smartphone'. Slimmer, lighter, and generally better looking than previous Blackberry models; edges have been squared, corners sharpened. Plus, the physical keypad reminds us just how satisfying it is to push buttons, begging the question if typewriter-like click phones will make a widespread comeback. We doubt it, but we do love this contemporary take on Noughties nostalgia.
There's nothing retro about Hermès' latest Apple Watch, unveiled with considerable fanfare at Apple Park in September, a particular stand-out among the usual livestreamed waterfall of Apple products. In the singularly beautiful Hermès edition, a two-tone strap is complemented by a gradient face design, which, like a digital sundial, changes colour with the passing of minutes, measuring the hours with meditative simplicity. Indeed, meditative tech took off with more force than expected in 2018. Two further digital sunrises come in the form of Nolii's digital alarm clock that targets seasonal defective disorder, and Google Home's ambient visual alert system.

Even the simple air purifier is being positioned as a piece of wellness tech in 2018. As well as doing the usual filtering, Venetian designer Marco Zito's Bellaria is a 'tabletop ionisation device', clad in Murano glass. The Bellaria tech delivers a balance of negative ions to your space making it seem more like you're 'by the sea, in the mountains and around waterfalls', says the brand, optimistically – but it works. Negatively charged ions remove bacteria, viruses, dust mites, pollen, spores, various dusts, foul odours and cigarette smoke from the air, which, in turn is thought to make you feel better. It might be the soft lighting also emitted from Bellaria, but we're convinced.

2017's smart speaker overload has (thankfully for some) started to abate. For our speaker selection, we looked to the architectural, over the artificially intelligent. Vifa's bench-like Stockholm 2.0 speaker softens up technology with integrated textiles; Jose Levy's Prisme Long speaker mimics a modernist high rise in miniature, and Q Acoustic's Concept 500 by Kieran Dunk aims for 'sonic perfection', and is more duo-toned sculpture than traditional floorstanding speaker.


'Technically speaking' is our monthly dissection of technology happenings the world over
A version of this article originally appeared in the December 2018 issue of Wallpaper* (W*237)
INFORMATION
Subscribe to Wallpaper* Magazine
Elly Parsons is the Digital Editor of Wallpaper*, where she oversees Wallpaper.com and its social platforms. She has been with the brand since 2015 in various roles, spending time as digital writer – specialising in art, technology and contemporary culture – and as deputy digital editor. She was shortlisted for a PPA Award in 2017, has written extensively for many publications, and has contributed to three books. She is a guest lecturer in digital journalism at Goldsmiths University, London, where she also holds a masters degree in creative writing. Now, her main areas of expertise include content strategy, audience engagement, and social media.