Google unveils its third suite of products with a focus on digital wellness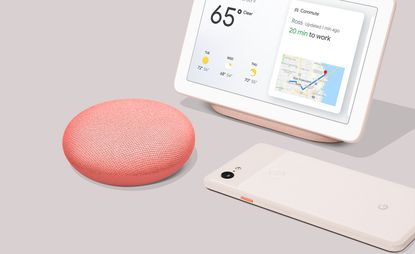 (Image credit: press)
Two years ago, Google launched its first set of products under its new hardware arm Made by Google. The suite of digital tools arrived with game-changing software and AI that offered us a Google lifestyle that challenged competitors like Apple and Amazon. This year, the tech giant is celebrating its 20th anniversary, and with it, its third wave of life enhancing launches – Pixel 3, Google Pixel Slate and Google Home Hub.

Google shook things up this year, swapping its global conference location from the Mountain View HQ to New York City, but they still served up its ethos across multiple screens that this technology will ultimately help your life. The new collection follows on from the brand's inaugural Salone del Mobile project earlier this year at Rossana Orlandi that firmed its place in the design world with a show on how hardware can seamlessly integrate with our lives. Spearheading the design department for the past four years, Head of Design Ivy Ross and her team were given appraisal early in this year's hardware keynote in a video where Ross explains that Google's design aesthetic has soft circles and curves for the user to get close to the technology that, she says, 'will eventually be invisible.'
As the presentation continued, it became clear that Google isn't ignoring the social climate and the need for a digital detox, shown in the launch of new wellness software for Pixel phones, dubbed Digital Wellbeing. Offering a smoother journey to the 'do not disturb' button, the software knows to mute notifications when the screen is facing the table, and allows us to monitor app usage time. Meanwhile the new wireless charging system, Pixel Stand, offers an ambient visual alarm system to appear on your phone slowly displaying gradient tones of the sunrise moments before the sound hits.

These wellness features join new hardware that includes the company's first tablet, Google Pixel Slate, and Pixel 3, the latest smartphone that contains an impressive new wide angle camera among other nifty new functions, and Google Home Hub that is a compact smart home, but with a floating visual display. All the designs are imbued with soft edges, bespoke textures and muted palettes, plus playful extras like brightly hued buttons on the Pixel 3, keeping in line with Google's well known vibrant design style that Ross describes as 'bold and optimistic.'

Google is a relative newcomer to the hardware game, and it was sure to communicate that while the new technology could improve our lives, it was not here to take control; 'we love working on really hard problems that make life easier for people, in big and small ways,' mused Rick Osterloh, vice president of Hardware at Google.
INFORMATION
For more information, visit the Google store website (opens in new tab)