Robotic tailors to AR trainers. Fashion retail is evolving digitally.
There's a host of innovative and immersive solutions which brands and retailers are bringing to shopping online today, from Savile Row tailor Huntsman to bricks-and-mortar boutique Browns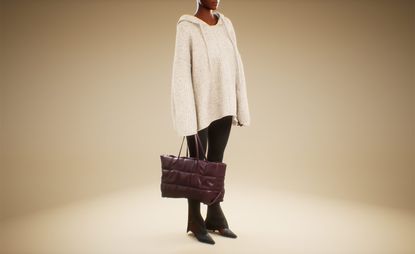 (Image credit: khaite.com)
Repeated lockdowns around the world have caused havoc within the retail world, from tourist-attracting luxury flagships to neighbourhood outposts, multi-brand department stores on commuter belts to high street hotspots. Traffic through retail corridors has slowed to a trickle, shop doors have shuttered and boutique windows have been boarded up, some including stalwarts like Neiman Marcus, Century 21 and Brooks Brothers, to never reopen, or Debenhams and Topshop to enter administration.

In order to survive, brands have had to adapt to the new dimensions of the digital world, where innovations in e-commerce are key, across not just websites, but social media channels – from Instagram to WeChat – too. According to McKinsey's State of Fashion 2020 report, 13 percent of European consumers were, as a result of the pandemic, set to browse e-tailers for the first time this year, while, in April, a quarter of US and European shoppers were set to spend online using social media channels. In November 2020, LVMH announced the creation of a conglomerate-wide position of 'chief omnichannel officer', to respond to the surge on luxury shopping online.

From 3D store experiences to AR changing rooms, Savile Row robots to shoppable Instagram filters, there's a host of innovative and immersive solutions which brands are bringing to spending online today. Here we round up the brands and boutiques who are leading the way.
Khaite
For those keen to shop New York label Khaite's cool-inflected sophisticated styles, from its drop-shouldered hand-knitted bouclé Sile Hoodie to its body-skimming sweetheart neckline Allegra Dress, digital help is at hand. In celebration of the launch of its A/W 2021 collection, the brand has launched an exclusive partnership with try-on technology pioneers Bods, culminating in an immersive digital experience which allows shoppers to view pieces on a replica of their own body, and note how they drape, cling and sculpt.

To create their digital alias, customers are required to submit two photographs, one profile and one-side on, alongside input measurements including height. Once their avatar begins rendering, they can then adjust personal physique according to skin tone, bust and bodily curves. It's not only expert computer graphics which ensure you can simulate clothing to a intricate version of your own body, Khaite's tactile, sculptural and sensual creations are also presented in expert likeness. Each digital clothing design has been constructed using original patterns to ensure it is accurately represented in 3D real-time.
Can't decide on Khaite's fluid sleeved cardigans or snuggly fitting leather jacket? Now you can try on both with online ease and customer confidence.
P.E Nation
For the launch of P.E Nation's sustainable ski collection – an offering of retro-toned and colour-blocked alpine essentials crafted in recycled fabrics – the Sydney-based label launched a fitting room-inspired Instagram filter, allowing shoppers to try on three ski jackets online. 'We decided to work with the Institute of Digital Fashion (IoDF) who are globally renowned for the production of digital clothing, for having a strong ethos of sustainability, inclusivity and always innovating within the fashion sphere,' says co-founder Pip Edwards, of the filter, which features impeccably lifelike garments that were delivered in 3D stitch by stitch, right down to the final flicker of faux fur. 'This file, an extraordinarily large size was then painstakingly manipulated, to fit into the tiny frame of Instagram's space by decreasing poly counts,' Edwards adds.

In a snow-sprinkled spin, shoppers sport P.E Nation's ski jackets against a series of enchanting alpine backgrounds, allowing them to escape to icy online altitudes. 'The background scenes are a manipulation of multiple different places, created by IoDF's digital environmentalists, inspired by our moodboards,' Edwards says. They resemble pine tree-circled perfection.
Gucci
In June 2019, Gucci became the first fashion label to incorporate augmented reality into its App, allowing fans of the label's GG logo and star motif-swathed Ace sneakers to virtually try on their favourite styles. For the innovative launch, the Florentine house collaborated with Belarus-based startup Wannaby, which seeks to solve the disconnect between online merchandise and the at-home shopper. It launched the try-on AR sneakers app Wanna Kicks in January 2019, which garnered 500k organic users in the first days of its launch. For Gucci's Ace Sneaker Try On technology, sneakerheads can select their Ace styles of choice, point their mobile device's camera at their own feet to virtually try on their chosen pair. They can also snap their favourite styles and share them via social media.

Gucci's dedication to immersive shopping technology runs parallel to its renewned dedication to customer service. In April 2019, it opened the Global Client Service Center, a 2,300 sq m space in Florence, with over 150 multi-lingual client advisors, assisting customers across 26 countries via email, phone and live chat. The brand also plans to expand with six more global centres, from New York to Seoul, which will be designed to resemble the brand's physical boutiques, and provide more localised customer service experiences.
Huntsman
A sense of touch is integral to the bespoke suiting industry of Savile Row, so when social distancing prevented Huntsman's cutters and tailors from fitting clients in their Mayfair outpost or from travelling to visit them across the globe, they knew they had to provide a cutting-edge digital alternative. Enter, Mr Hammick, Huntsman's first telepresence robot, named after its famed Head Cutter of the Seventies, who, with the aid of a local assistant, travels to meet clients, and executes fitting tasks directed from Huntsman's Cutter in London or New York.
RELATED STORY
Mr Hammick – who boasts a touch screen and robotic arm – can be manouvered remotely – allowing Huntsman's cutters, who appear via a live video link, to manoeuvre around the body and zoom in, record and photographic specific garment details, and be with their client virtually from baste to final fit. Cutting out physical travel, the service actually speeds up the tailoring process and allows for more appointment flexibility.

There are other elements of Huntsman's home-focused efforts. This includes Hero, a live video chat for shopping, and Toshi, a white glove delivery service, allowing customers to receive pieces to their door, and with the help of an assistant, pin and measure garments to their chosen specifity.
Salvatore Ferragamo
Some lament the difficulty of shoe shopping online – finding it difficult to settle on size, and scope out the quality of a fabrication or the depth of a shade of leather. But fans of Ferragamo's classic Tramezza shoe need not fret, as the Italian label has developed an immersive shopping experience, in collaboration with Microsoft, that allows them to personalise their preferred style, and see the result in 3D.

Harnessing Microsoft's Hevolus Augmented Store at Home platform, Ferragamo allows customer to custom order its Tramezza shoe using a selection tool online, which offers up a 3D reproduction in a host of materials, from lizard to suede, colours, including rouge, stone and black and hardware details. Should they require more made-to-order help, shoppers can connect to a shop assistant through an online appointment, who wearing a Microsoft's HoloLens 2 holographic computer, can virtually enter their digital fitting room, and visualise and advise on their selections. At the end of the appointment, customers can also see a digital twin of their Tramezza shoe in augmented reality.
Christian Dior
There's something enchanting about entering a boutique's beauty department and catching the aroma of a scent that suits you perfectly. There's little that's sensorily stimulating about making an olfactory purchase online, but Dior's virtual fragrance consultation provides a well-scented antidote. The service, hosted by the French maison's UK Fragrance Ambassador Carl Groenewald, live from the Dior Salon De Parfum in Harrods, London, allows customers to book a fragrance consultation online, before being sent a fragrance tester set, featuring mini samples of hero scents to their home. Groenewald then talks clients through each perfume, including the spicy, woody notes of Purple Oud and the smoky incense aroma of Bois d'Argent, before they make their final decision.

In April, Dior also launched its first virtual beauty boutique, bringing the walls of its Avenue des Champs-Élysées boutique in Paris, to customers at home. Here, beauty fans can take a tour of the brand's space using clickable arrow tools, and watch short films relating to Dior's products, before making a purchase.
Browns
Sneaker heads and watch obsessives, rejoice! Browns' latest Virtual Try – powered through its Browns Fashion mobile App, allows customers to try on their favourite trainer or timepiece using AR technology, from their comfort of their own homes. 'As augmented reality technology has evolved over the past few years, we saw huge potential in bringing physical store experiences into the palm of your hands – specifically, "virtual try on"' says Mohammed Said, Director of Technology and Product at Browns, of the launch. This was developed in collaboration with Farfetch. By simply pointing their phone's camera at a heel or wrist, Browns fans can virtually sport a selection of styles including for sneakers, a Converse high top, Alexander McQueen oversized sneakers and Axel Arigato's White Clean 90 low tops.

Browns' Virtual Try On technology responds to the growth in footwear and watch categories, experienced by the London retailer, connecting the dots between its e-commerce arm and at-home customers. 'With the global pandemic restricting many of our customers from travelling to stores, we accelerated our investment in this space,' says Said. Start working your AR angles now.
INFORMATION
brownsfashion.com (opens in new tab)
dior.com (opens in new tab)
ferragamo.com (opens in new tab)
gucci.com (opens in new tab)
huntsmansavilerow.com (opens in new tab)
khaite.com/ (opens in new tab)
pe-nation.com (opens in new tab)