Virtual life coach: Fitbit introduce Sense
The Fitbit Sense has been designed to feel like a natural extension of the body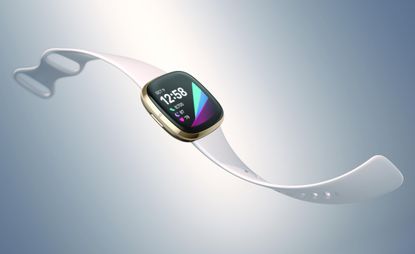 (Image credit: TBC)
Fitbit has been making us healthier for 13 years now with a diverse range of products ranging from fitness bands to smartwatches and intelligent scales. Sifting, sorting and presenting the deluge of data we all generate from moving around is as much of a challenge as gathering it in the first place, and the company is moving towards becoming an overall 'wellness provider', pushing its Fitbit Premium subscription service as a sort of virtual life coach.

The gateway device for this world of tailored workouts and mindfulness tools is the new Fitbit Sense smartwatch, a device that heralds a new design language and a new iteration of the company's software, as well as ever closer integration with a range of apps and enticements. The Sense watch face is contained within a squared-off circle – or 'Squircle' – that embodies Fitbit's new 'Biologic Industrial Design Language.' According to Jonah Becker, the company's SVP of Design, it was 'inspired by and designed for the human body.' That doesn't mean overtly organic forms, but instead a soft-edged form that you pinch and grip to change function and communicate information.
'A lot has changed in the market for wearables,' says Becker, 'it's graduated from start-ups to global players.' One of Becker's achievements at Fitbit was to build an in-house industrial team from scratch, moving on from the angular, jewellery-like approach the company used in its first set of wrist-worn trackers. Nowadays such devices are designed to be worn practically 24 hours a day, so they need a much closer relationship to the human body. Weight is no longer an indication of quality or sophistication in industrial design, as high-performance training shoes or bicycles demonstrate. Sense is now Fitbit's flagship Smartwatch offering, but the company's other trackers are also getting a Biologic redesign, including the bone-like form of the Inspire 2 band.

'Our mission is to bring health to people, so how can that inspire our design language,' says Benjamin Riot, Lead Industrial Designer on the Sense. There are only so many ways a wearable can be configured, so the team has gone for an approach that feels like a natural extension of the body, with interactions that become part of your muscle memory. The Sense is soft edged, with a custom OLED screen to fit the 'squircle' shape. 'There's a visual comfort with traditional circular watches,' Becker admits, 'but smartwatches are more at home with the rectilinear form.' Special nano-moulding techniques fuse aluminium with resin to allow the device's antennas to be incorporated within the housing – this is the first Fitbit device to have a microphone and speaker, so calls can be taken independently of your smartphone. There's also a vast array of carefully packaged sensors, what the company calls a 'biosensor core'.
The Sense showcases a new sophistication with colour and material. 'When I joined Fitbit, wearables were typically brightly coloured rubberised bands,' says Becker. 'Our products have to fit a variety of bodies and needs,' adds Irina Kozlovskaya, Fitbit's Director of Industrial Design, pointing out that as well as a sports band, the Sense can be swapped into a leather strap or a woven textile band. All this tactility and attention to detail, however, is designed to evaporate when the device is engaged with. 'When the screen lights up, you almost want the physical part to disappear,' says Becker. There's a secondary benefit here, in that bringing more information, functions and notifications into the Sense discourages you from picking up your smartphone and being sent off into a social media spiral. 'Users want us to help them manage their time,' says Becker, and it's no coincidence that the new Fitbit OS, version 5.0, has a hugely expanded focus on mental wellness as well as physical.

The Sense's user experience is defined by bold blocks of colour, geometric gradations and a sense of depth, allowing you to drill down into ever more detailed information. How much of this you absorb and engage with is up to you, from tracking calories and water intake, in addition to the deluge of data taken automatically from the watch's sensors, including footsteps, heart rate, temperature, sleep patterns, runs, swims, floors climbed, etc. If you like, the watch can help regulate your stress levels, acting as a little wrist-bound guru that offers advice on breathing and mindfulness exercises.
Silicon Valley has always been a curious mix of capitalism and counterculture, individualism and group think. Fitbit has noble aims – greater fitness for all – and the hardware and software skills to make gathering the necessary data as user-friendly as possible. But it also has a business-focused arm, Fitbit Health Solutions, that gives corporate customers an electronic carrot to help employees boost their fitness, helping cut down absence through illness and health insurance costs in the process. This kind of tech is a trade-off between convenience and complexity. Embedding Google Voice Assistant or Alexa in your watch is handy, if you'll pardon the pun, but the walls that separate the data we give away without thinking and the data that we assume is sacrosanct have never felt thinner. Privacy is one of Fitbit's prime directives, but with a $2bn offer from Google currently on the table, the tantalising mash-up of (anonymised) data that the two companies could effortlessly collate feels more than slightly alarming.

However, if like many you believe that that ship has long since sailed and disappeared far over the horizon, then you should seriously consider the Fitbit Sense. It'll serve you well as a smartwatch, even without the dizzying array of data it generates in an attempt to keep you on the straight and narrow. For the fitness-minded statistics obsessive it offers more to pore over than almost any other device on the market, plus the promise of a helpful nudge in the right direction when you need one most. Whether it'll deliver on its promise of a more mindful future, freed from the tether of a smartphone screen, is ultimately up to you.
INFORMATION
Fitbit Sense, price tba, www.fitbit.com (opens in new tab)
Jonathan Bell has written for Wallpaper* magazine since 1999, covering everything from architecture and transport design to books, tech and graphic design. He is now the magazine's Transport and Technology Editor. Jonathan has written and edited 15 books, including Concept Car Design, 21st Century House, and The New Modern House. He is also the host of Wallpaper's first podcast.