Flying high with B&W's pioneering Zeppelin, the ultimate standalone speaker
Reviewing the latest, ever-more functional iteration of the Bowers & Wilkins Zeppelin sculptural speaker, we speak to the brand about the secret of its 15-year success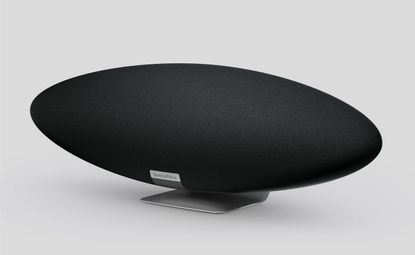 (Image credit: press)
The Bowers & Wilkins Zeppelin is an icon of modern hi-fi design. Subtly evolving over its 15-year production life, it is the original sculptural speaker, blending high-quality sound with striking looks. The most recent version of the Zeppelin landed last autumn, with enhanced streaming capabilities that make the most of its spatial audio-promoting form. Available in midnight grey or pearl grey, the unit incorporates ambient lighting and can be operated via Bowers & Wilkins' Music App. It also comes with newly baked-in Alexa functionality.
Andy Kerr, the British company's brand director, talked to Wallpaper* about the secret of the Zeppelin's ongoing success.
Wallpaper*: How do you design for longevity in such a fast-changing space? The Zeppelin began life as an iPod dock, now a totally outdated typology. For a technology product to last 15 years on the market is quite an achievement.
Andy Kerr: I think Zeppelin perfectly encapsulates our approach to product development. It's built around the concept of form following function: it was shaped by engineering, by the correct acoustic approach, not by the vagaries of fashion. There's integrity, honesty, and purpose to its shape. That's not to underplay the crucial role of industrial design in the process, of course – our products have to look as beautiful as they sound – but the important point to understand is that with us, our acoustic requirements lead, and our industrial design follows.
W*: How did the form originally come about?
AK: Let me walk you through the process. The original Zeppelin prototype was composed of two separate stereo speakers. We wanted to prove the virtues of stereo separation in a single-speaker component: to achieve that, we took two of our compact, affordable lifestyle monitors (a now-defunct design called the LM1) and rotated them through 90 degrees, joining them in the centre by a single 3D-printed section that also housed a generic iPod dock. The result was rough-and-ready, for sure – but it also proved out the concept rather nicely, sounding massively better than any other iPod speaker system we could find to evaluate.
We evolved the speaker configuration to help with acoustic separation and bass definition. It gave the Zeppelin its now-iconic 'tapering' form. The form, as I said, is shaped by function – and the 'function' in question is the quest for better, more convincing stereo sound from a single speaker component. And that, I believe, is why the Zeppelin concept has survived the years so successfully: while we've evolved its feature set over time to meet new needs – for example, by removing the iPod dock arm and adding wireless capabilities – we haven't needed to change its fundamental essence. Again, it's about designing with integrity, honesty, and purpose.
W*: How has the internal technology changed over the years?
AK: One other key point needs to be highlighted: smart DSP-driven digital platforms (essentially, the 'brain' of a product) allow us much more scope in 2022 than we had in 2012 for future upgrades that can extend the longevity of a product way beyond its typical lifespan. Today's Zeppelin offers high-resolution streaming from many different providers, plus podcast and online radio station access and more – and soon it'll add multiroom functionality too. It'll continue to evolve over the months and years to come – and that's quite a departure from the original product which, as you correctly pointed out, was designed specifically to connect to an iPod and, as a result, was defined by (and limited to) the capabilities of its source.
W*: How much of Bowers & Wilkins' design is reactive to market trends, and how much is directing consumers towards new ways of engaging with music?
AK: Of course, we're aware of technology changes and evolving consumer preferences – the key is to make informed decisions based on your own product insights, rather than allow prevailing market trends to define you. We try to look at the long lead time, not the picture right in front of us: we need to see and address the future of audio in the next five years, not design to compete with a product that is dominating the market today. It's not easy to do well and of course, we'll make mistakes along the way, but that's our hope.
W*: What about streaming services – do people use these in a different way?
AK: Our Music App is a big part of that approach. We developed it initially to provide a simple way for our audience to add music streaming services to our Formation-enabled wireless audio products and more recently, to our Zeppelin and Panorama 3. But the Music App is about more than just easy access to the content you want; it also helps you to find content you'll love. It's smart – the more you interact with it, the more it will home in on your preferences and intuitively serve up music you'll like without you having to lift a finger.
It'll also work across platforms. For example, if you 'like' or listen often to music on TIDAL while you're working out and listening on headphones, that same music will appear as part of your favourite music in your Music App when you get home. We also offer a wide range of curated playlists – some themed to products, some to contemporary cultural events, some just to the time of year – and we go out of our way to populate those playlists with diverse, interesting, different music, not the all-too-obvious choices that many in our category will pick. And we know our audience loves it – the interactions we get with all our playlists are immense.
INFORMATION
Bowers & Wilkins Zeppelin, £699, bowerswilkins.com (opens in new tab)
Jonathan Bell has written for Wallpaper* magazine since 1999, covering everything from architecture and transport design to books, tech and graphic design. He is now the magazine's Transport and Technology Editor. Jonathan has written and edited 15 books, including Concept Car Design, 21st Century House, and The New Modern House. He is also the host of Wallpaper's first podcast.