Apple AirPods reach their third and best generation yet
Apple AirPods 3 come newly contoured for greater comfort, and with a 'surround sound' experience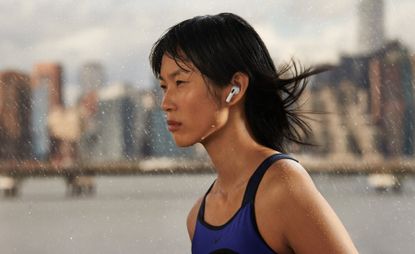 (Image credit: TBC)
No Apple product seemed to achieve ubiquity as quickly as its Bluetooth-enabled AirPods. Or maybe that distinctive dangling white stem was just hard to miss. The introduction of AirPods 3, though, means we will be seeing much less of them. Or a third less stem anyway.
The wireless earbuds have been given their first radical-ish redesign since their launch and that shorter stem now leads to a larger, more contoured and, Apple says, more comfortable earpiece. That extra space also means that the entry level AirPods now boast spatial audio and Adaptive EQ, previously only available on the Pro and Max models.
Put simply, spatial audio and dynamic head tracking promise to put you in an immersive, enveloping audio environment, a new take on surround sound. If, that is, you are playing the Dolby Atmos version of a track. Spatial audio also promises to add extra audio dimensions to movie streaming, but its most useful application might be when using Apple's new FaceTime update.
Conscious that its video call app wasn't cutting it as a professional tool, the new take on FaceTime, released as part of the Monterey MacOS update, now features screen sharing and group grid view. And spatial audio promises to separate the potential cacophony of voices and make it feel more like an actual conversation. Given that the struggle with incoherent audio is a major contributor to video conferencing fatigue, this is a bigger deal than it might first sound.
In functional promise, AirPods 3 pretty much match the Pro version bar noise cancellation. Apple says the sound profile, though, is slightly different. Both models now feature the 'force sensor', offering pinch and multi-pinch control. And the new AirPods also promise six hours of music, podcasts, and wandering-in-a-circle phone calls, which seem all the rage now, from one charge, a full hour more than the previous model.
INFORMATION
Apple Airpods, 3rd Generation, £169