3D make-up artist Ines Alpha's favourite Instagram filters
Digital artist and 3D make-up creator Ines Alpha shares her favourite Instagram filters for futuristic facial transformation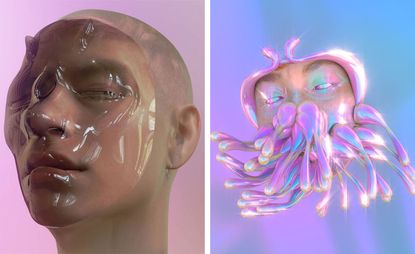 (Image credit: instagram.com)
Wallpaper* Newsletter
Receive our daily digest of inspiration, escapism and design stories from around the world direct to your inbox
Thank you for signing up to Wallpaper. You will receive a verification email shortly.
There was a problem. Please refresh the page and try again.
Digital artist Ines Alpha is a pioneering force in AR beauty, a rapidly accelerating field that is set to be ever more prevalent as our universe continues to morph into a metaverse. Through computerised makeup application or otherworldly facial filters, Alpha explores how our self-presentation can be radically transformed within digital realities.
'I consider make-up to be something that transforms your face, be it Instagram filters or what I do,' says digital artist and 3D make-up creator Ines Alpha. 'It's how make-up has been used since the Egyptians: enabling humans to transform into a character.'
Whether working with brands like Dior and Selfridges, or collaborating with artists and musicians, Alpha's digital creations repeatedly push the boundaries of what make-up can be.
The lockdowns and mask-wearing of 2020 might have lead to a decrease in the use of traditional make-up, but it also resulted in a flourishing of new, technology-based alternatives. For those looking to satisfy their cosmetic creativity digitally rather than physically, Alpha has shared a list of Instagram filters that can transform your face with the click of a button.
Reflection
This 3D makeup face filter was designed in collaboration with artist Anais Borie. She contacted me a year ago to create something together and we came up with a sumptuous cyber augmented mirror.
In the opulent mirror 'Automated Divine Reflection,' the viewer is not confronted with his or her own image, but with a computer-generated face. The encounter in the mirror is intended to make the contact between human existence and technical progress tangible.
Holoctopus
This is my brand new filter! It's an adaptation of a video I made during the very first quarantine of 2020. I was inspired to create 3D face masks to protect yourself from viruses in the digital realm. I'm super proud of it because it's technically more advanced than my previous ones. I've learnt new techniques thanks to other developers that helped me on it (@alwayscodingsomething @aaronjablonski @hongwei_tang).
This is human
This collaboration with Bimba y Lola was my first with a brand. I was so excited to give life to one of my 3D characters. I can't wait to be able to develop Tamagotchi-like AR experiences so we can all play with cute otherworldly digital pets.
Time warp scan
Every time you use it you randomly get a different funny face. I have so much fun playing with it. It's super interesting to record yourself every time and see how instinctively your body reacts to what it sees, because you cannot predict what you will look like, and that first second when you see your new digital self is magic.
Alpha skin
Sarah Mayer is a great digital designer. What I like about this Instagram filter is that she's not trying to make you more beautiful according to society's beauty standards. Still, this filter is truly beautifying but in an unconventional way, looking maybe weirder and unique and also very otherworldly. I'm always super happy to see other creatives working on diversity in beauty and showing you can be beautiful in so many other ways than just following Instagram's typical model of perfection – cat eyes, perfectly contoured face, thin nose, flawless skin.
Dream machine
I love crazy surrealistic filters and when AR can bring you into worlds reality cannot offer. I think Mitsuko has a great style and sense of humour, it's always cute and very playful. Her filters truly bring joy and I think also self-confidence because while using them it's so funny that you completely forget to look 'good'. Of course, I'm a huge fan of the colours of this one.
Otherworldly

The Otherworldly filter is a collaboration between me and @madroni_redclock, facilitated by @planet.huh. Though on different parts of the globe, Madrona and I connected around our shared ethos of unconventional beauty and the shared mood 'otherworldly'. We conceptualised an oceanic design vision, which guided the cool tones and a geometric make-up design from Madrona, and the water-like 3D iridescent moving shapes from me, to create a 3D make-up face filter that transports users to another world.
Receive our daily digest of inspiration, escapism and design stories from around the world direct to your inbox
Mary Cleary is the Beauty & Grooming Editor of Wallpaper*. Having been with the brand since 2017, she became an editor in February 2020 with the launch of the brand's new beauty & grooming channel. Her work seeks to offer a new perspective on beauty, focusing on the pioneering personalities, product designs, and transformative trends within the industry.