Google's life-enhancing gadget suite brings a new edge to your world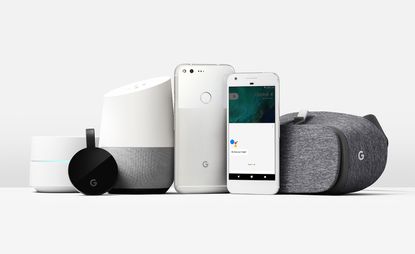 (Image credit: Google Store)
Streaming live from California to a warehouse location in east London, Googlers wearing t-shirts branded with the hashtag 'MadeByGoogle' vibrate around an excited crowd of tech-types, delivering a limitless supply of goji berry smoothies in jam jars. The scene is set perfectly for a much anticipated, undisclosed product launch.

Google has been threatening to preview its new iPhone-challenging smartphone for some time, so when 'Pixel' is unveiled in all its understated glory, it doesn't come as much of a surprise to the tech disciples in the audience. What is surprising – and mightily impressive – is that the launches keep on coming, with five further interconnected gadgets being unveiled, as Google confidently repositions itself as a hardware hardballer. To what extent this powerful Google gadget onslaught will upset the technology cart remains to be seen.

Here, we round up the highlights from the launch event...

Pixel
Pixel comes in two sizes, 5" or 5.5", and is available in the three colours – 'Quite Black', 'Very Silver' and 'Really Blue', (tongue firmly placed in cheek). Key selling points include a 12.3 megapixel camera, which has been rated independently by DxoMark Mobile as the best smartphone camera ever created. Pixel also promises up to seven hours of battery life with just 15 minutes charging time, and a one-tap video app called 'Duo' that seamlessly works across Android and iOS. A catalogue of impressive stylistic features is concluded by the built in 'help desk' tool, that allows real time 24/7 access to a Google adviser – though one does wonder if this is anticipating technological difficulties before the product has even hit the shelves.
Google Assistant
Ask it questions. Tell it to do things. This piece of artificial intelligence underpins all of the new product launches, and the Google team describe it as 'your own personal Google – a Google for your world'. Simply say 'Ok Google', and the assistant whirs into life, voicing data from your Calendar, Gmail, Search, Photos, Maps and pretty much anything else you program it to. Again, interconnectivity becomes the crux: the more invested in Google's existing products and services you are, the more powerful Assistant becomes. It integrates with the Google Photos service, for example, so you can ask things like 'Show me my photos of trees from last autumn', and before you know it, leaves are falling on your Google Chromecast TV screen.

Daydream View
This comfortable, fabric-covered headset with controller proposes high quality, immersive virtual reality – and at £79, comes in at around £600 cheaper than rival brands. Granted, puchase of Pixel is also necessary as the two things (in typical Google form) rely on their interconnectivity; in this case, the phone slips into a section at the front of the goggles. But connection is this headset's key strength. Daydream View promises the ability to dive headfirst into VR-enabled YouTube videos, as well as Google Earth Street View. The addition of an intuitive controller that uses sophisticated sensors and smart software, makes interacting with the virtual world more akin to reality than ever. When you play games and use apps, you'll be able to swing, point and wave it like a wand. As Sabrina Ellis, Google's vice president of product management, says, 'Let's face it, who doesn't want to be a wizard?'
Google Home
The Google Assistant works across devices, including Google Home – a smartly designed speaker, delivering cool highs and warm bass for hi-fi sound that streams over WiFi. With one intended to be positioned in every room of the house, there's no need for buttons on this streamlined, elegantly simplistic surface. Instead, voice control is supposed to be the primary interaction method. Dimming the lights, playing a YouTube video, pausing Netflix, or entering your 3D virtual reality world; with this device (along with the others in your Google gadget grab-bag), the home is transformed into a connected, whirring technology hub, powered and engineered by a humble search engine.
INFORMATION
For more information, visit the MadeByGoogle website (opens in new tab)
Elly Parsons is the Digital Editor of Wallpaper*, where she oversees Wallpaper.com and its social platforms. She has been with the brand since 2015 in various roles, spending time as digital writer – specialising in art, technology and contemporary culture – and as deputy digital editor. She was shortlisted for a PPA Award in 2017, has written extensively for many publications, and has contributed to three books. She is a guest lecturer in digital journalism at Goldsmiths University, London, where she also holds a masters degree in creative writing. Now, her main areas of expertise include content strategy, audience engagement, and social media.