Studiomama shakes up urban planning with a micro-city in the heart of Milan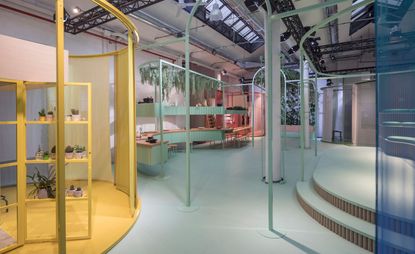 (Image credit: Studiomama)
London architect Studiomama has taken on the Mini Living challenge by empowering occupants to become designers. 'Built by All' proposes a creative process for encouraging an open dialogue between architect and resident so that the building can best respond to the needs of its occupants. Exhibited in Milan for Salone del Mobile, 'Built by All' marks the fifth chapter in the ideas project initiated by the car marque, and it is possibly the most rational proposal so far.

Mini Living investigates how a new approach to design can improve city living and, in the process, examine how Mini can evolve from being simply a car brand. The idea is to collaborate with various architects – different voices for different projects – and proposals that respond to regional needs. There have been five so far, three in Milan and two in London with an on-going research project based in Brooklyn. The final chapter is a fully-functioning dynamic live/work/play space that will open this time next year in Shanghai.
Studiomama's project in Milan represents the people occupying the buildings. The inhabitants, their individual needs and ideas now play a central role in a series of suggestive modular spaces. There are four prototype living spaces here placed alongside public zones to include a communal kitchen and an outdoor gym – all painted in mellow pastoral shades that feel playful, welcoming and engaging.

Studiomama founder Nina Tolstrup admits she is purposely challenging conventional design processes, the usual hierarchies of architect and client, to illustrate new ways of conceiving homes for young people flocking to cities, as well as for retired urbanites in need of a more communal life. She says these modular spaces are an expression of their owners and residents. They are about freeing up the private and public space and exploring different configurations. It is also about colour – how it can express and change your mood. This is a utopia for the modern day – a contained micro-neighbourhood of sorts.

'Today's standardised housing market is limited in its ability to meet the requirements of the individual,' offers Oke Hauser, Mini Living's creative lead, who worked closely with Studiomama in conceiving 'Built by All'. 'This installation turns people into active creators and puts them back at the heart of the design process. The quality of a living space is determined by how well the residents identify with their home.'
The Mini Living proposals have been an intriguing mix – an exploration of shared living spaces in urban areas, micro-city retreats with communal access, a building that physically connects its inhabitants to their natural surroundings, and a mix of private and shared experiences told through the story of books and food. Shanghai will be the first to take the concept to reality.

Hauser, himself an architect, is visibly excited about this project, which will mark the start of similar schemes appearing in cities around the world making use of empty and unused spaces. He notes that the Chinese city is an ideal location for this first test-bed as it is so open to change and is questioning how the ancient, modern and future can co-exist with one another. Working in partnership with Chinese project developer Nova Property Investment, the converted abandoned paint factory in the Jing'An district of Shanghai will be converted into a series of micro apartments, a mix of residential dwellings for young urbanites but also for the elderly who may wish to live among others. There are co-working spaces and communal zones, a rooftop farm, car-sharing facilities, a park and a cultural centre to interact with the outside world and give something back to the city.

With the next life of the motor car fast approaching – the clean, autonomous, shared vehicle intimately linked with its environment – Mini is conscious of its strengths when it comes to city life. The original 1959 Alec Issigonis car also addressed urban living; it too was aimed at the young for a vehicle that was affordable, small and the perfect city run-around. Mini Living could potentially achieve something similar.
INFORMATION
'Built by All' by Studiomama for Mini Living ran from 17 - 22 April 2018 in Milan. For more information, visit the Mini Living website
Receive our daily digest of inspiration, escapism and design stories from around the world direct to your inbox