Q&A with Marc Hare of Mr. Hare shoes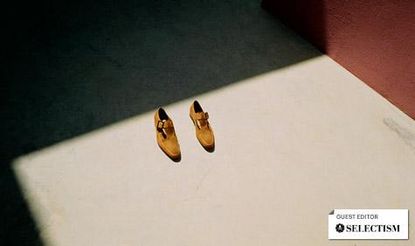 (Image credit: Marc Hare)
Launching last year, Marc Hare's 'Mr. Hare' range launched to much blog fanfare. His range 'the purest form' brought a sensibility that hasn't been seen in men's shoes for a long time. With the Mr. Hare (opens in new tab) Spring/Summer 2010 collection showing at London fashion week, we caught up with the shoemaker to have a chat and get some exclusive pictures of his upcoming collection.
What's the first thing you look for in a pair of shoes?
An interesting person. I don't look for anything in shoes. I wait for the right shoes to find me. I look at every pair on their own as individuals. If I only looked based on what I know, I wouldn't be so open to the completely unexpected. It's like saying what do you look for in a piece of art, or a meal or a partner. I am looking for that unexplainable chemical, electrical and emotional spark that alters my state.
You're not afraid to say that you like shoes someone else has made on your blog, what other footwear companies do you admire?
I admire footwear designers more than companies, people who obviously pour their heart and soul into what they do. Margiela shoes always catch my eye for their leftfield orientation. Ricardo Tiscii's Givenchy has made amazing mens shoes. YSL under Pilati has made quintessentially elegant men's shoes. Nicolas Kirkwood has been a constant source of interest since I got in the shoe game. Then there are the underground super heroes like Marloes Ten Bhomer and Sruli Recht and Alexander Fielden. I like shoes so it stands to reason that I like other peoples shoes too.
You've noted that you found classic shoes a little boring, how would you go about Mr Hare-ing a pair of brogues up?
I don't find them boring, I just find it odd that many shoes have been unaffected by popular culture since before the war. That's like trying to buy a model T Ford tomorrow. I love classic shoes. I have made some Mr. Hare Brogues for SS10. They are actually whole cuts that I have hole cut a suggestion of a semi and full brogue upon.
The Genets and The Orwells remind us of a pair of loafers a dancehall artist (or my next door neighbour) would have worn; did Caribbean culture play a part in influencing the design?
Jamaican culture is largely driven by to opportunities to dress up, the largest being Sunday best for church and the other being nighttime flossing or stepping. Mr. Hare is for steppers. We nah kill sound bwoy wid gun. We kill them wid de steppers. My SS10 collection is named 'Hot Steppers' and all the styles are named after dancehall generals who have burnt down dancehalls all around the equator. Cachao, King Tubby, Phil Spector, J.Dilla, Jerry Lee Lewis etc. So yeah - don't test the champion sound.
If you had to sum up your SS10 collection in one song, what would it be?
Dutty Six Pack by Cutty Ranks.
What Arsenal player do you think would suit a pair of your shoes?
I support Arsenal for their silky skills and marvellous displays of how football should be played even when you are not winning. Not for their sartorial prowess. I would have to say Wenger the boss. My new favourite Song 'Roots Manuva' Billong gets my cruffitan vote and Theo! Theo! Would obviously be my first choices. But, if anyone who has any influence in the matter is reading this - I am officially offering to supply Mr. Hare shoes to the whole team if you're interested. I have also been toying with the idea of stamping the Gunners cannon secretly inside every pair.
Jack Moss is the Fashion Features Editor at Wallpaper*. Having previously held roles at 10, 10 Men and AnOther magazines, he joined the team in 2022. His work has a particular focus on the moments where fashion and style intersect with other creative disciplines – among them art and design – as well as championing a new generation of international talent and profiling the industry's leading figures and brands.