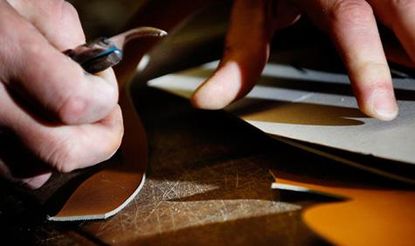 (Image credit: Nathan Brown)
We chatted with Lodger Footwear founder Nathan Brown about what makes a pair of shoes really exceptional, the fashion mistakes men make, and discovered a man who takes his footwear very seriously – just like us.
W*: What's your background?
NB: Born in Beaverton, Oregon, US headquarters of Nike and Adidas. Worked for Nike very briefly and Adidas for 5 years in the US and Germany. I did an MBA at London Business School and focused on entrepreneurial studies. After graduation I helped Puma move their lifestyle office from Germany to London. Then worked with a few smaller companies while developing the idea for Lodger.
Where did the idea come from?
I've got quite a few friends in the shoe industry. Whenever we would get together we'd talk about doing our own thing. The original idea came out of several of these sessions. I was the one that wanted to go for it. The rest of the lads have remained as advisors to Lodger while working for some of the biggest companies in the business.
The idea was to bring the progressive thinking and technology from the world of athletic footwear into the world of classic footwear. We all worked for sneaker companies but loved classic shoes. I felt strongly that the market was missing a company that would address how a modern man dresses and shops.
Who's your target customer?
People who love shoes, respect craftsmanship, and put thought into what they wear. We sell to men of all ages from their 20's to 70's, have customers on six continents and have made shoes for students and a prime minister. We are deliberately wary of typecasting our customers.
What's the difference between a really good pair of shoes, and an exceptional pair?
Time and attention to detail. Shoes are like a lot of things, great food, great wine. It's hard to quantify the difference between a very good Burgundy and a bottle of Romane Conti. I'll start with a few ideas:
- Fit. An exceptional pair of shoes should fit you like a glove and feel as though they were made for your feet alone, even if they are ready to wear. The shoe should be sized for your length and width.
- Material. Obviously the leather that you see should be of the highest quality. But the lining and sole leather should be exceptional as well.
- Making. An exceptional pair of shoes doesn't need to be 100% hand made. There are some things (like sewing the upper) that are better done using a machine. But an exceptional pair of shoes requires a large amount of handwork. It also requires time. The longer the shoe spends on the last (the form that determines the size and shape of the shoe) the better it takes the shape.
How tough has it been breaking into the established London bespoke market?
We try very hard to differentiate Lodger from bespoke makers by doing something different. Although many of our shoes are custom made for individual clients, most are not truly bespoke. A bespoke shoe starts with a custom last, which takes a great deal of time and money to get perfect. At Lodger, we focus on getting the best fit possible from our existing lasts.
We start with a laser scan of the client's feet. We then use a sophisticated CAD software program to find the best possible last from our digital library of different shaped lasts. We offer shoes in any length and up to six different widths. Then each shoe is cut by hand for that specific last and the made for the client, with their name hand written inside.
We have had a very positive response to our launch. New customers come into the shop and expect it to be just another shoe shop. After joining us for an espresso or a glass of wine, having their feet scanned, and discussing everything we do, they realize that Lodger is rather unique.
Best compliment you've received on your work?
A repeat customer. It is very validating to see someone purchase an item that you've created because it means that they value it as much as you do. To have someone come back for more is the best feeling imaginiable.
How do London men rank style-wise compared to the rest of the world?
London is a great city for men's fashion. There is a strong tradition of tailoring and classic dress and a great culture of design and youth fashion. It means that a lot of London men have the education to understand the basic rules that underpin classic dress and the creativity to selectively break them. There are other great cities for style, obvious bastions like Milan, Tokyo, and New York. But I prefer London's nod to the classic. It's a big reason we launched the business here.
What's the biggest fashion mistake men seem to most frequently make?
Not understanding the basics of socially acceptable dress. Like a lot of men, I'm most comfortable in a pair of jeans and an old T-shirt. I don't consider wearing a good pair of trainers to a nice restaurant to be a faux paux. I understand the acceptable dress code for most situations has become noticably more casual. But a man should still know how to dress and when to put on a tie. Looking like a slob isn't always OK. No matter how comfortable it is.
What sort of shoes would you not be caught dead in?
I'm pretty open minded about shoes, but my tastes run towards the classic. Some of the fashiontasic styles would be tough for me to pull off. Anything with an exceptionally elongated toe would look a bit awkward considering I'm 6'9" with size 14 shoes.
What are your personal favourites?
A very tough call. I love the simple elegance of a whole cut. This is a style made out of a single piece of leather withouth any embleishments. There's nowhere to hide. It's only the shape of the shoe, the quality of the leather, and the colour of the polish. And I'm on a personal crusade to bring back the colour oxblood into eveyday use. Growning up my father taught me that there were three colours of shoes, black, brown, and cordovan (or oxblood, or burgundy, etc.) The last seems to have disappeared from most men's feet over the last 10 or 20 years. I guess that makes my favorite pair oxblood whole cuts. Which is incidentally the pair I'm wearing right now.
What's something you wish you'd known when the store first opened last October?
I wish I'd known how to juggle. Managing a retail shop, web site, English factory, Italian factory, and all the little bits and pieces needed to keep a small business running (bookkepping, HR, PR, etc.) is pretty demanding for a team of 3 (soon to be 4). It means we all have to juggle. We're figuring it out as we go, but it would have been nice to have all the answers when we first opened the doors.
Jack Moss is the Fashion Features Editor at Wallpaper*. Having previously held roles at 10, 10 Men and AnOther magazines, he joined the team in 2022. His work has a particular focus on the moments where fashion and style intersect with other creative disciplines – among them art and design – as well as championing a new generation of international talent and profiling the industry's leading figures and brands.