Four menswear designers on their aesthetic evolution during the pandemic
Today sees the launch of London Fashion Week's first digital only platform, a gender neutral online space, merging mens and womenswear, held over the dates that London Fashion Week Men's was originally scheduled to take place. In celebration of the launch – an innovative response to today's social distancing measures – we caught up with four flourishing brands from fashion cities around the world, to see how their approach to design has developed during an unparalleled global crisis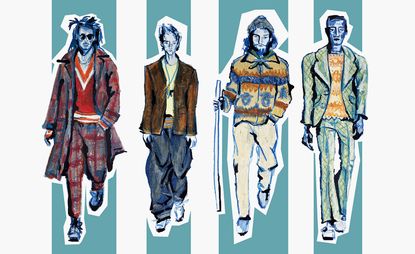 (Image credit: Rosanna Bruce)
In the days that have passed since the world went into lockdown, 80 per cent of the clothes we own haven't touched our skin. The A/W 2020 menswear collections presented in January hang in limbo too as production has been halted and buyers reconsider orders due to be delivered in July. Divorced from their studios, designers have been working alone from home, conducting fittings over FaceTime and Zoom; scrutinising fabrics through well-thumbed screens.

If it is true that you can see the approaching of a revolution in clothes, then a new, altruistic attitude is on the way, one that champions the digital realm, and opens up designers to an even wider and plugged in global audience.
London: Nicholas Daley
The throb of a guitar, a poem narrated to a room, the smell of incense and sweat; birthday cakes and cocktails. We've become used to experiencing life framed by computer screen. This month's London Fashion Week has replaced physical shows with a stream of digital content, yet for a designer like Nicholas Daley – who has used his moment as a chance to share the spotlight with a host of black talents from poet James Massiah to South London musical duo Kwake Bass and Wu-Lu – this pivot throws up some challenges.
'Community, culture and craft is what I always want to push. A/W 2020 was my last season with New Gen and my first full runway with collaborations. The venue was the biggest I've worked in! It felt like a really positive show, very complete. I want to keep that momentum rolling,' he says from his studio. Daley is more curatorial in his approach – the music, the set, the crowd he calls upon carry the same importance as one of his check Irish linen cardigans. 'The backdrop of this pandemic is re-evaluating. Everyone is just trying to adapt and get hold of the situation. That's why I always align with musicians because music is a very unifying force. The times feel right for that.'
Paris: Phipps
'Can everybody calm down. Make less, make it better. Focus on what you do well,' the American designer Spencer Phipps says from his home in Paris. Mercifully this period of confinement has forced the industry to align to his eco ethos. A/W 2020 was about the conservation and protection of forests and included a curated line of customised vintage and deadstock garments that will go on sale under the name PHIPPS GOLD LABEL via his re-designed website. 'Great t-shirts, one-off pieces, cool collectible stuff. I think those are the kind of things people want – special things with character and things that don't feel like you're adding to the problem,' Phipps says. 'I feel weirdly fortunate because our whole thing has been useful, purposeful luxury items – there's a reason for them.'
Phipps has installed a make-shift climbing wall in his spare room and has spent most of his time wearing sweatpants, fitting print trials and prototypes onto himself, sending selfies to his assistant. 'Offices are opening again but I'm planning on maintaining this kind of rhythm now I've seen how I can move around, do stuff on my phone, come back and do other things. I feel much more disciplined – I can work out whilst doing emails simultaneously. That's a new skill for me!'
New York: Kenneth Nicholson
L.A-based Kenneth Nicholson's A/W 2020 collection started with the idea of hybrids: 'Everything is referential. Like, if you see something online, it is a joke but it references another meme from a month ago and takes on a new life. I was really trying to tap into this collage, this layering of what I felt was happening.' In lockdown he has been characteristically brooding: 'I think for the longest time fashion felt very impenetrable – you either had access or were perpetually longing to have access to it. And so, for me, seeing all of the initiatives like the CFDA's A Common Thread and major luxury houses stepping in, that's phenomenal. I don't think things like that will go away easily.'
Even before COVID-19 fashion had begun to acknowledge inclusivity, diversity and the importance of opening up. Nicholson riffs his collections off of the misconception that gender fluidity is a new-fangled theory. 'Part of the conversation has to be about that empirical evidence that in the 17th and 18th century men did wear lace, men did embrace a lot of silhouettes. I still want to have this notion of respecting fashion history and gently leading people to embrace something that feels new. With everything the way it is right now, I want to turn it up a little, to really go for it.'
Milan: Sunnei
Simone Rizzo and Loris Messina have always approached SUNNEI as a multidisciplinary project that is part wardrobe and part youth club. 'What we do is far from seasonal trends and other dynamics of the fashion system, however during this period we had the chance to slow down and understand what really matters,' they say. So much of what makes something SUNNEI is defined by the community of people wearing it, loving it.
During lockdown the pair decided to host forty days of live performances, generating what they call 'shared one-of-a-kind moments.' 'We basically took this as an opportunity to dig into art and its innumerable branches, from illustration to music, drawing, sculpture, cooking, floristry and more. We didn't stop interacting with the people around us – we just looked for alternative ways to reach them.'
INFORMATION
nicholasdaley.net (opens in new tab)
phipps.international (opens in new tab)
kennethnicholson.us (opens in new tab)
sunnei.it (opens in new tab)
londonfashionweek.co.uk (opens in new tab)
London based writer Dal Chodha is editor-in-chief of Archivist Addendum — a publishing project that explores the gap between fashion editorial and academe. He writes for various international titles and journals on fashion, art and culture and is a contributing editor at Wallpaper*. Chodha has been working in academic institutions for more than a decade and is Stage 1 Leader of the BA Fashion Communication and Promotion course at Central Saint Martins. In 2020 he published his first book SHOW NOTES, an original hybrid of journalism, poetry and provocation.