Blue sky thinking: Loewe celebrates Ken Price's optimistic ceramics
A capsule collection by the Madrid-based label features illustrative artworks by the American artist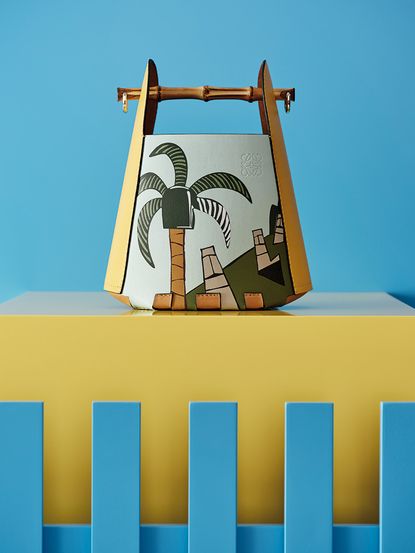 (Image credit: Nacho Allegre)
American artist Ken Price is best known for the small-scale biomorphic ceramics he produced in the later stage of his career, which he referred to as his own 'golden period'. These blobby abstract forms, resembling flows of molten lava or oozy amoebas, were coated with prismatic layers of colour, formed experimentally from sanded down layers of acrylic paint, marbled together with a speckled, iridescent effect.

But it was a selection of more illustrative, graphic and domestic Price works which has inspired Loewe's latest craft-celebrating capsule collection. This draws on a series of glazed ceramic plates and bowls he made for La Palme restaurant in Newport Beach in the 1980s. The offering also references pieces from series' inspired by the LA landscape and the moai statues of Easter Island, between the 1970s and 90s, and works in Happy's Curios, a six-year long project dedicated to Price's wife, inspired by the folklore, symbolism and colourful scenery of New Mexico, where the artist lived with his family from 1970-1982.
'I wanted to show this early body of work because it really complemented Loewe in terms of technique,' says the Madrid based brand's creative director Jonathan Anderson. For the collection's accessories, Price's work has been reinterpreted as mosaic puzzles of colourful leather, crafted using marquetry, a technique synonymous with the label since the Twenties. 'The pieces are very labour intensive,' Anderson adds. The handles of bags are hand carved from tactile bamboo, while leather bucket bags and baskets have been hand-woven to resemble graphic fronds of palm foliage. Basket-making was a technique which Loewe celebrated at last year's Salone del Mobile, when 11 master weavers create limited edition (opens in new tab)objets d'art (opens in new tab). 'There's great appreciation for beautiful craft work,' adds Happy Price, of the affinity between her late husband's artistic oeuvre, and Loewe's aesthetic approach.
RELATED STORY
Ceramics obsessive Anderson, who counts works by Lynda Benglis, John Ward and Lucie Rie in his personal collection, often celebrates this artistic medium at Loewe. The label's A/W 2020 womenswear collection features knobbly colourful ceramic charms by Japenese ceramicist Takuro Kuwata, who was also a finalist in the the 2018 Loewe Craft Prize, while a capsule collection last year, celebrated the decorative world of Arts and Crafts potter William de Morgan. 'They're uplifting and optimistic,' Anderson says of the presience of Price's works. 'I feel like fashion is in a moment when it's questioning the purpose of buying. The collection's pieces are a way of investing into both Ken Price and Loewe.'

Originally scheduled for launch during Salone del Mobile in April, the collection has also found a new resonance with its winter launch. 'I think it's really nice to end the year with a celebration of craft,' Anderson explains. 'Spain is also a very hot country' he adds of Loewe's home country. 'And I love this idea of a piece of summer during Christmas.'
INFORMATION
loewe.com (opens in new tab)