Sanding, sculpture and cigars: Paul Schimmel remembers ceramicist Ken Price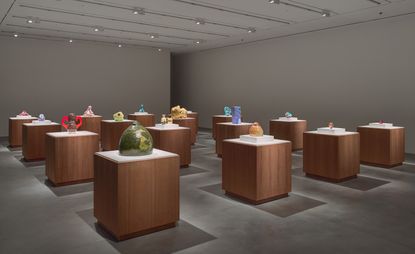 (Image credit: Fredrik Nilsen- Estate of Ken Price. Matthew Marks Gallery.)
Ken Price's ceramics have been admired by Londoners from afar for too long. Or so thinks curator Paul Schimmel, who knew the great ceramicist well for 30-odd years, before he passed away in 2008. Even the artist's renowned American touring exhibition between LACMA and the MET in the 1980s missed Europe by some lengths. In fact, here in London we haven't seen a substantial collection of the seminal American artist's works since the 70s. They've come over in dribs and drabs, at fleeting art fairs or in group shows, to be seen in the fantastic bulbous flesh by a lucky few, but not in great numbers as they are now seen in a major new retrospective at Hauser & Wirth in Mayfair.

'I knew I wanted to do this exhibition,' Schimmel explains. 'But I knew it had to be in London. It seemed like a perfect fit given the long history of the arts and crafts movements in England. They have a very privileged place; an appreciation amongst connosieurs.' But Schimmel is still unsure how Londoners will take to the work. 'I just hope they like it,' he says a few days before the exhibition opens. The exhibition charts the connections between Price's famed ceramics and his lesser known presentation drawings, sketches and paintings. Organised chronologically, Price's artistic development, and its many phases, visually unfurl.
Despite the broad spectrum, each sculpture and drawing bares Price's signature: bold colours and otherworldly shapes, drawing on functional ceramic influences mixed with a contemporary, popular-culture edge. Take Happy's Curios for instance - a series of drawings and sculptures that Price dedicated the best part of a decade to, named after his wife. This collection invokes the traditional crafts of Taos, New Mexico, where Price and his family moved in the seventies from Los Angeles, mingling an LA vocabulary of billboards, posters and advertising. The eighties saw Price edge to a more graphic aesthetic, which he continued to refine until his death, all the while continuing to develop his language of fine- and folk art.

He was still creating work right up until the end, Schimmel recalls. Despite Price's steady output, his studio was the most 'un-factory-like place'. It was a one-man show, driven by Price's passion for his craft. Only towards the very end did Price begin to ask for help with the laborious sanding process. This extended as far as his son.
Price and Schimmel's personal relationship shines through the exhibition's nuanced curation. Ceramics are placed on elevated pedestals, encouraging visitors to interact with them from every angle – a little like Schimmel did himself, on private tours of the artist's small, cigar-hazy studio. 'I remember him sitting in his seat with these big globular sculptures resting in his lap, wearing his apron,' Schimmel offers, 'with me just watching him sand and smoke and talk. He was very happy in that time.'

This joy for making is manifested in the resulting, now revered, works. Schimmel is keen to remind us, however, that they were not always universally thought of as such. It was largely because of Price that ceramic art became the profitable, collectable medium it is today. As Schimmel says, Price would have preferred to not have struggled financially throughout his career; not to be the 'poor relative'. His love of his work, along with his peers continual support and admiration saw him through. Ultimately, it must have been worth it. As Schimmel explains, 'Price was someone who knew his pleasures. He seemed absolutely a person who knew themselves.'
Information
'Ken Price: A Survey of Sculptures and Drawings, 1959 – 2006' is on view until 4 February. The exhibition is accompanied by a monograph featuring a foreword by curator Paul Schimmel, produced by Hauser & Wirth Publishers and co-published with Prestel. For more information, visit the Hauser & Wirth website (opens in new tab)
Address
Hauser & Wirth
23 Savile Row
London W1S 2ET
VIEW GOOGLE MAPS (opens in new tab)
Elly Parsons is the Digital Editor of Wallpaper*, where she oversees Wallpaper.com and its social platforms. She has been with the brand since 2015 in various roles, spending time as digital writer – specialising in art, technology and contemporary culture – and as deputy digital editor. She was shortlisted for a PPA Award in 2017, has written extensively for many publications, and has contributed to three books. She is a guest lecturer in digital journalism at Goldsmiths University, London, where she also holds a masters degree in creative writing. Now, her main areas of expertise include content strategy, audience engagement, and social media.