Alexander McQueen announces education initiative in east London
Alexander McQueen will financially and creatively support A Team Arts Education, a community organisation based in London's Tower Hamlets that works to encourage young people to enter the arts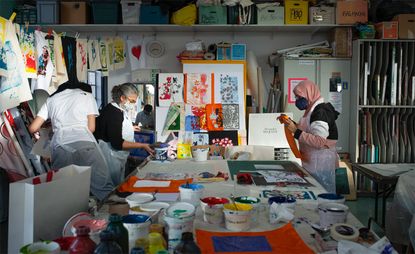 (Image credit: Liam Leslie)
Alexander McQueen has long been a proponent of the creative arts, and the young talent it incubates and generates. The British label has adopted a variety of schemes and initiatives to support those with a creative flair. The top floor space of its Smiljan Radic-designed boutique in London's Mayfair operates as an exhibition space-cum-workshop, where students and fashion fans alike can absorb the brand's final designs, toiles and samples.
Alexander McQueen and A Team Arts Education: supporting young creative talent in east London
In 2019, the house also began donating surplus fabric, from womenswear taffeta to menswear tailoring cloth, to more than 20 institutions and fashion education community projects throughout the UK, allowing aspiring designers to dip into an archive of luxurious, artisanally crafted fabrics. British menswear wunderkind SS Daley was a recipient of these donations; his upcycled, whimsical approach to design has won him a legion of A-list fans.

Now, Alexander McQueen has announced its support of A Team Arts Education, a community organisation based in Tower Hamlets in London's east End – where the brand's founder Lee McQueen grew up – that encourages young people to enter the arts. Many schools throughout Tower Hamlets have removed art-leaning curriculum options in favour of STEM subjects (science, technology, engineering, and mathematics). Team Arts Education works to foster creative engagement with subjects that may no longer be available at school – operating on Saturdays and during holidays – among one of the fastest-growing, youngest and most diverse populations in the UK.

'At a time when schools and local authorities are reducing their arts budgets and provision, we still need the arts to help bring about a positive recovery and come together after the Covid-19 pandemic. Working with Alexander McQueen will provide inspiration, hope and opportunities to an area that has links to the fashion and textiles industries that are now hidden through layers of history and a changing urban landscape. The collaboration will help the arts to flourish in a positive way for young people and the wider community of east London,' says Sarbjit Natt, director, A Team Arts Education.

Through 2022, Alexander McQueen will not only support A Team Arts Education financially, but also offer a roster of workshops and classes, which it piloted in 2020. These include live experiences with the fashion brand's design, textile and embroidery teams, structured as part of 'The Explore Programme' in A Team Arts Education's fashion, textiles and art and design pathways.
INFORMATION