Smiljan Radic on the making of Alexander McQueen's London flagship
A short film celebrates the construction of Alexander McQueen's naturalistic three-floor flagship boutique in Central London, designed by Chilean architect Smiljan Radic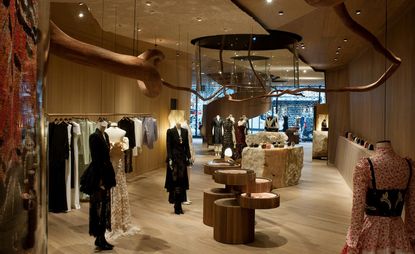 (Image credit: alexandermcqueen.com )
Smiljan Radic's elemental architecture revels in the beauty of organic forms and raw materials, like the curvature of a tree's trunk, or the irregularity of the surface of a rock. There's a significance placed on the path of sunlight within an enclosed space or the specific transparency of a facade. Radic's creations resemble delicate iridescent shells or feature stark buildings supported by huge boulders, and as we adjust to a life that limits our connection with the natural world, his design DNA feels more relevant than ever.
Videography: Masha Vasyukova
Radic's architectural approach resonates particularly with Alexander McQueen's Sarah Burton, and the creative director enlisted him to design the British label's Old Bond Street flagship in Central London. The glass-fronted three-floor space opened in 2019 and was Radic's first ever retail project. Burton was particularly inspired by the design of the architect's Right Angle House, a jutting open-plan construction in the forests of Vilches in his native Chile, formed from wood, concrete and granite. It was inspired by the images in Corbusier's series of writings and poems Poem of the Right Angle, created between 1947 and 1953. Burton was also taken by 'Drawing', a wooden sculpture suspended in the house, resembling undulating tendrils, designed by the sculptor Marcela Correa, who is also Radic's wife.
The construction process of McQueen's flagship is now celebrated in a short film, which flits between Radic's Santiago studio and the Right Angle House in Chile, and Central London. It offers breathtaking behind the scenes insight into the naturalistic thinking behind its design, with focus placed on the construction of the organic rock and timber sculptures designed by Correa for the space, crafted with 'minimal intervention on materials'. Testimony is offered by both Radic and Correa, with the latter commenting on the relationship between retail architecture and ready-to-wear, referring to her sculptures as breathing organisms, 'co-living with the clothes'.
RELATED STORY
Radic's architecture reflects an interest in temporality. The design of his shell like Serpentine Pavilion in 2014, was inspired by ancient Japanese temples and the concept of a fake ruin, and resembled a rock that could have nestled amongst nature for centuries. This multi-layered chronology is also noted in his retail approach. 'You need many kinds of times,' he says of the use of alabastar rocks and suspended wood sculptures in McQueen's flagship space. 'You are adding to the new place, a new time that could be geological or natural. You give another kind of ambience.'
INFORMATION
Receive our daily digest of inspiration, escapism and design stories from around the world direct to your inbox