Alexander McQueen's Sarah Burton: 'New York is a creative city, I wanted to honour that'
As she brings her latest collection for Alexander McQueen to New York's Brooklyn neighbourhood, creative director Sarah Burton shares a deep connection with the 'exciting, creative, fast' city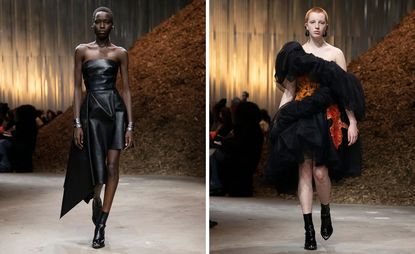 (Image credit: press)
'New York is an exciting city, a creative city, a fast city and I wanted the collection to have a pace and energy to it, to have a precision to the tailoring, for there to be colour and vibrancy,' Sarah Burton told Wallpaper* on the occasion of her A/W 2022 runway show for Alexander McQueen, held last night (15 March 2022) in the city's Brooklyn neighbourhood.
'New York has always been so supportive to us as a house, and feels like part of our creative community, we wanted to honour that and come and show in New York,' she elaborated, post-show. The house has previously shown twice in the city, both under Lee McQueen, first in 1996 with his 'Dante' collection – originally shown in a church in Spitalfields, London – and then in 1999 with 'Eye'. By the latter, Burton had joined the team and would be head of womenswear a year later.
Backdropped by vast piles of cedar-scented mulch, the collection drew inspiration from the ancient natural world – specifically, the power of mycelium, a fungus with roots that stretch far underground. In recent studies, they have been found to be able to communicate with one another, and help each other heal when in need – a profound and humbling discovery. The bright blues and acid greens in the collection were taken from images of mushrooms Burton had pinned to her mood board: 'They are all real colours, borrowed from the natural world, that represent danger as well as healing.'
Alexander McQueen A/W 2022 show in New York
And, although mycelium was pitched as the key inspiration for the show, Burton only mentioned as a side-note backstage that the brand is working with mycelium leather and other alternative leathers, and that, impressively, 85 per cent of the fabrics used in the collection were recycled. It felt like a natural evolution of her S/S 2022 show, held several storeys up in London's East End in October 2021, which also looked to nature – then, the unpredictability and great power of the sky – at a time when climate disasters had been generating headlines.
Elsewhere, Burton also made an explicit nod to the house's archive. What appeared to be a graffiti-inspired print was in fact the abstracted shadow of someone in the atelier and paid homage to 'the Shalom Harlow dress', she said (referring to the S/S 1999 dress worn by model Harlow and spray-painted by robots as a show finale). The house's namesake was there throughout in 'slashed' and 'deconstructed' garments, Burton noting that cut lacquered lace was a specific 'nod to Lee's early collections' – 'these characters of the old and the new that exist together'. A certain New York toughness emerged in unravelling mohair knitwear, sliced bandage dresses, and shoes with pin-thin heels and steel toe-caps.
Now the show is done, Burton says she's looking forward to taking in the city. 'The light in New York is like nowhere else. I'd like to take a walk around, I'd like to see the light.'
INFORMATION
alexandermcqueen.com (opens in new tab)
Tilly is a British writer, editor and digital consultant based in New York, covering luxury fashion, jewellery, design, culture, art, travel, wellness and more. An alumna of Central Saint Martins, she is Contributing Editor for Wallpaper* and has interviewed a cross section of design legends including Sir David Adjaye, Samuel Ross, Pamela Shamshiri and Piet Oudolf for the magazine.