Milan Fashion Week A/W 2023: Gucci to Bottega Veneta
The best of Milan Fashion Week A/W 2023 – from big-ticket draws like Prada, Fendi and Armani, to a growing cohort of emerging talent in the Italian capital of fashion and design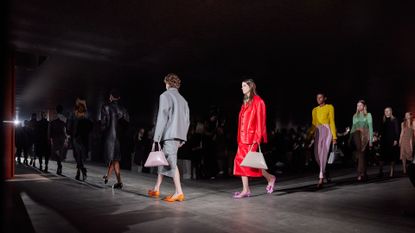 (Image credit: Courtesy of Prada)
Milan Fashion Week A/W 2023 took place this past week (21 – 27 February) in the Italian city synonymous with style, spanning over 50 physical shows – including the usual big-ticket draws, among them Prada, Fendi, Giorgio Armani, Dolce & Gabbana and Bottega Veneta, among others. The latter marked the third outing from French-Belgian creative director Matthieu Blazy – his previous two collections have seen near-unanimous critical acclaim – while British designer Maximilian Davis showed a sophomore collection for Ferragamo after his lauded debut at the house in September 2022. Meanwhile, a growing cohort of fresh talent in the city came courtesy of Andreadamo, Durazzi Milano, and Japanese designer Tomo Koizumi, who showed with the support of Dolce & Gabbana on Sunday morning (26 February).
'This season, once again, we offer a rich programme of activities that confirm Milan's leading role in the global fashion scene,' said Carlo Capasa, chairman of Camera Nazionale della Moda Italiana, which ran over the week and also hosted a dedicated Fashion Hub with a programme of events celebrating innovation in the industry. '2023 presents itself as a year characterised by a series of complexities that our industry [will] be able to transform into opportunities for growth and change. I believe that Milano Fashion Week will be able to best amplify the positive energy of our great brands.'
Here, in our round-up, the best of Milan Fashion Week A/W 2023.
Milan Fashion Week A/W 2023: the highlights
Giorgio Armani
Giorgio Armani continued a career-long exploration of beauty with a collection which began by thinking about the application of make-up. 'Maquillage is always an intimate, personal moment,' the house noted, likening this feeling of intimacy to being within the compact Armani showspace at Via Borgonuovo 21. 'It feels like a living room, a place for dialogue and socialising, and the wardrobe that accompanies this idea of gentle domesticity is fluid and sublime.' So followed a collection of languid glamour – silk dresses which recalled pyjamas in their fluidity, trousers cut with generous proportions, while other garments evoked interiors in the richness of texture and embellishment, from swathes of velvet and faux fur to beading and fringing. Colours, meanwhile, were reminiscent of make-up – a 'cosmic palette', the house described, comprising earthy bronze, 'powder' and a shade of 'kajal' black like kohl eyeliner. To close the show, a model brandished an Armani compact and sponge, reapplying make-up as she walked the runway. 'An enveloping and personal vision that suggests intimacy as an antidote to theatrical excess,' said the house.
Bottega Veneta
'The alchemy of the street,' described French-Belgian designer Matthieu Blazy of the inspiration for his third collection for Bottega Veneta, the final part of a trilogy of shows titled 'Italia', celebrating the vibrancy and multiplicities of the country's people, traditions and craft. A 'cacophony' of influences informed this latest outing, conjuring the idea of a 'parade' in the carpeted show space – a place where 'techniques, motifs, characters and creatures from the past travel through space and time to speak to the present and the future', the notes elucidated. The expansiveness of Blazy's project was perhaps best symbolised in the statues which decorated the show space: a pair of Roman bronze runners from 1BC and a 1913 figure in movement by Italian futurist Umberto Boccioni titled Unique Forms of Continuity in Space. Just metres apart, there were nearly two millennia between them and a chasm in aesthetic style – yet both were symbolic of a feeling of dynamism and movement; figures on the march. (Bottega Veneta has said the sculptures will remain on view at the space for local students in the days following the show.)
A similar feeling of expansiveness and movement was encapsulated in the collection itself, which spanned 81 looks and rushed past attendees as the models marched at speed. Blazy said that he didn't edit the collection but rather added a new 'character' when it came to mind; as such, the collection began with riffs on nightwear as if models were rising from bed at the start of a day – like a white chemise and socks, the latter appearing knitted but in fact crafted from intricately woven leather, or a 'flannel' pyjama set made entirely from napa leather. A multitude of garments followed – impossible to begin to summarise – spanning Blazy's magical riffs on the quotidian (paper shopping bags recrafted in leather, a pair of men's trousers which looped around the foot with stirrups, a broad array of exquisitely tailored jackets and overcoats) and elegant takes on eveningwear, like one particularly arresting red dress with a padded neckline and the suggestion of panniers on the waist. Blazy likened it to 'Exquisite Corpse', a parlour game beloved by the surrealists whereby each participant draws on a piece of paper in turn, without seeing what has come before. When unfolded, a magical new figure emerges from the paper.
Magic and alchemy; the transmutation of metal to gold – the brilliance of Blazy is his ability to raise the banal into extraordinary expressions of style and craft, which always returns to the simplicity of observing people on the street. 'A procession, a strange carnival, a crowd of people from anywhere and everywhere and yet somehow, they all fit and go in the same direction,' said Blazy. 'I wanted to look at what makes people gather together in a place without hierarchy, where everyone is invited.'
Dolce & Gabbana
High-octane sensuality has been a defining facet of Domenico Dolce and Stefano Gabbana's collections since their eponymous brand's inception in 1985, a mood continued with their latest offering, which looked back to a 1992 'Belle du Jour' collection (recent seasons have seen the designers return to their archives, in part due to the growing resurgence of the 1990s more widely in fashion). Transparent layers appeared throughout the primarily black collection – whether chiffon negligee-style gowns or the swathes of intricately crafted lace – which was titled 'Sensuale'. 'Sensuality is an important aspect of femininity that has nothing to do with being sexy,' they said. 'Sensuality is intrinsically connected to an inner experience that makes women spontaneous and natural… free of any fabrication.' A series of jackets provided a more covered-up contrast: whether nipped-waist tuxedo-style jackets with wide satin lapels, or expansive overcoats with fronds of feathers around the neck. Seductive flashes of red also featured, including a glimmering bejewelled red gown worn by Anok Yai to close the show – a design reflected in the outfit of last season's collaborator, Kim Kardashian, who this time watched on from the front row.
MSGM
Massimo Giorgetti chose the title 'The Ultimate Illusion' for an A/W 2023 collection he described as 'an infinite journey, a dream within a dream' (a line from Edgar Allen Poe's 1949 poem A Dream Within A Dream was quoted on the collection notes). Presented in an expansive white square space – something of a blank canvas, as the notes described – Giorgetti's vision for the season was one of heady vibrancy, with broad strokes of colour (among them shades of mauve, pink, electric yellow and emerald) interrupting the sparseness of the setting like a hallucination. Indeed, Giorgetti mentioned the influence of psychedelia, here figured in a mash-up of textures, and print – from faux-fur hats, handbags and jackets to an array of twisted floral and landscape motifs, as well as shimmering swathes of sequins that gave the appearance of a mirrorball (The Chemical Brothers, meanwhile, provided the soundtrack). 'What the eyes can see, the mind believes,' concluded the brand.
Ferragamo
British designer Maximilian Davis continued to hone his vision at Ferragamo with an accomplished sophomore collection presented in the vast MiCo convention centre, here transformed with monolithic curving walls around which attendees sat. It was a fittingly cinematic setting for a collection that Davis said continued his exploration of Hollywood – Salvatore Ferragamo famously was shoemaker to Golden Age actresses like Marilyn Monroe and Sophia Loren – with sleekly elegant garments that signalled a distilling of his house codes. Loren and Monroe provided the inspiration of sorts, with Davis noting that he looked to twist their hyper-feminine appearance to set the blueprint for a more futuristic vision of beauty he deemed 'alien futurism'. 'I was interested in using their glamour and beauty, and their way of dressing, as a reference, but looking at how we could make it feel modern for today,' he said. As such, midcentury silhouettes were subtly subverted in Davis' precise style: a Ferragamo-red suit was gently nipped at the waist, a classic overcoat flared at the back, while a 1950s cocoon cut – drawn from historic couture silhouettes – was applied to contemporary bomber jackets and shirts. Subversion came too in elements of slicing – a men's black tailored jacket was cut across the front to reveal flashes of red – while shimmering lamé dresses had a futuristic air. 'This is my take on what people from the 1950s would think of the future: alienated metallics and high shine,' said the designer.
Ferrari
During his tenure so far, Rocco Iannone has translated elements from Ferrari's rich history of carmaking into sleek, contemporary collections; this season, he referenced the idea of acceleration and speed. 'Beauty is the pleasure that derives from speed, captured in its initial burst, in its full symbolic and design potential,' the designer elucidated, noting that the collection was a vision of style that 'transitions, changes [and] accelerates'. In the garments themselves, this meant a series of shifts in focus, from riffs on workwear – reminiscent of garments linked to Formula 1 and the automobile, like the boiler suit – to body-skimming technical knitwear, broad technical outerwear, and acid-wash denim. Details included the Ferrari emblem reimagined as earrings adorned with hanging pearls and sleek, high-shine visor sunglasses, the finishing touches to this season's go-faster look.
Jil Sander
Lucie and Luke Meier told Wallpaper* to expect the unexpected of their latest collection, which represented a new mood of eclecticism drawn from formative memories of the 1990s. 'We were talking about before working [together], before even going to school, and what were the reasons we were attracted to this kind of work and we landed on [this] mid-to-late 1990s mood,' Luke told Scarlett Conlon in a conversation prior to the show. Music, in particular, was a reference point – from DJ Shadow's first album Endtroducing….. to the rise of Björk, the latter providing the soundtrack to the show. The collection began with an exploration of the motocross jacket – here reimagined in the designer's sculptural, clean-lined style and emblazoned with a sporty take on the Jil Sander logo – before moving towards a collection the designers said was created for the 'individual', spanning cherry-print tabard tops, minimal riffs on the parka jacket (another 1990s staple), and an array of contrasting textures from fluffy matelassé and mohair to reflective technical polyester. 'We're always evolving as people and our ideas are always progressing and are always changing,' said Luke. 'Fashion is exhilarating, because it's a dialogue with what's going on in the world.'
Andreadamo
Andrea Adamo's latest collection ended with a downpour, seeing models doused with water from a rain machine placed in the centre of the showspace (Adamo recently told Wallpaper* that having grown up by the sea in southern Italy water has a symbolic resonance in his work; last season, models walked through a pool of water which doubled as a runway). The collection itself – which continued his signature sensual, second-skin silhouettes while adding a series of expansive overcoats and raw-edge tailoring – was an emotive tribute to his origins in Crotone, Calabria, where he grew up. 'As a boy, holding my head high as I walked through the centre of Crotone as if I were in a district of a megalopolis, I was unconsciously beginning to fight against prejudice and common preconceptions in order to be who I wanted to,' he said. 'Recklessness is my weapon against fear and the moment of greatest insecurity is also the moment of greatest creativity.' As such, the collection's various garments contained traces of this formative period: a jacquard motif recalled the locale's clay hills, as did cracked leather, while the use of yellow was a tribute to his grandmother Mariacarla, born from 'thinking of the sunflowers she loved so much and which always remind me of her'.
Gucci
A surreal imagining of an office space or lobby provided the backdrop for Gucci's latest collection, created by the house's design team before the debut of Sabato De Sarno next season (he was appointed by the house in January 2023 and will show his first collection in September). The collection notes said the setting was meant to evoke a place of work; as models traversed the space in the lifts (clever trickery saw them board a lift on one side and exit on another) it reflected a movement between departments, 'how an idea is ignited in the archive, developed in the studio, and brought to life in the atelier, before it finally makes its way to the runway'. The collection itself – one of clarity and confidence, which far exceeded the expectations of such an interim team – began with what the house called a 'generational exchange', seeing the various members of the team recall their favourite memories from their time at the house (some of the team had been installed only recently, others had worked there for 20 years or more). It lent the collection an eclectic mood that was largely rooted in the sensual designs of Tom Ford's tenure at the house, notably in the collection's body-baring opening look – a model in a bejewelled double-G bra top and black satin skirt – but illuminated by the 'electrically sumptuous' colour palette of the 2010s. Sensual layers ran throughout – whether sheer mesh tops, coloured fishnet tights which rose beyond the waistband, or delicate trousers and tops covered in near-transparent paillettes – combined with moments of abundance, like a series of vast coats in colourful faux fur. A soundtrack by Yasmina Dexter, aka Pandora's Jukebox, added to the electric mood, taking its thumping rhythm from Britney Spears' hypnotic I'm a Slave 4 U.
Sportmax
A feeling of eclecticism was evident in the Sportmax show space, a formerly industrial building that had been populated with numerous mismatching vintage sofas and chairs which doubled as seating for the guest (styles spanned modernist design icons to chintzy Victorian armchairs). Such a mood was reflected in the collection itself, which the brand called 'a continuous game of contrasts between bourgeois elegance, primitive chic and glam androgyny', drawing inspiration from the works of American photographer Peter Hujar, who rose to prominence in the 1970s and 1980s, largely known for his documentation of the city's Queer subcultures (his friend and lover was seminal artist and activist David Wojnarowicz). The show's freewheeling combination of looks spanned wide-shouldered tailoring (inspired by zoot suits and teddy boys), slinky 1990s-tinged dresses that tied around the body or were adorned with feathers, and Western-inspired tropes like python-print trousers and squared-toed cowboy boots. 'I photograph those who push themselves to any extreme… that's what interests me, and people who cling to the freedom to be themselves,' Hujar was quoted as saying on the release, a reflection of the collection's liberatory mood.
Tod's
Tod's creative director Walter Chiapponi once again chose the vast Pirelli HangarBicocca on the outskirts of Milan to show his A/W 2023 collection, the sparse runway weaving its way through Anselm Keifer's monumental concrete towers (part of a permanent work housed the former Pirelli factory turned art foundation). He also returned to the 1990s-infected ease of his previous S/S 2023 collection, proposing a complete wardrobe of gently refined archetypal pieces – whether a peacoat with pebble-like leather-covered buttons, elongated wool overcoats, or a series of parkas that doubled here as dresses – which recalled the era's minimalism while highlighting Tod's extraordinary commitment to craft ('a collection with a strong identity that combines the high quality of traditional craftsmanship with clean lines and the softness of precious materials', said the accompanying notes). The house said Chiapponi's aim was to create 'iconic, precious pieces' that will last in the wearer's wardrobe for decades to come. As for footwear, a new riff on the ballet pump came with strap fastenings that looped around the ankle, its criss-cross fastening reflected in another higher-heeled pump. Together, it made for a confident offering with a notable sense of refinement; a declaration that Chiapponi is more than into his stride.
Blumarine
The industrial showspace for Blumarine's A/W 2023 collection had been temporarily transformed with mounds of soil and moss, out of which medieval ruins appeared. In the centre, the 'B' of the brand's distinct logo was crafted from metal, lighting up with flames as the show began. It set the stage for Nicola Brognano's warrior-like woman of the season, a toughened riff on the 2000s-tinged aesthetic that has seen the Calabria-born designer bring new energy to the Italian brand. 'The Blumarine woman has charisma,' elucidated the collection notes. 'Ready to fight her battles like a passionate heroine out of a medieval tale… a modern Joan of Arc.' Glamorous riffs on armour came in skintight draped dresses and boots in shiny liquid metallics, while shearling – used across buckle-fastening bustiers and mini skirts, coats and cropped bombers with high collars – exuded what the brand called 'a bold, forceful vibe... magnetic, majestic, powerful'.
Emporio Armani
The house's new in-the-round showspace at the Armani Teatro – first debuted at the Emporio Armani menswear show earlier this year – provided an apt setting for a collection that found its roots in the circus ('The Circus of Life' was the collection's titled). 'Just like an Elizabethan theatre, when staging the everyday, Giorgio Armani consistently suggests clothes that bring out the person, not the character,' noted Emporio Armani of a collection which infused theatrical elements with an 'eclectic, urban inflection'. As such, miniature hats sat on models' heads, twisted velvet flowers provided adornment to jackets and chokers, while swathes of sequins across tailoring and dresses lent a requisite glamour and richness. The designer said the various pieces were tinged with a 'subtle but evident' feeling of irony and a 'palpable' sense of humour, encapsulated for him in the blown-up photograph of a woman in the throes of laughter, which provided the collection's backdrop. 'Just like the theatre,' said the house, 'everything comes back around within the ring, with the emergence of an unusual classicism.'
Prada
Finding beauty in the unexpected has long been a defining facet of Miuccia Prada's tenure at the eponymous house, an exploration which continued yesterday with the designer's latest collection co-created with Raf Simons. 'There is the notion in fashion that only glamour is important, I hate that, I have always fought against that,' she elucidated. 'This collection is about finding beauty everywhere, beauty of different kinds.'
As such, there was a focus on the uniform – 'We looked at uniforms that represent care, like nurses, because the act of caring is a beautiful thing,' she continued – figured in a clarity of silhouette which has defined the pair's recent collections (both have discussed a pursuit of simplicity and reduction in their menswear and womenswear collections). A near-medical white shirt dress was lengthened to the ankles with a trailing asymmetric hem – a proposition for eveningwear, said the collection notes – while another shirt came complete with elongated epaulettes and an origami-like riff on the tie.
'These typical uniform garments, connected to the everyday world, are usually seen as minor. Unconsidered. So for this collection, we liked the idea of considering them celebrating them,' added Simons. Other looks in the collection, he said, did the opposite: a white satin skirt was decorated with doilies and floral embellishment reminiscent of a wedding dress, worn here with a more quotidian grey sweater. 'We [also] took pieces from a special occasion, or created for one day like a wedding gown, and here [they] became everyday,' said Simons. 'Why should this celebration of love be for only a single day?' The accompanying collection notes called this a continuing exchange between 'the familiar and the exceptional… [giving] a different important to both'.
Such an interplay was also reflected in the show's set, which on first appearance was a sparse, bunker-like space; as the show continued, the ceiling rose to reveal vast towers of fresh lilies hanging down from the ceiling (a similar transformation took place at the menswear show at Milan Fashion Week Men's A/W 2023 in January, though instead of flowers, vast chandeliers appeared). 'Everyday life deserves beautiful things,' continued Miuccia Prada. 'Because every day of life counts.'
Max Mara
Ian Griffiths looked back to the European coffee houses of the 18th century – where the chattering classes would gather to exchange ideas and gossip – as a starting point for his latest Max Mara collection. 'Then as now, everyone was trying to make sense of the world, and everyone had an opinion,' he said via the collection notes, which also referenced Émilie du Châtelet, 'a free-spirited marquise' and her lover Voltaire, writer and Enlightenment philosopher (these figures, Griffiths said, encapsulated the spirit of the time, one of voracious intellectual debate). In the clothing itself, the designer said he wanted to reimagine the era's restrictive 'apotropaic' womenswear tropes with a sense of contemporary abundance and levity – whether cocooning opera coats, panniers that jutted from the hips of an abbreviated skirt, or the rich textures of jacquard and brocade that appeared throughout the collection. 'In Max Mara's narrative, Émilie spurns the convoluted and restrictive styles of the day… science raises the curtain on a wardrobe for the now,' said the notes. Other pieces riffed on archetypally masculine garments – like a series of double-breasted tailoring and overcoats – a reference to Du Châtelet regularly dressing as a man to enter coffee clubs so she could engage in debate. 'With a collection that mixes reason and order with a dash of romance,' said the house, 'Max Mara salutes Madame du Châtelet and women like her.'
Etro
The sophomore collection from Italian designer Marco de Vincenzo at Etro seemed to represent a softening in mood from his womenswear debut – presented in September 2022 – favouring the more homespun feeling of his first menswear collection, which was revealed earlier in 2023. That menswear collection – which De Vincenzo described as the 'merging of the public and the private, the homely and the social' – had begun with memories of a jacquard velvet blanket the designer had loved as a child. The blanket returned as an ongoing motif here, with one left on each attendee's seat, which then reappeared in the collection wrapped around the models' bodies as if swaddled or cocooned. Elsewhere, an opposing sense of lightness was struck in a series of diaphanous dresses decorated with various floral prints evocative of those found in Etro's historic archive, while a rich array of details – like colourful 3D-knit flowers embroidered onto an oversized cardigan – spoke to the bohemian eclecticism synonymous with the house. 'A dialogue is a work in progress, exactly like the place that frames the show today: a historic palazzo turned into a construction site, just wrapped or ready to be unwrapped,' read the collection notes – a reference to the show space in the courtyard of a Milan palazzo. 'The more the creative director delves into Etro, the more the dialogue with what Etro is becomes compelling. Delving into the history of a brand, after all, is an archaeological undertaking.' Judging by this evening's show, this process of excavation is one at which De Vincenzo is becoming increasingly astute.
No. 21
Alessandro Dell'Acqua continued to hone his quietly subversive vision of womanhood this season at No. 21 with a collection that once again cemented his reputation as one of the city's most accomplished talents. Presented in a formerly industrial space, the A/W 2023 returned to the cinematic inspirations of Dell'Acqua's collection last September; this season, he looked towards Italian director Michelangelo Antonioni's films of the earlier 1960s and the larger social milieu in the country at the time. 'They were the years when provincial and middle-class Italian clichés fell apart in face of a changing world,' said Dell'Aqua. 'Yet they were also the years of the discovery of sensuality, eroticism even, along with the use – daring for the period – of cunning and treachery.' These juxtapositions were captured in the collection's looks: the zips of ladylike dresses left open and askew, tailoring sawn away and left raw at the waist, metal scorpion brooches fastening cardigans across the back. Other slip dresses were rolled down into a skirt, while layers of transparency – like chiffon dresses with 'invisible' tulle slips beneath – suggested a sexual frisson. The designer said it was about shifting the archetypes of women's fashion in pursuit of something new. 'That's why I put together a lot of clichéd elements of the feminine wardrobe, so as to better identify them, shake them up and strike them – or simply play – them down.'
Fendi
'It all started with Delfina,' said Kim Jones of his latest Fendi collection, in reference to Delfina Delettrez Fendi, a fourth-generation scion of the Fendi family who is also the house's jewellery artistic director (she has also run her own eponymous jewellery brand based in Rome since 2007). 'There's a chicness but a perversity to the way she twists Fendi, which is what I love,' Jones elucidated, noting that this juxtaposition provided the starting point of the collection, which balanced elegance and classicism with moments of subversion. Much of this was done through a melding of menswear and womenswear tropes, an 'interpolation of gendered archetypes; the disturbance of ladylike sophistication', as the notes described. As such, feminine elements – diaphanous lingerie-inspired or bias-cut dresses, the glimmering lining of a coat adorned with sequins – met a sense of utilitarianism in silhouettes inspired by workwear, uniforms and aprons. Knitwear, much of it ribbed and spanning cardigans and ankle-length dresses, was draped around the body, while riffs on tailoring – one particular style added caped sleeves to a traditional men's waistcoat – played with the idea of deconstruction. 'It's deconstructed, but luxurious. There's a little nod to punk, and my admiration for DIY, but moved on towards something chic,' said Jones. Of her part in the collection Delettrez Fendi adorned models' ears with double-F lock jewellery. 'I wanted to explore the purity of the double F, locking on the ear,' she said. 'Like the collection, it goes to the very essence of Fendi.'
Diesel
A vast mound of Durex condoms – 200,000, to be exact – sat in the centre of the Diesel showspace, for a show the brand said was about 'freedom, pleasure, experimentation and play' (a further 300,000 will be distributed in Diesel stores this April alongside a capsule collection of clothing, marking Durex's first collaboration with a fashion label). 'Sex positivity is something amazing. We like to play at Diesel, and we are serious about it. Have fun, respect each other, be safe,' said creative director Glenn Martens. 'We have to remind everyone that safe sex is still important, we cannot forget.' The idea of experimentation and play – already a hallmark of Martens' tenure at the brand – was reflected in the collection itself, which continued an exploration of denim, here largely distressed ('distressing has new intensity', according to the collection notes). Demin devoré (a technique developed by the brand in-house) was used to give the appearance of wear, revealing panels of skin beneath; while low-slung bumster Moto denim was bleached with 'whiskers' (a denim technique that refers to the faded creases on the thighs of jeans). Other pieces – like a series of overcoats that appeared to have been crafted from melted plastic, or a 'blow torched' leather jacket – continued the theme. But it was a feeling of sensuality and glamour that gave the collection its uniquely liberated mood, with swathes of diamanté appearing on thigh-high boots and floor-length gowns, Diesel-branded choker necklines, and a series of prints from old campaigns of mouths and lips. 'For sucsexful living,' joked Martens, a play on Diesel's perennial tagline.
Jack Moss is the Fashion Features Editor at Wallpaper*. Having previously held roles at 10, 10 Men and AnOther magazines, he joined the team in 2022. His work has a particular focus on the moments where fashion and style intersect with other creative disciplines – among them art and design – as well as championing a new generation of international talent and profiling the industry's leading figures and brands.