Andreadamo's clothes are made to feel like a second skin
Designer Andrea Adamo, founder of rising eponymous label Adreadamo, wants his body-contouring designs to make women feel good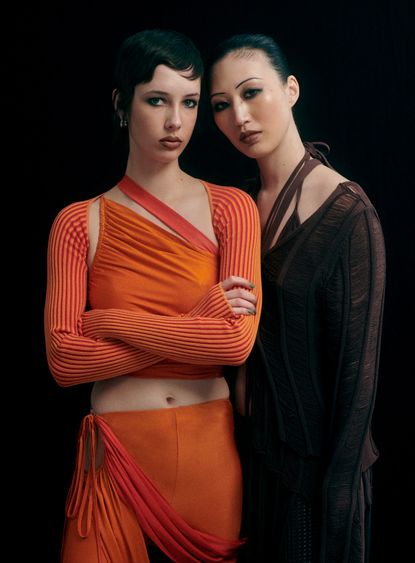 (Image credit: Photography by Grace Difford, fashion by Nicola Neri)
As seen in the March 2023 Style Issue of Wallpaper*, we meet six rising stars – including Andreadamo, featured here – tearing up the catwalks of the Milan fashion scene with a fresh energy and creative spirit.
Surfers and mermaids provided the starting point of Andrea Adamo's S/S 2023 collection, which was shown on Milan's Piazza Olivetti, part of the city's fast-changing former industrial district. Befitting the aqueous inspirations, models walked through an ankle-deep pool in lieu of a runway, the Italian designer's sensual, undone silhouettes splashing in the water beneath. It signalled a return to roots for Adamo, who grew up in the southern Italian port city of Calabria, in a house that overlooked the beach. 'It was the first idea that I had for the collection, that the women would be walking on water, and that never changed,' he says. 'Water is an important part of my past.'
The S/S 2023 collection marked the second runway show from the designer, who began his eponymous label Andreadamo in 2020, in the early days of the pandemic (initial collections were shown via lookbook or short film). 'We went into lockdown, and I had lost my job, so I was thinking: what will my future be?' says Adamo, who worked for over a decade at international fashion houses, including Roberto Cavalli, Zuhair Murad, and eventually Dolce & Gabbana, where he was head designer for celebrity and special projects. 'I started building this label in my mind, to express myself in the way I wanted. People thought I was crazy to begin during that time, but for me, it was the perfect moment.'
Adamo had become fascinated with clothing as a child, having watched his seamstress grandmother at work. He wanted to create a label that looked towards the human body, creating contouring knits in expansive shades of 'nude'. 'It's part of the brand's DNA – being proud of your body, of your skin colour,' says Adamo, who is one of a raft of emerging designers placing bodily inclusivity at the heart of his work. 'The women who wear my clothes are smiling, because they feel beautiful. They aren't covered up – I want people to express their bodies. And it's not just women; when I sketch I don't think about a woman's body, I think about a human body.'
The body, he says, is 'the centre of his creativity', even as the brand expands beyond 'second skin' knitwear into a range of other categories, from jersey and leather to tailoring. He is also working increasingly with colour, including the enlivening shots of orange that appear throughout his S/S 2023 collection. 'I want to build the total look of this woman, step by step, not trying to do everything in one collection,' he says. As for the casting of his shows – which often includes some of the world's most recognised models – he hopes to span a diversity of body shapes.
The S/S 2023 collection is perhaps Adamo's most complete yet, comprising boxy cropped tailoring, 2000s-tinged leather cargo pants and webbed chainmail skirts, alongside a gamut of Andreadamo signatures – from strappy technical bra tops to undone knits, made to trace the line of the body. A series of glamorous dresses, in black, come with flourishes of sequins, 'like fish skin'.
'I think the energy of Milan is really important,' says Adamo, who notes he still feels emotional seeing his name on the fashion schedule alongside houses he has admired since studying at The Academy of Fine Arts in Bologna as a teenager. He is one of several emerging fashion names cropping up in the city – something Adamo credits to a wider renaissance of culture in Milan, of which music and art are also a part. 'There is a new wave [of creativity], strongly centred here in Milan. I think we can all work together; there's space for everybody. We all have something to say to the world.'
Models: Katie Johnson at Models 1, Wilfried and Adeline at Xdirectn, Alexander Carey-Morgan at Tomorrow Is Another Day. Casting: Svea Casting Hair: Tosh at Streeters. Make-up: Jimmy Owen Jones at Julian Watson Agency using Dior Forever Foundation and Capture Totale Super Potent Serum. Manicure: Cherrie Snow Set design: Lizzy Gilbert. Photography assistants: Max Glatzhofer, Benedict Moore. Fashion assistant: Stoyan Chuchuranov. Set assistant: Aliou Janha Hair assistant: Leanne Millar.
A version of this story appears in the March 2023 Style Issue of Wallpaper* (opens in new tab), available now in print, on the Wallpaper* app on Apple iOS, and to subscribers of Apple News +. Subscribe to Wallpaper* today (opens in new tab)
andreaadamo.it (opens in new tab)
Jack Moss is the Fashion Features Editor at Wallpaper*. Having previously held roles at 10, 10 Men and AnOther magazines, he joined the team in 2022. His work has a particular focus on the moments where fashion and style intersect with other creative disciplines – among them art and design – as well as championing a new generation of international talent and profiling the industry's leading figures and brands.
With contributions from