Introducing Wallpaper* March 2023: The Style Issue
The Wallpaper* March 2023 issue is on sale now. Explore Philippe Parreno's monster flower, meet Margaret Howell at home, and discover new brands shaking up Milanese fashion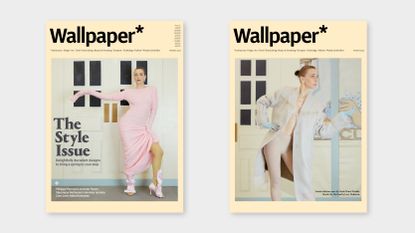 (Image credit: Nicole Maria Winkler)
In House of Prototypes, a five-panel artwork by contemporary British painter Lucy McKenzie, we see the journey of a dress being made under the Soviet system of fashion, a regimented process that involved inspection by a committee of party officials (gathered under the watchful eye of Stalin's portrait). Happily, today's fashion designers are no longer encumbered by such bureaucratic nonsense, but given McKenzie's interest in the dynamics of fashion, we decided to stage our womenswear shoot at her recent London exhibition, 'Approval of the Committees'. Her tableaux, combined with the thoughtful lens of photographer Nicole Maria Winkler, expert styling by our fashion director Jason Hughes, and the striking poses of supermodel Hannelore Knuts, form the perfect showcase of the S/S23 collections.
This being our biannual Style Issue, we worked on a big menswear story, too, shot at a midcentury modernist home, in California's San Fernando Valley, that once belonged to Bing Crosby's manager. It was recently refreshed by local architecture studio (and winner of Best Private House in the Wallpaper* Design Awards 2023) Woods + Dangaran – breezy looks and sunny blue skies to tide us over as we await the arrival of spring.
Alongside a healthy helping of big names – Margaret Howell launches the print version of our 'At home with' Q&A series, Philippe Parreno recalls his 'monster flower' set for Louis Vuitton womenswear, and Albert Kriemler introduces Akris' retail overhaul by David Chipperfield Architects – we present an array of exciting emerging talents. We round up six new brands that are shaking up Milanese fashion, try on rising star Matthew Adams Dolan's capsule collection at Italian denim label Jacob Cohën (and discover their plans for further collaboration), call on New York designer Liam Lee ahead of two solo exhibitions of his felted fantastical forms, and pay a housewarming visit to London designer James Shaw, who personally built and put together every element of his new home, including his signature extruded plastic forms in dreamy pastel shades.
Add to that a brand profile of Danish eyewear legend Lindberg, an exclusive first look at Mercedes-Benz's quilted automotive sculpture (a joint effort with Moncler, inspired by the Italian brand's puffer jackets), and a tantalising tour of the weird and wonderful offices of Parisian creative agency Art Recherche Industrie, and you have a superlative snapshot of the season ahead.
Finally, don't miss our eight-page feature dedicated to Hermès menswear, where artistic director Véronique Nichanian reveals the key to creating the classics of tomorrow. As she tells our fashion features editor Jack Moss, 'fashion should be light and fun. I want to bring happiness to people – in the sensuality of the fabric, or the colour, or something that makes you say "wow".' We hope this issue has the same effect.
Bill Prince
Acting Editor-in-Chief
The March 2023 issue of Wallpaper* is available in print from 9 February, on the Wallpaper* app on Apple iOS, and to subscribers of Apple News +. Subscribe to Wallpaper* today (opens in new tab)
On the covers
On the newsstand cover (top left): Dress, £880, by Sportmax. Shoes, by Acne Studios. Earrings, £1,550, by Sophie Bille Brahe. Tights, £23, by Falke
On the limited-edition cover (top right): Jacket, £6,700, by Prada. Bra, £55; tights, £110, both by Victoria Beckham. Gloves, £150, by Sportmax. Earrings, £225, by Completedworks
Shot on location at Cabinet Gallery, London. Tableaux courtesy of artist Lucy McKenzie, Cabinet Gallery and By Art Matters
Bill Prince is a journalist, author and former acting editor-in-chief of Wallpaper* (March 2022-April 2023). Prior to taking up the role, he served for 23 years as the deputy editor of British GQ, before which he worked at EMAP (as assistant editor of Q Magazine) and IPC (where he began his career at NME). In addition to editing, writing and brand curation, Bill is an acknowledged authority on travel, hospitality and men's style. His first book, 'Royal Oak: From Iconoclast To Icon' – a tribute to the Audemars Piguet timepiece at 50 – was published by Assouline in September 2022.