Lucie and Luke Meier on their eclectic new vision for Jil Sander
'It's quite unexpected,' say Lucie and Luke Meier of their latest collection for Jil Sander, which began by looking back to the 1990s music scene. Here, speaking to Scarlett Conlon, they tell Wallpaper* the story behind the A/W 2023 collection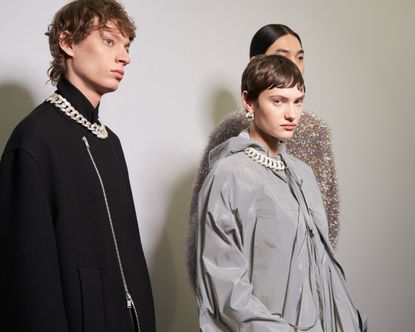 (Image credit: Courtesy of Jil Sander)
Eclectic isn't a word often associated with Lucie and Luke Meier's collections for Jil Sander. Modernity, precision, purity – earthy, even – sure. But eclectic? Not quite as we know it. Yet, when it comes to describing their A/W 2023 collection, that's the word they both immediately call on.
'It'll be quite unexpected,' hints Luke three days before the show when Wallpaper* sat down with the husband-and-wife duo to talk about their forthcoming Milan fashion week show. 'You're not ready for this one yet.'
Fast forward to Friday night in Milan, and the designers had been true to their word. Crushed aluminium flowers, intarsia-knit cherry and sweet motifs, acid green gingham, hot pink needle-punch tassels, all-over silver sequins – as intended, this was a heady infusion of out-of-the-blue ideas.
'It's quite unexpected': Jil Sander A/W 2023
The starting point of the collection is a particularly personal one for the duo. Like the rest of the world, in recent years the Meiers were faced with time of reflection and introspection – the fruits of which formed the starting point for this collection.
'We were talking about before working [together], before even going to school, and what were the reasons we were attracted to this kind of work and we landed on the mid-to-late 90s mood,' explains Luke. 'Looking back, there was this really interesting attitude and exchange of information happening. [It was] also the first time that technology started really creeping into your life and affecting your lifestyle. But there was this real openness and positivity, you know? Whether you talk about it politically speaking, or just anything to do with technology, it was quite positive. So, we kind of like that mood… and the idea of a feeling of positivity [towards] the future.'
At 41 and 47 respectively, the period encapsulated Lucie and Luke's formative years. Luke cites his time living in London watching Goldie DJ at the Blue Note in Hoxton just as DJ Shadow's trailblazing first album Endtroducing….. was released and Björk was taking on Brit-pop royalty in the charts as bearing a heavy influence on his design process.
'There was a lot of music around that time that was really, really powerful and what was just cool is that was there was a very progressive attitude. It didn't feel like anything was too formulaic,' he says. 'At that point, it was like, let's try it! Interesting things seemed to resonate in a good way and people were all about mixing [things up. For example] hip hop with dance music… the new ideas of production were exciting.'
The sentiment bounced off the catwalk on Friday night to the bellowing tones of Björk's remixed All Neon Like as the pair combined traditionally incongruous construction techniques and peppered the collection with trippy emblems of the era. On dresses and coats, wool felt was digitally printed and welded with a silk hemline and for knitwear and outerwear the finest mohair had been processed to seem synthetic.
Two of the 90s most successful fashion trends were subtly subverted on, too. Motorcycle motifs arrived via sculptural leather jackets and trousers embossed with the brand's logo, while models were styled wearing streamlined helmet liners. Elsewhere, parka coat silhouettes – arguably the adopted uniform of the 90s – was crafted from recycled polyester and real glass.
'We are always rigorous with our development and research into materials,' explains Luke. 'It's this kind of nice tension between something that's a very, very authentic, traditional material, but then, skewed in a very modern way.'
Capturing the sensation of those formative years of freedom in a way that resonates in a luxury context was delivered with a confidence that comes from experience on Friday night. Before joining forces at Jil Sander, Lucie worked in the design teams at Balenciaga and Louis Vuitton before taking an interim director role at Christian Dior. After an eight-year run as design director for Supreme, Luke successfully established his own label OAMC.
'We don't do anything too conceptual in the end, there's still a reality to what we'd like to work on,' he continues. 'We like making real things that will really exist in the world. We don't really enjoy just the idea of concept or image for the sake of it. Everything has to be just outstanding, that's just the minimum threshold.'
Marking six years in their joint creative director roles at the house this year, the pair clearly have the same burning desire to continue to innovate.
'Sometimes we feel like we've just started and there's so much to do,' smiles Lucie.
'We're just lucky to have a medium that we can express ourselves through,' agrees Luke. 'Collections are an interesting thing, because it's a little bit like a timestamp on a period, right? We're always evolving as people and our ideas are always progressing are always changing. Fashion is exhilarating, because it's a dialogue with what's going on in the world.'