Alternative bridal wear for the modern bride
We present our edit of unconventional wedding dresses and alternative bridal wear looks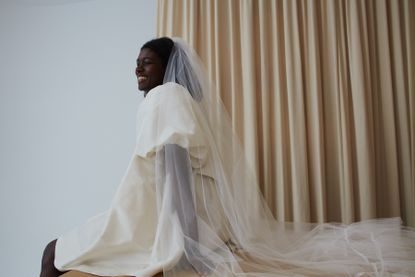 (Image credit: Steven Yatsko)
Overwhelmed by ostentation, the pressure of matrimonial tradition, or the risk of investing in something not quite you? Here we present our alternative bridal wear designers to dip into as wedding ceremonies are reintroduced, creating pieces with ease, elegance and just the right amount of ritz to wear when saying 'I do'.
Explore alternative bridal wear
Sandy Liang
New York-based label Sandy Liang is known for a playful approach to its collections, which often draw on nostalgic references from the eponymous designer's childhood. The brand's first foray into bridal wear mines a similar mood, comprising four dresses named after princesses both real and fictional – Diana, Mononoke, Kaguya, and Peach – alongside three accompanying veils. Unexpected silhouettes, tulle layers and puffed sleeves are designed for what Liang called 'the unconventional New York bride' who nonetheless wants to feel 'like a princess for the day', without the ruffles and frills this might usually entail. The capsule is available to view in-person and online now, with each dress made-to-order and by appointment (veils, though, can be purchased off the rack in Liang's Orchard Street store).
Molly Goddard
Despite emphatic silhouettes and mille-feuille layers of frou, Molly Goddard's dresses are always designed with a sense of ease at heart. The designer has long created custom bridal commissions for friends – like a transparent tulle creation for model and actress Agyness Deyn – and last year launched a made-to-order debut bridal range of 12 dresses, available in white or ivory and lined with silk, toeing the line between romance and realism. 'There are enormous taffeta and tulle gowns but also dresses you could easily hem and wear again and again,' she said of the offering at the time.
As of May 2022, Goddard launched a new ready-to-wear bridal collection, available to order directly from the designer's website with no need for showroom visits or time-consuming fittings. Comprising 11 new styles – in mini, midi and full-length – the various designs feature Goddard's signature hand-smocking and shirring, and arrive alongside colourful veils in blue and coral pink, a lambswool cardigan, and a frilled tulle bolero.
Taller Marmo
Taking its name from the Italian word for bride, 'Sposa 1' marks Taller Marmo's first foray into bridal wear, promising an exploration of 'decoration, dressmaking and ceremony' through ornate but contemporary designs which contain all the Milanese label's hallmarks – namely, fringing and feathers in abundance. Drawing inspiration from 1960s jet-set style – Sophia Loren is noted as a perennial reference point – the intricately crafted collection comprises numerous options for the modern bride, from feather-trimmed mini dresses to signature kaftan-style gowns in alabaster white and cream, decorated with a plethora of detailing inspired by 'nature's gifts' (flowers, corals, shells, et cetera). It lends the collection the 'essence of couture', not least in the fabrics themselves, several of which are made in Como in Italy on traditional looms dating back to the 1950s, 'thus adding to the romance of the pieces and harking to the notion of love beyond time; everlasting'.
The Own Studio
The Own Studio co-founders Jess Kaye and Rosie Williams are serving up a contemporary approach to wedding wear that stretches beyond 'the dress' and includes outfits for all bridal occasions. 'Brides are on the hunt for a special evening outfit, a second-day dress, Friday night drinks and often a civil outfit too,' says Williams. Sleek tailored trousers, asymmetric slip dresses and marabou-trimmed minis are a succinct reminder to possessed brides that no one need lose their sense of self, or style, when it comes to wedding attire. Made in the brand's London atelier, the duo intentionally design pieces which can be worn again after the big day; the key to versatility is sleek silhouettes and 'little details that create a big impact,' says Kaye.
In April 2022, the duo unveiled two new offerings. Firstly, The Own Studio, a modern and relaxed take on the often dusty and dated bridal store. The by-appointment-only east London apartment is filled with furniture and objects by design greats from Mies van der Rohe to Florence Knoll and Marcel Breuer as well as contemporary designers like Campbell-Rey. Brides-to-be can also try and buy from an edit of jewellery by Alighieri and Completedworks, alongside pre-loved shoes from Prada, Gucci, Manolo Blahnik and more. Secondly, their newly launched 'Contemporary Collection' offers a capsule of ten easy pieces for those looking for something more simple than a custom wedding dress. Each piece is made-to-order – shoppers choose their nearest size but there are no fittings as with their bridal outfits – and has a lead time of roughly six weeks.
Maison Rabih Kayrouz
There's a soft fluidity to Maison Rabih Kayrouz's bridal collection, an offering which celebrates purist forms, draped silhouettes and shapes which are powerful in their lack of ostentation or embellishment. Silk chiffon, satin, organza, grosgrain ribbon and cotton are used to create alternative bridal wear creations that bring an Haute Couture-worth sense of emotion to ready-to-wear. For the bride more moved by minimalism, and uninspired to flirt with flou, the Lebanese label's designs have an insouciant, refined élan. A utilitarian vest top gently undulates into a softly A-line skirt, a dress resembles a fluidly draped column, a relaxed trouser suit has a jacket sliced at the sleeves.
Danielle Frankel
'Whether it's a 15-person wedding, or 150, you should feel special on your wedding day,' says designer Danielle Hirsh, whose bridal wear brand Danielle Frankel, operates from New York's garment district. Hirsh, who previously worked at bridal behemoth Vera Wang, creates pieces that abound in personality, rebellious flair and finesse. For A/W 2021, her brand's collection features not just Delphic, draped and bias-cut dresses, festooned with exquisite tulle and floral brocade, and fluid in ivory and crisp white silk, but pieces with short puffball hems, mini skirt lengths, and even dresses in darker ombre purples, greys and black. 'If you offer these designs, people will buy them,' Frankel explains. 'Brides want to feel the best version of themselves.'
The fledgling label grew 40 per cent during the Covid-19 pandemic. 'People have gone through so much in their wedding planning,' Hirsh says. 'You really want that bride to feel special.' That special attention comes courtesy of a collection-focused or custom service, which takes a total of ten months, from moodboards to final fittings. 'I'm trying to answer to what various women like, not a specific person,' she adds. 'Being in the studio with brides and really hearing what they have to say.'
Self-Portrait
London-based Self-Portrait – founded by Han Chong in 2013 – has long been a go-to label for wedding guest dresses, and now the brand has introduced a collection which answers the wearable-yet-wondrous wardrobe requests of the bride too. This alternativel bridal offering balances pragmatism with pizzazz, frou with finesse, featuring mini-dresses with bow details, crystal embellisments and pleated capes and tailoring, from bouclé blazers which tie at the waist to 1980s-centric jackets with buckle details. The collection revels in the feminine flourishes that define Self-Portrait, from rose and polka dot lace to floral guipure, and is swathed in pristine tones, from ivory to cream, whilst short lengths, transparent fabrics and androgyous shapes bring a modern ease to matrimony.
Self-Portrait fans, whether brides themselves, bridesmaids or wedding guests, now have no shortage of options for upcoming nuptials. These are silhouettes that speak of timeless ease, suited to any bridal bash, whether saying 'I do' in a registry office or on a remote sandy shore.
Asceno
In the wake of the Covid-19 pandemic, a bride's desire for something comfort-focused and easy has only increased, especially when nuptials have become a more intimate and less ostentatious affair. Who needs constriction on a day focused on celebration? It's a mindset that London-based resort and ready-to-wear label Asceno agrees with. 'Early on in our friendship we knew we wanted to create a clothing brand that was pared back and relaxed,' Poppy Sexton-Wainwright told Wallpaper* last year, of the intention behind London brand Asceno, which specialises in streamlined separates, including silk pyjamas and easy dresses.
Now the label has launched its first bridal offering, a ten-piece capsule collection sure to encourage matrimonial bliss for the understated modern bride. Think silk slip dresses that skim the body, fluid pyjamas and robes, that are fitting not just for a ceremony itself, but the lead up to it too. The offering also includes a white silk crepe tailored suit that is eternally insouciant. The archive wedding look that inspired the style? The Yves Saint Laurent Le Smoking jacket that Bianca Jagger wore to wed Mick Jagger in 1971.
Blazé Milano
For the more androgynous dresser, the concept of saying 'I do' in a dress sends shockwaves of style panic. Luckily, Blazé Milano designers Corrada Rodriguez D'Acri, Delfina Pinardi and Maria Sole Torlonia have the well-tailored matrimonial answer. The trio's label celebrates the eternal chic of the tailored jacket, referencing women who have championed its enduring silhouette, from Coco Chanel to Biana Jagger. Now, the label has launched a series of blazers, blousers and trousers which tap into this insouciant style, including a tactile cream version of its signature 'Everyday' blazer and a soft silk jacket with a robe-inspired tie.
RELATED STORY
The collection of bridal-inspired pieces is available exclusively at Matchesfashion.com, as part of the London retailer's tradition-breaking Wedding Edit capsule offering, which launched in 2020. 'In this new world, we all had to hastily rearrange plans and have more intimate celebrations. Our edit features non-traditional options that are well suited to smaller weddings, such as pared-back mini dresses and directional tailored separates,' says global fashion officer Natalie Kingham.
matchesfashion.com (opens in new tab)
Bon Bridé
'What's in my wardrobe? Round necks, roll-necks, I love a long sleeve,' says Pippa Cooke of the founding design elements which inspired the silhouettes she creates at Bon Bridé. Cooke – who cut her teeth buying for Topshop, and developing House of Hackney's fashion line – saw a gap in the bridal market when she herself was getting married in 2013. 'The whole system seemed so backwards. Especially the idea of paying thousands of pounds for a wedding gown with barely any time to try it on.' West London-based Bon Bridé launched in 2019 and specialises in pared-back, refined designs, with subtle details, like raw hems, pearl embroidery and zips. Silhouettes are unrestricted and unlined, swapping 'shiny silk' and lace, for soft wool and delicate crepe. Think fluid gowns which drape sensually across the back, or long dresses with relaxed button-down details.
'A lot of our brides have been buying a wrap style as a second option, in case their larger wedding becomes a smaller civil ceremony, due to Covid-19 restrictions,' Cooke says, of an elegant silhouette that ties at the waist, and can be worn as a dress or layered as a lightweight coat. She emphasises that a wedding dress shouldn't be a one-wear-only investment. Post nuptials, her clients can return with their gowns and have them dyed black or even transformed into jumpsuits. 'A wedding dress shouldn't just be put in a box,' she says. 'This service ensures our brides will wear them year on year.'
Christopher Kane
There's always been a soupçon of subversion behind the embellishments that London-based designer Christopher Kane uses in his designs, from smatterings of diamanté to fronds of marabou trim, tactile gel inserts to transparent lace. For brides eager to balance adornment with edge and sophistication with seduction, the brand's alternative bridal wear capsule collection is a style match made in heaven. Drawing on the daring and sensual facets of the brand's design DNA and range of archive silhouettes, the offering includes body-skimming lace gowns with feathered necklines and mini dresses in silver chainmail, or with pouf skirts sparkling with chunky gems.
'A Christopher Kane bride is someone who has the strength of character to do whatever they like on their wedding day. They don't feel the pressure to conform to the traditional sartorial rules,' says the brand's co-founder Tammy Kane. The capsule collection also offers a selection of convention-defying pieces that can rouse a rehearsal dinner or bring va va voom to a video ceremony, from feathered shirts to crystal embellished T-shirts.
christopherkane.com (opens in new tab)
In-Grid Bride
Scroll through In-Grid Bride's Instagram feed, and you won't find homogeneous shots of bouquets, wedding cakes or ring-adorned fingers, but images of artworks by Constantin Brâncuși, Tracey Emin, Cy Twombly and Antony Gormley. 'It's about things that are romantic to me,' says Katie E Timothy, co-founder of cult shirting label In-Grid Studio, which launched its bridal wear line earlier this year. 'I'd been creating more art-focused couture pieces,' she adds. 'So bridal seemed like a natural extension.
'It's about shaking off that princess vibe of the wedding dress,' Timothy says of her designs, which include floor-skimming A-line kaftans, balloon-sleeve shirts and off-the-shoulder tiered gowns, all crafted in luxurious duchess satin. Pieces are pared back, with a couture-level cut, and are utterly striking in their simplicity. Timothy hopes to create a welcoming and immersive bespoke fitting setting, describing her own experience of wedding dress shopping as 'claustrophobic'. Brides-to-be can visit the brand's Sheffield studio, try on In-Grid Bride's designs, and customise styles according to a classic or more fashion-focused range of fabrics, in tones including pink and blue. 'It's about wearing something special that feels like a second skin,' Timothy adds of the ease-fuelled impetus behind the offering. 'A piece that is an extension of you, not a design that you feel like you should be wearing.'
instagram.com/in_grid_bridalwear
Lein
'The goal was to bridge that gap between bridal wear and womenswear,' says New York-based Meredith Stoecklein, who cut her teeth at Zac Posen, Narciso Rodriguez and in the world of custom-designed celebrity dressing before launching her wedding brand Lein in 2016. Aimed at making the bridal wear world more approachable – 'so many women just want to wear a white dress from their favourite designer' – Stoecklein creates sartorially-minded styles fit not just for a ceremony, but rehearsal dinners, wedding brunches and beyond. Think strapless dresses in ethereal nude tulle or with delicate French lace skirts, and more daring creations including a confetti-centric fringed mini dress and flocked lace gowns and chiffon halter neck dresses in shades of black. 'I want to offer ready-to-wear styling in an elevated way that still honours the meaning of the moment you are shopping for,' she says.
Sustainability-minded brides today are conscious of the excess of wearing a dress simply for just one day. Stoecklein is emphatic that her alternative bridal wear can be worn again and again. 'I love the idea that clients can incorporate Lein pieces into their daily closet and relive a part of their wedding memory,' she says. Clothing to me has always been like a perfume; it can trigger a memory of when I wore something, who I was with and what fun we were having.'
Wed
'For our second season we used deadstock fabrics from a 300-year-old mill that wove the taffeta for Princess Diana's wedding dress,' says Evan Phillips, co-founder of London-based bridal wear brand Wed, which launched its first collection in 2019. The conscious brand incorporates waste fabrics into its draped, transparent and asymmetric designs, that appeal to those searching for something a little off kilter. It's latest offering features tiered dresses, puffball and handkerchief skirts, ruched blouses and trousers, in white, black, red and pink fabrics, which have been sourced from unwanted wedding dresses found on Ebay. 'We're really giving these bridal fabrics like lace, sequins and heavy beading a second life,' Phillips adds.
Wed was born from co-founder Amy Trinh's inability to find a wedding dress that hit the sweet spot between something 'really casual' or 'over the top' for her own big day. 'I spoke to Evan and we decided to create my dress together as a fun thing to do,' she says. 'Then in a more business sense, we wanted to explore this gap in the market.' The soon-to-be-betrothed can visit Wed's studio in London, for a piece that's a variant on their collection designs or an entirely bespoke creation. 'We've had clients who want a top from one style and a skirt from another,' Phillips says. 'We're talking with women who have a really good eye for design.'
INFORMATION
Weddingpaper* launched in the October 2021, 25th Anniversary Issue of Wallpaper*, on newsstands and available to subscribers – digital subscription $12/£12/€12 (opens in new tab)
Jack Moss is the Fashion Features Editor at Wallpaper*. Having previously held roles at 10, 10 Men and AnOther magazines, he joined the team in 2022. His work has a particular focus on the moments where fashion and style intersect with other creative disciplines – among them art and design – as well as championing a new generation of international talent and profiling the industry's leading figures and brands.