Yasmina Dexter on soundtracking fashion's biggest shows
We catch up with Yasmina Dexter, whose multilayered sonic assemblages form hypnotic backdrops to art installations, after-parties and catwalk shows – from Ferragamo to Acne Studios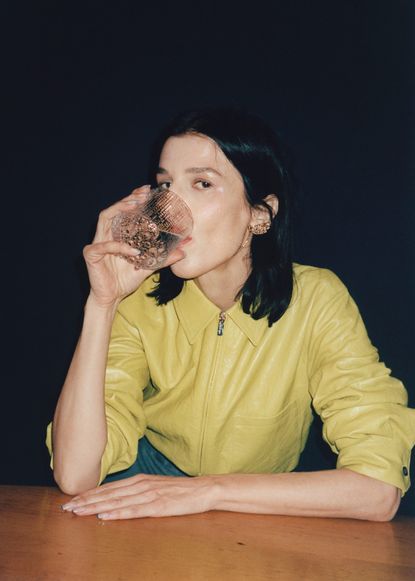 (Image credit: Photography by Antonio Mingot, fashion by Jason Hughes)
Yasmina Dexter is Shazam's worst nightmare. Also known as Pandora's Jukebox, Dexter layers up multi-textured soundscapes and mixes for fashion industry heavyweights that are impossible to decode. She assembles diverse genres, samples and original compositions with an artistry that pushes DJing into the realms of sound design. From Ferragamo catwalk shows and Rick Owens after-parties to sets at Paris club Cicciolina, her work is varied and shifting, but the constant is that extra emotional dimension you only get from music. 'Well, I am called Pandora's Jukebox for a reason,' she says over her first coffee of the day at home in Hackney. 'If you have to define what I do or put me in a box, it's going to be a box filled with unexpected things.'
Leaving her native Slovenia in 1991, Dexter discovered London 'when everything was cash in hand, underground music was still alive, and no one had phones'. Having grown up taping and editing chart compilations – electronica, Eurythmics and Prince in early-1980s Yugoslavia – as a precursor to DJing, she was welcomed by a UK club scene that was then devoid of female artists. Prince even reappeared on the playlist for her first residency at fetish night Torture Garden in 1998. But it was while working in production at London-based label Preen by Thornton Bregazzi that fashion and music fused, after she offered to create a mix for its S/S01 show. 'We knew each other so they gave me total freedom, and I've learned that working with people who are open is the secret to a great soundtrack.
'I want to bring something to the live experience. A different dimension that gets people scratching their heads. If the collection is about pastels and you play something sweet, it won't add much. But pastels with an industrial beat? That becomes interesting.'
In the chaos of getting a collection ready for fashion week, music can be an afterthought. So, given the industry's seasonal nature and extra resort shows, parts of the year get insanely busy. While planning a party set is not so different to a club night ('Acne Studios let me go as hard as Berghain'), catwalk soundtracks need the designer's input and a beat that models can walk to, roughly 115-120bpm. After submitting up to six hours of music for consideration, Dexter starts mixing the chosen tracks – remastering recordings to sound better live, then extending, looping and adding bass as her electronic dreamscapes take shape. From dramatic start to big finish.
'For three seasons now I've composed completely original sound designs in the studio for Lanvin,' she says. 'I might not read music, but I use sounds like notes. My library of samples is gigantic, filed by feeling, based on what they evoke in me, not by genre.' Her intuitive approach is more suited to falling down digital rabbit holes in search of inspiration than crate-digging for obscurities, and reflects how she puts together her monthly NTS radio shows. Heading off on one tangent after another, she is led by instinct rather than nerdy obsession, finding new tracks without ever repeating herself.
This focus on engineering hypnotic new sounds is taking Dexter deeper into art and film, soundtracking original shorts by Fendi, working on Spanish dancer and choreographer Candela Capitán's performance piece The Death at The Club, and music for visual artist Maison Hefner's latest gallery show in Berlin. Her dream commission? A feature-length film score.
'You never want to get bored by DJing, or by music, so I switch things up,' she says. 'I'm selective about work because I want to feel emotionally connected to an idea. It has to hit me like a punch in the stomach; bring tears to my eyes. Fashion can be so polished, but I love working in that underground space where anything goes if it's genuine and done with feeling.' And no, she doesn't take requests. 
Make-up by Joe Brooks.
A version of this story appears in the March 2023 Style Issue of Wallpaper*, available now in print, on the Wallpaper* app on Apple iOS, and to subscribers of Apple News +. Subscribe to Wallpaper* today (opens in new tab)
yasminadexter.com (opens in new tab), @pandorasjukebox (opens in new tab)