London Fashion Week A/W 2023: JW Anderson to Burberry
The best of London Fashion Week A/W 2023 in our ongoing report, from the city's diversity of emerging talent to Daniel Lee's blockbuster debut at Burberry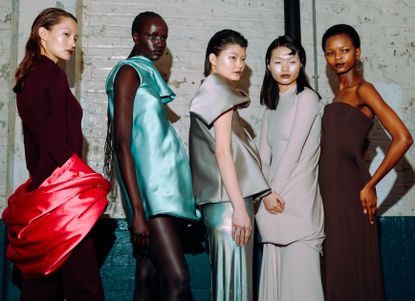 (Image credit: Photography by Jack Chipper, courtesy of Standing Ground)
London Fashion Week A/W 2023 continued the city's unique amalgam of emerging talent and heritage names – the latter represented in perhaps the most anticipated show of the season so far, ex-Bottega Veneta creative director Daniel Lee's debut at Burberry (yesterday evening, Monday 20 February). 'I really would like [people] to see the new vision and feel reassured,' he revealed earlier this year. 'Like, "Oh, yeah, this makes sense: This is what Burberry should be."'
Elsewhere, there was a return to the usual busy schedule, after last season was disrupted by the death of Queen Elizabeth II and the ensuing official mourning period (several shows were cancelled or rescheduled). Among the designers showing were JW Anderson (who swapped last season's evening slot for 11am on Sunday morning), Conner Ives, Christopher Kane, Simone Rocha, Nensi Dojaka, Molly Goddard, Roksanda, and Julien Macdonald, who returned to the London runway on Sunday evening. Moncler's blockbuster 'The Art of Genius' closed out proceedings with a live show at London's Olympia on Monday, featuring collaborations with Alicia Keys, Pharrell Williams, Mercedes-Benz (see our preview), Adidas Originals, Roc Nation by Jay-Z and more.
Here, Wallpaper* rounds up the best of London Fashion Week A/W 2023.
London Fashion Week A/W 2023: the highlights
Moncler 'The Art of Genius'
Moncler is known for its vast spectacles, which often involve open-to-the-public happenings; to celebrate its 70th birthday in Milan last year, 1,952 performers (a reference to its founding date) gathered on Duomo square in a meticulously choreographed showing of the outerwear brand's might. For its latest project, 'The Art of Genius', Moncler decamped to London to close out fashion week in spectacular style, taking over the vast central hall of Olympia London with numerous immersive installations created alongside the eclectic cast of collaborators for which the brand's 'Genius' project is known. These included Pharrell Williams, who created a surreal 'outdoor' space in the venue inspired by 'glamping', Mercedes-Benz, which revealed its collaborative art project-cum-vehicle Project Mondo G, and Adidas Originals, which imagined a 'vertical LED glacier' to showcase its clothing collaboration with the brand. Others included Rick Owens, Palm Angels, Salehe Bembury, Roc Nation by Jay-Z, FRGMT, and Alicia Keys, who performed for the thousands of attendees to close the evening. 'This commitment to new forms of creativity and cross-fertilisation continues to this day,' said Moncler. 'What evolves are the spaces where this creativity takes place and expands going beyond boundaries. It is the ability to see and create together what we could never have imagined alone.'
Burberry
'The winds of change' – so began a new chapter in the 167-year-old history of Burberry as Yorkshire-born designer Daniel Lee marked his debut collection for the British institution in a specially erected tent in London's Kennington Park. The expression was printed on a T-shirt mid-way through the blockbuster show, serving as a double entendre – a declaration of out-with-the-old, in-with-the-new, but also a nod towards the roots of the collection in Britain's famously unpredictable weather. 'I thought it was funny… change for me, change for the brand, change for the positive thing,' said the ex-Bottega Veneta creative director post-show, noting that for him, Burberry is built on functionality and a desire to protect its wearer from the elements. As such, the space itself was a reference to tents sold by the brand in the late-19th and early-20th century; on each seat, a Burberry check water bottle was gifted to attendees, while piles of blankets were also stacked around the space (befitting the mood, warming hot toddies were also served). Outerwear, of course, was a focus for the designer; Burberry's famed trench coat was blown up in size and came with faux fur-trimmed lapels, while deconstructed versions of the car coat, the duffle, and aviator also featured. Blankets featured in the collection, too, slung around the body or riffed on in cocooning overcoats, handkerchief-cut dresses and versions of the house check.
But there was also a new eclecticism at play – notably in the swathes of colour and print, a marked contrast to forebear Riccardo Tisci's pared-down palette of beige, white, and black – which the designer credited to being back in London after living in Italy while at Bottega Veneta. One particular print featured a duck, repeated across colourful clashing shirts, trousers and dresses. '[They are] very British – they are about London parks, and the rain,' he said of the bird, which also reappeared as a playful knitted hat. 'You walk down the street and you're surrounded by people from so many walks of life, all living together,' he said of being back in the city, name-checking the anarchic creativity of figures like the late Vivienne Westwood. 'There is great music here, great theatre, great art. I want to shine a light on those things and show a positive side of Britain to the world. That's something I missed in recent years and that's what I'm trying to celebrate.'
Saul Nash
'When you grow up in London, you wear a lot of ski outerwear, but you never learn to ski… it's a symbol of aspiration that's juxtaposed with the realities of inner-city living,' said young British designer Saul Nash of the starting points of his latest collection, which was titled 'Juxtaposition'. Known for his sportswear-inspired pieces that adapt to the wearer's body in movement (Nash is also a dancer and choreographer, and this show featured moments of contemporary dance), the Royal College of Art graduate noted that this collection marked a step forward for the burgeoning label in pursuit of 'function, hybridity and the elegance of a tailored silhouette'. 'Now I'm 30, I don't want to wear a tracksuit for the rest of my life, but I will always want to be in activewear,' Nash elucidated, noting that the technicalities of skiwear and its links with aspiration and luxury reflected his own desire to refine his offering. As such, a sleek bonded skiwear-inspired jacket – cut with an elegant, narrow silhouette – was combined with the first fly-fronted trousers Nash has designed, while a longer gilet-style jacket (also in bonded technical fabric) was imagined with 'the presence of a tailored coat'. Following his International Woolmark Prize win in 2022, Nash also continued to experiment in merino (one particular sweater was crafted with panels of 'aerated ventilation'), while a footwear partnership with Ugg saw him customise a number of the brand's styles with hardy Vibram soles.
SS Daley
A cameo from legendary British actor Ian McKellan – who read an extract from Alfred Tennyson's The Coming of Arthur to the gathered attendees – continued Steven-Stokey Daley's flair for the theatrical in his seasonal presentations (previous shows have seen appearances from the National Youth Theatre, of which the young British designer was once a part). Fresh from winning the 2022 LVMH Prize, Stokey-Daley said that the latest collection began with his listening to concept EP The Ninth Wave by Kate Bush, which revolves around a character being stranded in water ('They're absolutely terrified, and they're completely alone at the mercy of their imagination,' said Bush in a 1992 interview). As such, nautical references abounded – 'a sailor across time', as the notes described – in oversized navy pea coats and shirts, berets and fisherman-inspired knits, while tailoring (a focus for the season) was reimagined with a 'neat sailor's collar'. The reference to water signalled something of a new chapter for fast-growing brand SS Daley: 'The pull of the water has led us to a fresh new world, one that's about the confidence of being who I want to be,' said Stokey-Daley.
Nensi Dojaka
The strength of Nensi Dojaka's casting alone – which included appearances from supermodels Caroline Trentini, Mariacarla Boscono, and Imaan Hammam – signalled that the 2021 LVMH Prize winner remains one of the city's hottest tickets. For good reason – Dojaka's sensual, lingerie-inspired designs have a level of accomplishment and craft that sets her above many of her peers (her signature LBDs, with intricate strap fastenings and pleated tulle detailing, continue to stand out despite a proliferation of similar styles appearing on both the runway and high street). Like last season, a single flower was left on each attendee's chair, a nod towards what Dojaka calls her 'eternal inspiration', the flower. As such, delicate red tulle flowers decorated the chest of a bra top, while fronds of tulle at the ankle of trousers 'unfurled like petals'. A white 'snowdrop' dress, meanwhile, proposed a 'new silhouette for evening wear: a fitted skirt in fine jersey, with further godets of tulle' and was decorated with Swarovski crystals. Despite the sweetness of the reference, Dojaka's designs have a severity of cut that avoids the saccharine, while new collection elements – like denim jeans, oversized blazers and an expansive black overcoat – exuded the sensuality and confidence now synonymous with the brand.
Christopher Kane
'Housewives, cleaners, barmaids,' said Christopher Kane of the muses for his A/W 2023 collection, which the Scottish designer noted began with memories of his mother, aunt, and neighbours in the 1980s. Shown in an office space close to Angel tube station, Kane riffed on these inspiration points with a typically intoxicating mix of sensuality and subversion: vast ruffles emerged from the waist of a red PVC skirt, the structured panels that rose from the back of dresses and around models' necks were inspired by 'chopping boards', while kitschy prints of chicks, rats and pigs (generated by AI) adorned body-conscious gowns slit to the upper thigh. 'A modern wardrobe for those who desire clothes that challenge sartorial tastes and standards,' described the collection notes, referring also to delicate flower motifs – like those you might find on vintage home furnishings – which appeared throughout and 'softened hard-line silhouettes'. Such juxtapositions, Kane said, were an attempt to capture the 'complexities of growing up in a working-class environment' – a reference to his own upbringing, which continues to prove fertile ground for his work.
Erdem
Staged within a black-curtained studio space at London's Sadler's Wells theatre – lit only by a series of bare lightbulbs which lowered as the show began – Erdem Moralioğlu said that this season began with peeling back layers of wallpaper in his Bloomsbury townhouse to discover the 'echoes of the building's former residents' (before the show began, ghostly murmurs and footsteps played in the space). The building's past lives included 'A Home of Hope for the Restoration of Fallen Women' in Victorian times; 'The women are long since departed, but the imprints and vestiges of their presence remain,' read the collection notes. Noting inspiration, too, from American author Charlotte Perkins Gilman's proto-feminist short story The Yellow Wallpaper – in it, the protagonist muses on fading yellow wallpaper and sees in it a series of hallucinations – the collection's looks encapsulated a ghostly, faded glamour, their forms appearing from the darkness and tracked with roving spotlights. In the clothing itself, historical silhouettes in various jacquards and prints, recalling those found in 19th-century homes, were reinterpreted with Moralioğlu's contemporary eye. Notes of subversion emerged in vast taffeta gloves (the appearance was that of a bell sleeve), unravelling hems and shades of bright yellow and citrine, while the designer's richness of craft emerged in the expansive use of embellishment and embroidery throughout.
JW Anderson
'Looking back is not something I do very often, but occasionally it feels necessary as a way to move forward. The past can be a lens that brings the future into focus,' said Jonathan Anderson of his latest collection for London-based eponymous label JW Anderson. It continued on from a move towards clarity and reduction signalled in his menswear collection earlier this year ('I think we're going to head into a season of stripping things back,' he said at the time). Vast billboards – one the outline of an enormous phallus, another a playful riff on the Coca-Cola logo that read 'Enjoy God's Disco' – populated the centre of the circular show space at Camden's Roundhouse, comprising old advertisements for performances by subversive Scottish dancer and choreographer Michael Clark. Clark, whose eponymous dance company was celebrated in a recent exhibition 'Michael Clark: Cosmic Dancer' at London's Barbican, provided the driving force of the collection: 'Michael Clark is an incipit. A starter, a white page, the agitator who defied the system, who threw a couple of glittery fingers in the face of the dominating culture and created another,' said Anderson via the collection notes. 'As such, he is embedded deep, somewhere, in the foundation of JW Anderson and impels now the urgency of a blank slate.'
References to Clark appeared throughout the collection – the same phallus appeared on a crinkled T-shirt, while 'Michael Clark' was written on tank tops or handbags like memorabilia – though beyond the designer's admitted fan-boy status, Anderson said that looking towards the choreographer's wider body of work had drawn him to looking back at his own. 'History and the long term: as perspective, not as a burden,' the notes continued, elucidating that much of the collection was drawn from Anderson's own archive: '15 years of JW Anderson are condensed here and now, redone and re-seen'. As such, references to previous collections abounded – furry bustiers with front chest pockets, jackets with vast shawl collars and sailor-stripe T-shirts emblazoned with the brand's anchor logo had all appeared in previous iterations, here distilled with the clarity of mind which comes with the gift of hindsight. It made for a sleek, elevated collection from the designer, complete with the visual bluntness that defined his menswear offerings earlier this year at both the eponymous label and Loewe, where Anderson is creative director. 'A constant exchange: then and now… Reducing, compressing, condensing… And starting again,' he concluded. 'I am curious, orange.'
Simone Rocha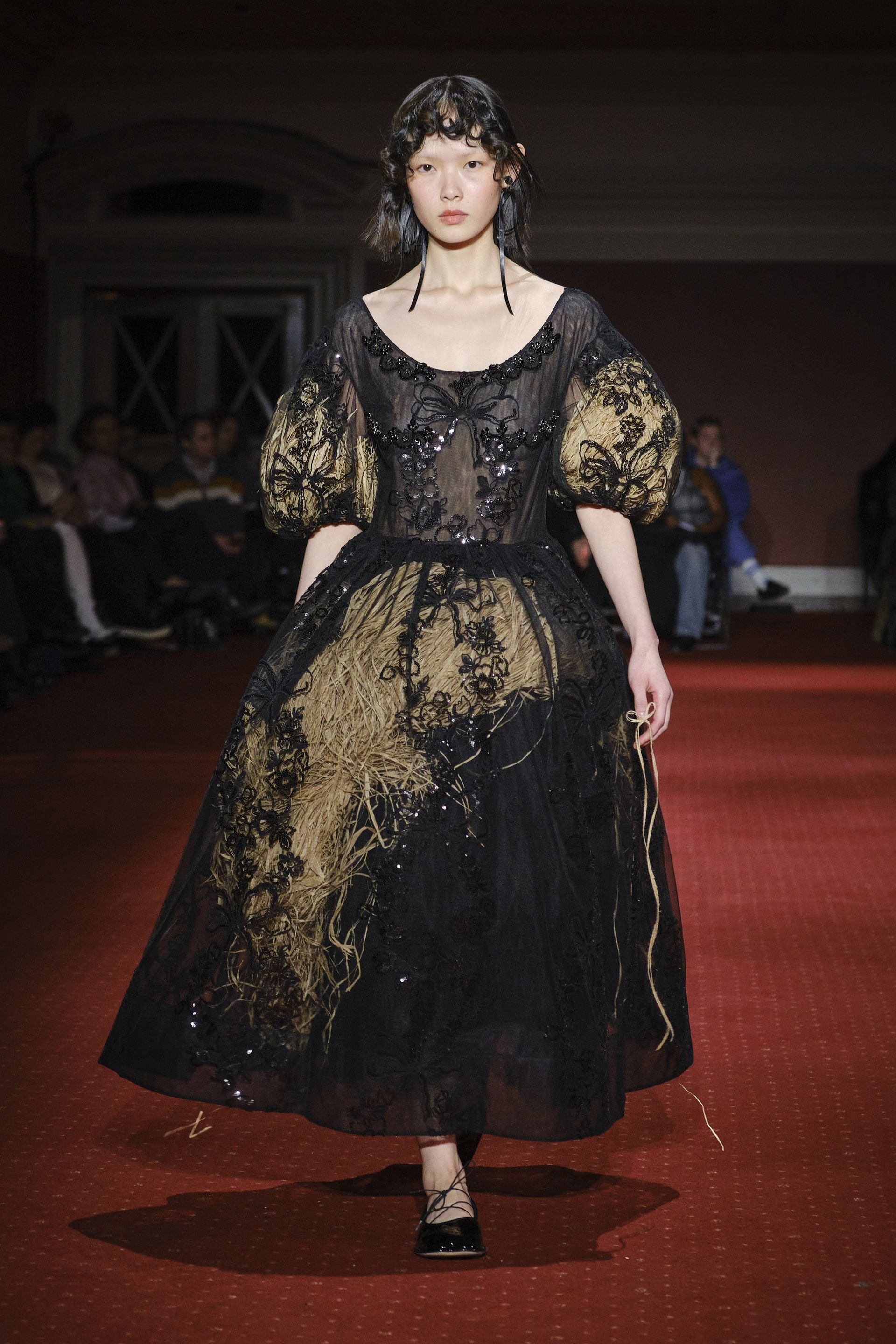 Simone Rocha has often looked towards the traditional festivals and folklore of her native Ireland in her collections; this season, the designer's typically poetic show notes – comprising a sparse but evocative list of descriptors – referenced inspiration from Lughnasadh, a traditional Gaelic holiday that celebrates the beginning of harvest. 'Peeling the apple in the mirror to reveal your future love… the blood daubed on children's foreheads for protection from otherworldly beings and bad luck,' read the notes, seeing Rocha inhabit a space between sweet and subversive in the collection – a juxtaposition which has provided much of the impetus behind her work. The use of raffia recalled the Lughnasadh tradition of weaving hay and wheat into ceremonial shapes – here imagined in intricately braided dresses or handfuls of raffia trapped under tulle to give gowns their shape – while delicate red ribbon, adorning dresses or hanging from beneath the model's eyes like tears, referenced the festival's link with blood (the god Lugh was believed to have poured his own onto the fields in order for the harvest to thrive). Other Rocha signatures were revisited this season, whether delicate sequin and crystal embroidery or the expansive, ultra-feminine silhouettes, as was menswear, which debuted last September. 'There is a crossover of ideas and emotion, and influences of fabrications and silhouettes – they are coming from one place but each is their own individual character that responds and reacts to [the other],' she recently told Wallpaper* of the addition.
Roksanda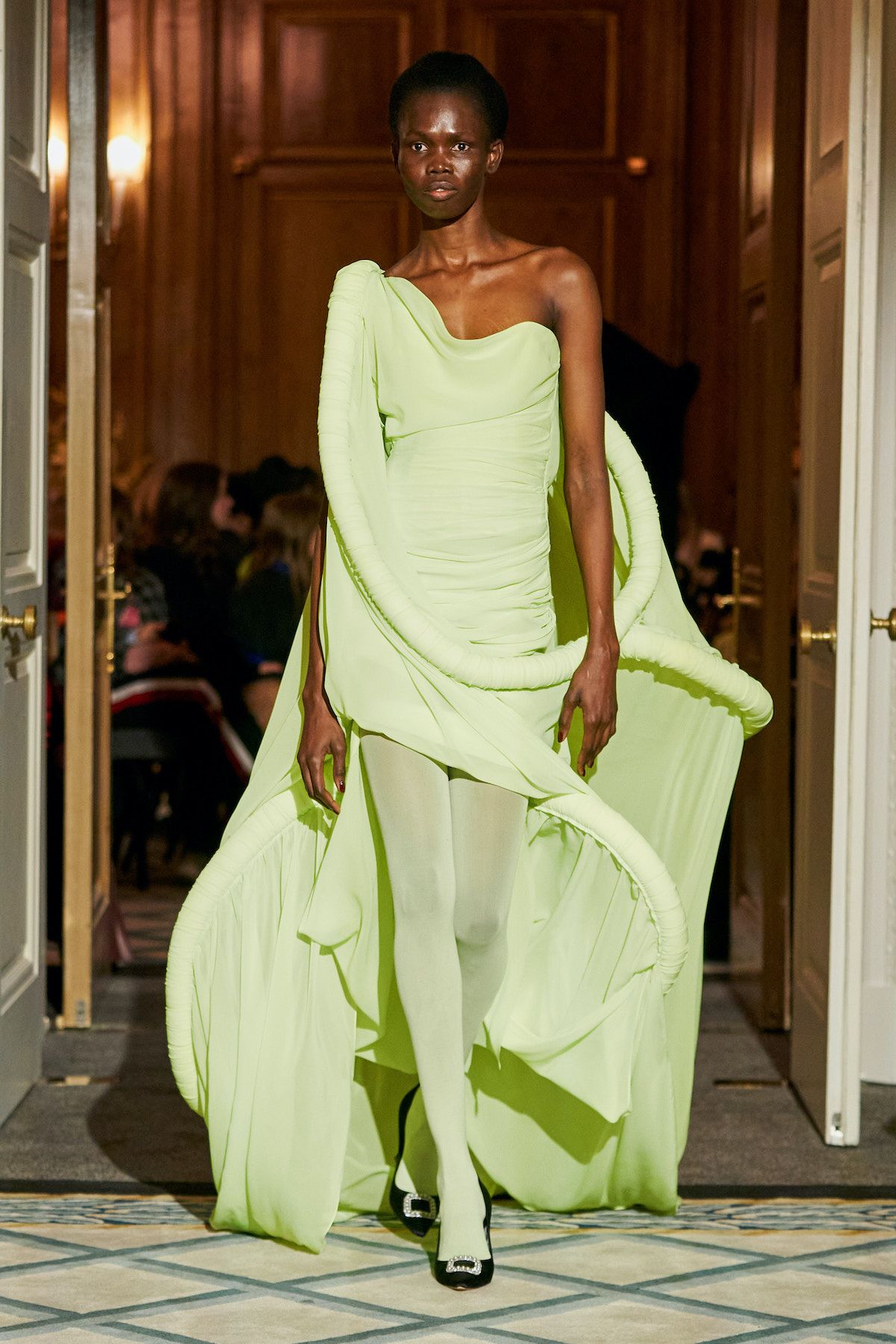 Roksanda Ilinčić chose the opulent art deco surroundings of the French drawing room in Claridge's Hotel to host an intimate salon-style presentation of her eponymous A/W 2023 collection (befitting the mood, a single rose was left on each attendee's seat, tied with a Roksanda-branded ribbon). An ode to 'art, design and community' as Ilinčić described, the collection drew inspiration from Japanese visual artist Atsuko Tanaka; in particular, her involvement in the midcentury Gutai movement, which often involved a harmony between the human body and artwork (one of the group's leading forces Kazuo Shiraga would create paintings with his feet, for example, or roll in mud, rocks, and clay as performance). One particular work which Ilinčić looked towards was Tanaka's 'Electric Dress', comprising hanging cylindrical lightbulbs in various bold colours in a structure that could be worn, here recalled in expansive jewel-toned gowns which took their sculptural forms from twisting foam loops. 'The unexpected forms and notions of the collection invite a deeper connection between the creation of the body and craft, beauty and technology,' said the designer, who described the collection as one of 'unapologetic femininity'.
Molly Goddard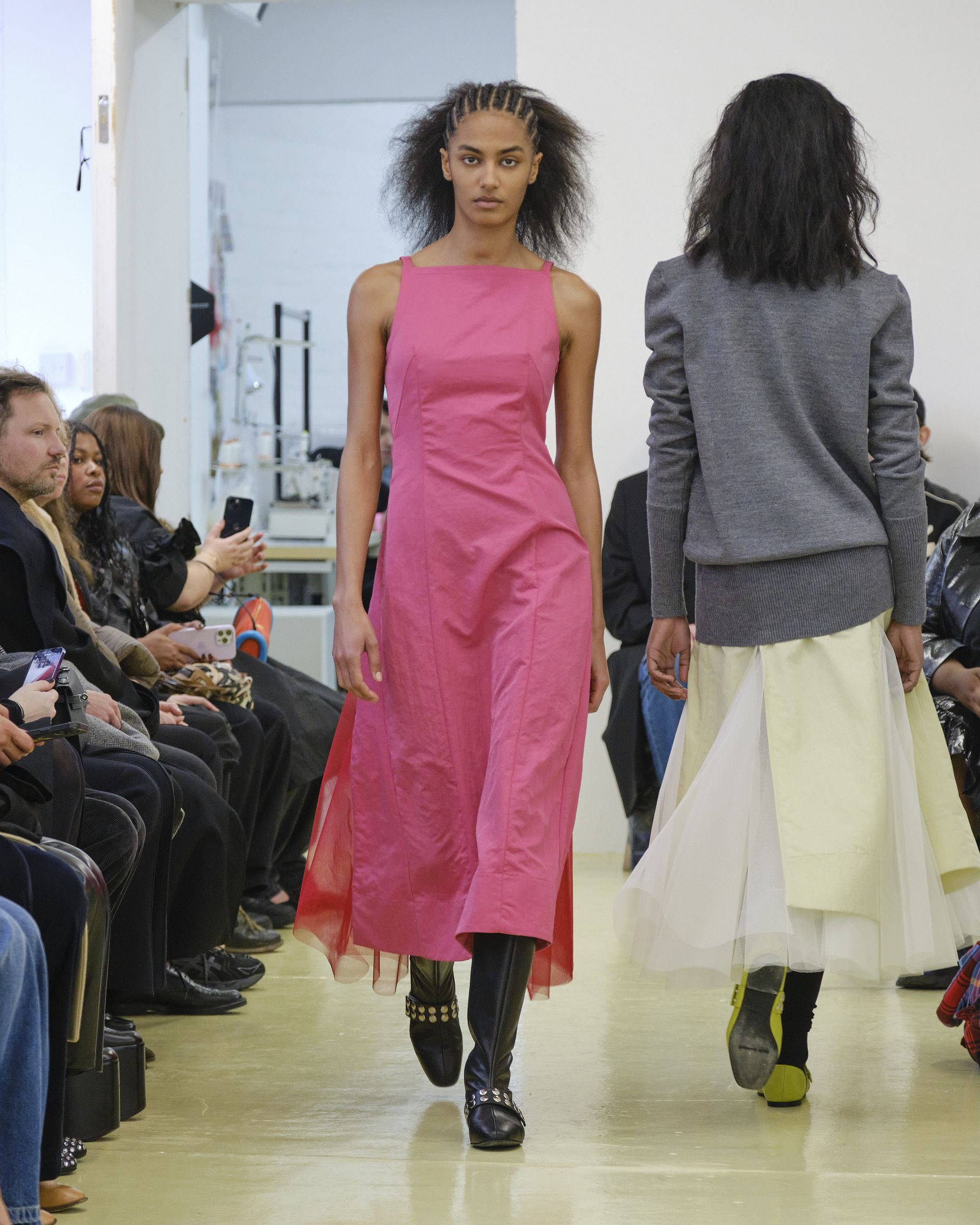 Molly Goddard opened up her studio in east London's Bethnal Green for a close-knit presentation of her A/W 2023 collection, which the designer said was an attempt to capture the feelings she had when starting her brand in 2012. 'It was a time when working in fashion, to me, involved making clothes on my own and trying to get stockists,' she elucidated. 'Now, working in fashion involves many things I wasn't expecting – events, award ceremonies, promotion, social media – it was nice to think about the simplicity of when I started and the passion that spurred on the work at the beginning.' As such, Goddard had scoured old magazines with her sister and stylist Alice Goddard at the Central Saint Martins library, remembering how they would have worn the pieces she coveted at the time, and the clothing they had owned as teenagers growing up in London. 'Leopard-print jeans we'd bought at Gap Kids in Whiteleys [shopping centre], screen-print sporty knitwear from Portobello [market], an exposed popper belt we shared from Claire's Accessories,' all of which appeared in various iterations throughout the collection, albeit in Goddard's vivid style. A streamlining of her signature expansive silhouette (the designer is known for using yards of tulle in a single dress), made for some of the collection's most arresting moments, including a cerise-pink dress with knife-sharp slits, out of which delicate panels of red tulle emerged.
Conner Ives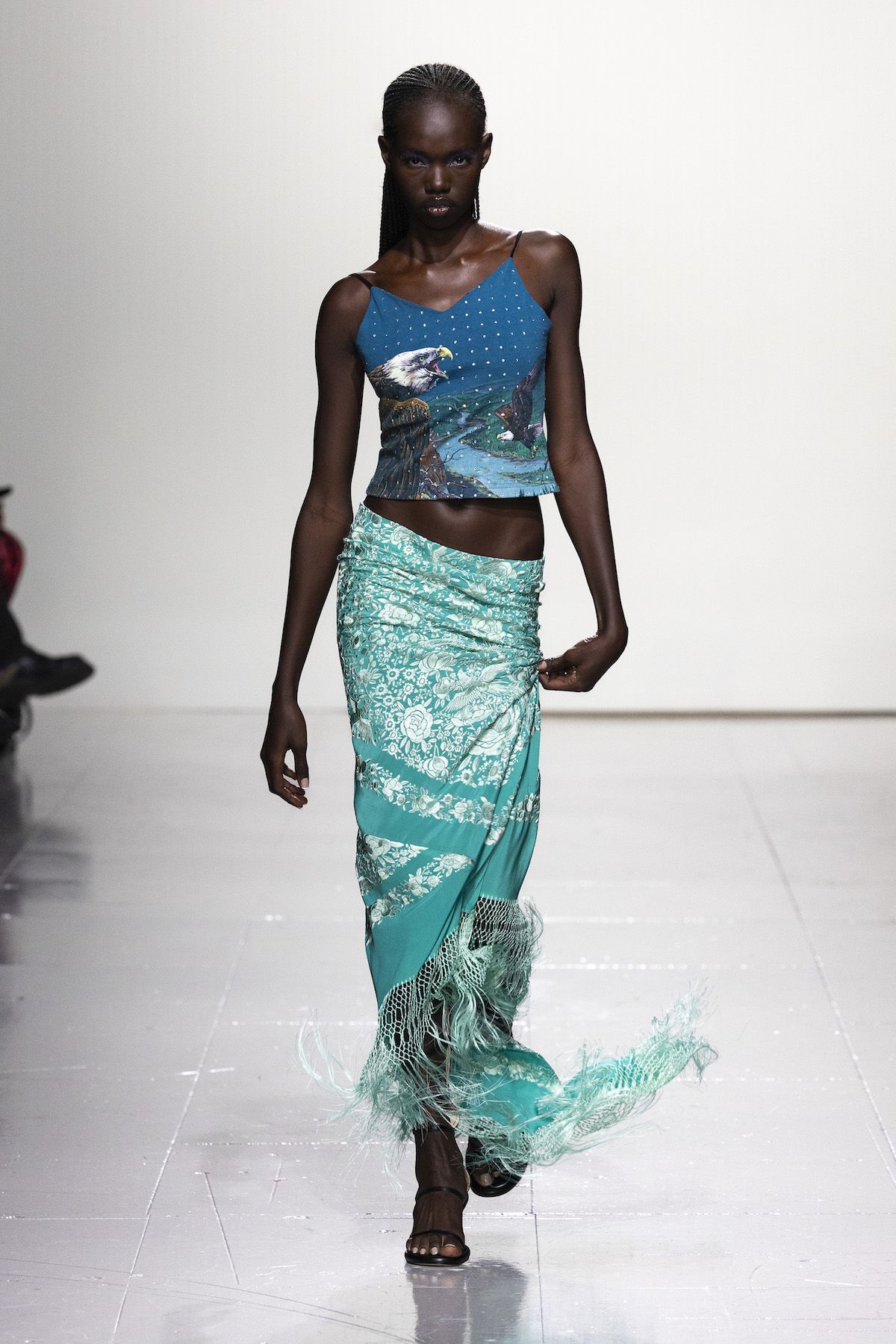 Conner Ives wants to make people fall in love with fashion again, the designer told Wallpaper* in the run-up to his A/W 2023 collection, noting particular inspiration this season from the 1999 Paul Thomas Anderson movie Magnolia. 'What I love about that movie is that it really depicts incredible facets of humanity... I think working with the idea of a cast of archetypes that represent different ideas is the Conner Ives niche that I don't want to lose,' he told Hannah Tindle. As such, the collection itself – shown in London's Old Selfridges Hotel – saw Ives imagine an array of archetypal figures, conjured on the runway in the New York-born, London-based designer's playful, 1990s and 2000s-tinged style (he is also known for a commitment to sustainability, with around 70 per cent of this season's collection made from repurposed second-hand vintage). There was 'The Glasto Girl' (an ode to Kate Moss' mud-stained 2000s looks at the festival), 'The Shiny Set: Nan Kempner' (referencing Nicholas Coleridge's description of the shiny set in his book The Fashion Conspiracy), and 'The Showgirl, Nomi Malone' ('it's not Versayce, it's Conner Ives!' read the collection notes). It made for an emphatic offering from the young designer, whose irreverent approach feels like it's capturing the zeitgeist. 'Fashion nowadays feels more like a business, it's no longer the escape it once was,' Ives said. 'It moved me to pursue a certain gravitas this season. I wanted to feel [what I felt as a teenager], I wanted fashion mania.'
Fashion East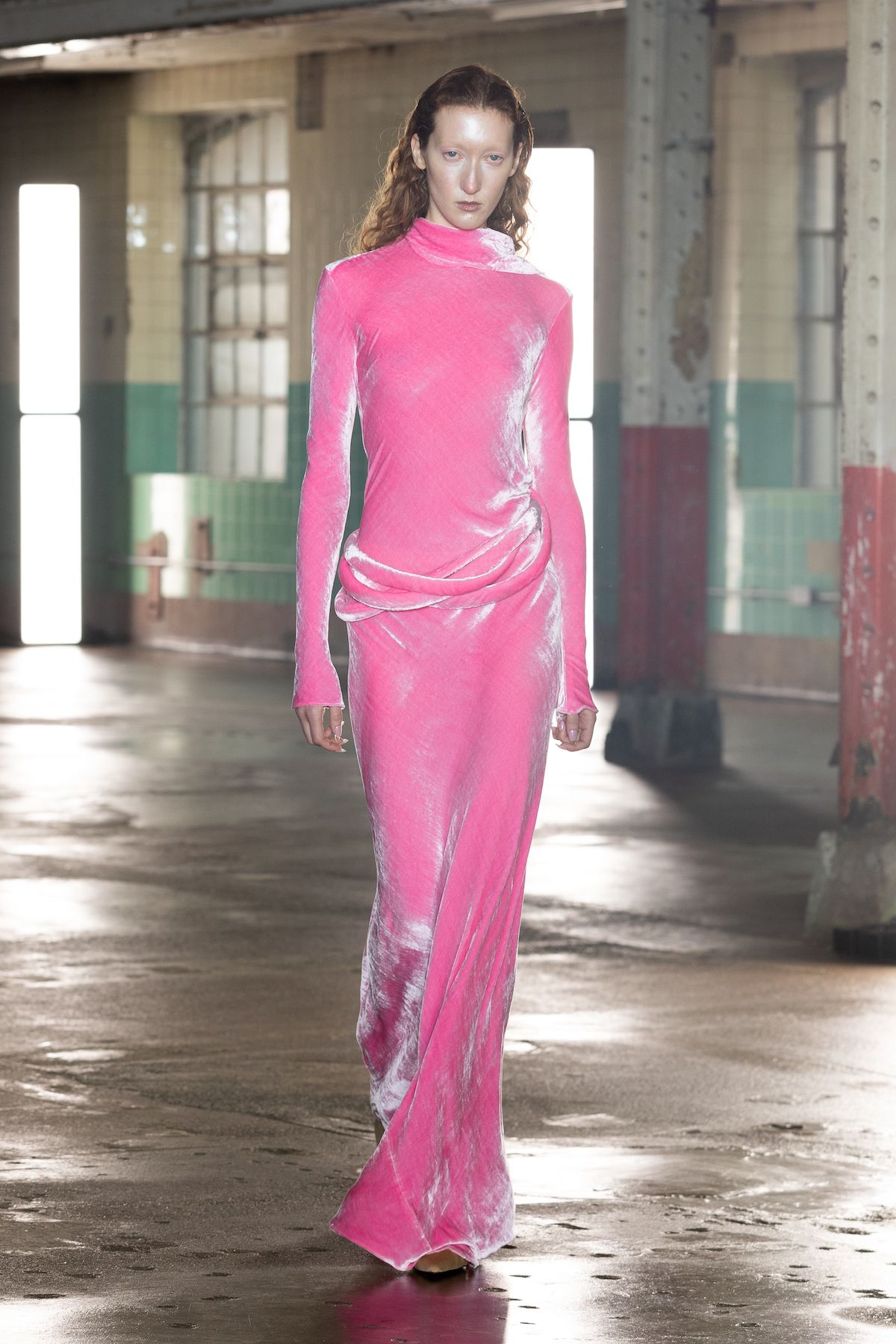 Michael Stewart's Standing Ground provided the opening act of this season's Fashion East with an impeccably crafted collection that evolved his signature sculptural evening wear, which debuted last season at the talent incubator. A focus on silhouette and form remained at the heart of the offering – 'histories of figuration, whether ancient or ancestral, are abstracted and animated in work that fortifies presence', read the collection notes – whereby vivid tones of velvet and satin were crafted into elongated gowns, often with twisting padded detailing around the waist. The introduction of a series of Donegal wool overcoats, wide at the hips, showed Stewart is adding new depth to his offering, while tops, skirts and jumpsuits were also introduced this season. The way that the Irish designer weaves his expansive view of history – inspiration, he said, might come from Paleolithic figurines or silhouettes from the 1500s or 1950s – into these distinctly contemporary pieces, shows maturity and purpose. He's one to watch.
Elsewhere, this season marked the debut of Estonia-born designer Johanna Parv, who was nominated for the 2023 LVMH Prize last week. A focus on sportswear provided the impetus for the collection, which combined moments of utility – drawstrings, stirrup leggings, cyclewear-inspired second-skin tops – with crisp, defined silhouettes and moments of femininity (the designer says her approach is a riposte to traditional sportswear design which was largely evolved on men's bodies). Karoline Vitto, meanwhile, continued her own sensual exploration of the female form with garments that hung seductively on the body, often with sculptural metal fastenings evocative of contemporary jewellery. This season, the introduction of tailoring – albeit in the designer's distinct asymmetric style – added new depth to her oeuvre.
Harris Reed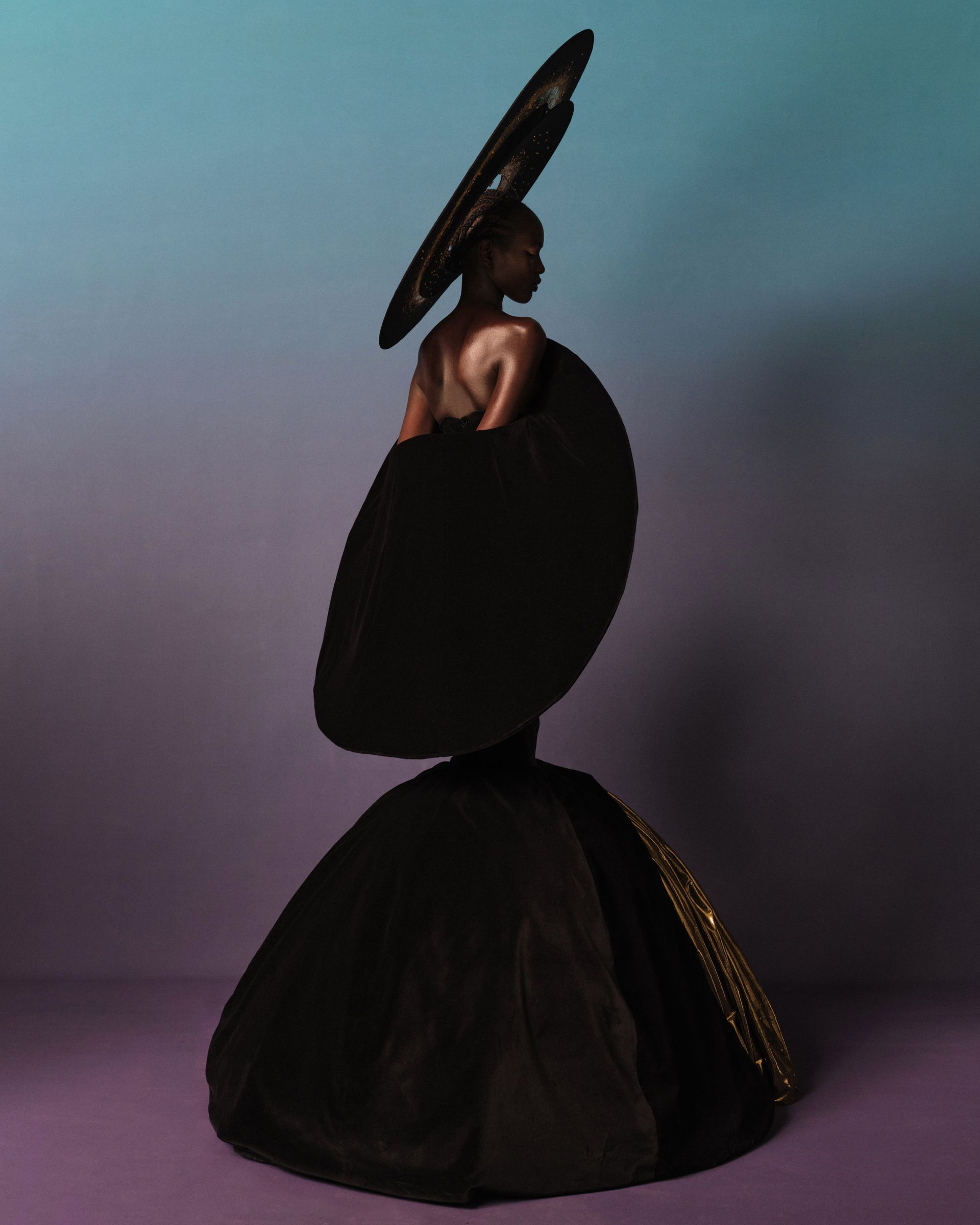 The transformative power of dressing – a continuing theme of American designer Harris Reed's work – provided the starting point of his A/W 2023 collection, as elucidated by actress Florence Pugh in a monologue that opened the show at London's Tate Modern. 'Clothing has a transformative power, whether for an actor, or simply a performer on the stage of life... the art of dressing up allows us to express who we truly are,' she said, introducing a collection titled 'All the World's a Stage'. Typically dramatic silhouettes – including vast orb-shaped millinery, pannier-style swathes of fabric at the waist, and an 'upside down' fishtail skirt – defined the theatrical collection, this season gilded in shimmering gold sequins and metallic lamé with rich black velvet providing a sleek contrast.
AV Vattev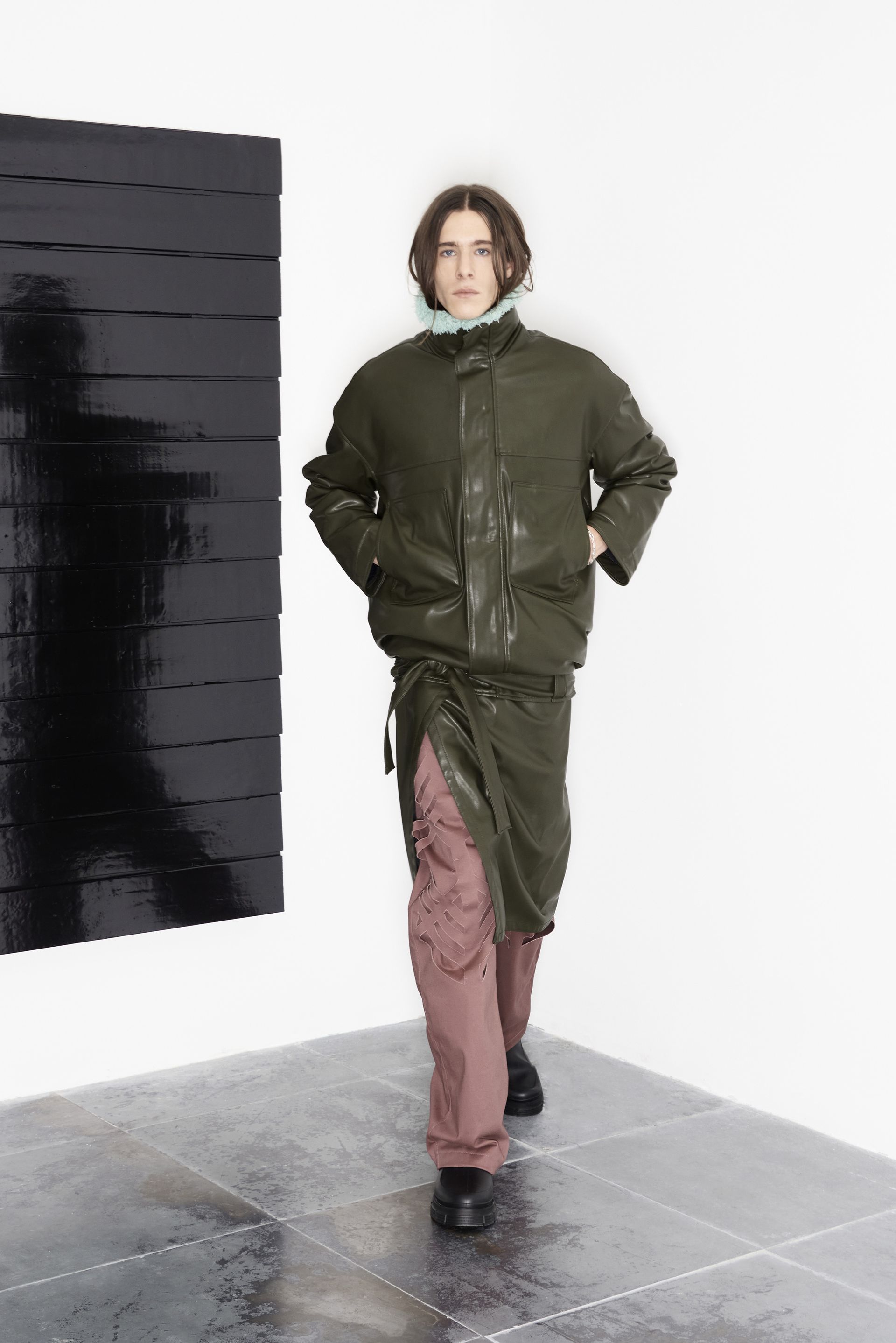 Bulgaria-born designer Antonio Vattev – who founded the eponymous London-based label Av Vattev after stints at Saint Laurent and Lanvin – titled his A/W 2023 collection 'The Privilege of Observation'. It referred, in part, to the idea that Vattev was looking outwards this season, drawing inspiration from his longtime admiration of artists Georgia O'Keeffe and Christo. '[It] is a reflection of Antonio's vision and lifestyle that goes with it,' read the collection notes, which accompanied a campaign starring several high-profile fans of Vattev's work, from British artist duo Corbin Shaw and Flora Miles to Grammy Award-winning musician Scribz Riley. The clothing itself recalled the visual immediacy of O'Keeffe and Christo's work, here figured in graphic silhouettes and colourful undulating motifs which stretched across the shoulder of a garment like an O'Keeffe petal (Christo was referenced in pleated nylon raincoats, which recalled his dramatic wrapped forms). Cut-outs, something of a Vattev signature, also featured, as did a nod to his Bulgarian roots with traditional embroidery from the country reappearing throughout.
Stay tuned for more from London Fashion Week A/W 2023.
Jack Moss is the Fashion Features Editor at Wallpaper*. Having previously held roles at 10, 10 Men and AnOther magazines, he joined the team in 2022. His work has a particular focus on the moments where fashion and style intersect with other creative disciplines – among them art and design – as well as championing a new generation of international talent and profiling the industry's leading figures and brands.