Year in review: entertaining director Melina Keays picks top 10 food and drink posts of 2021
Wallpaper's Melina Keays reveals her top 10 food and drink stories from 2021, from John Pawson's cookbook to the world's oldest Japanese whisky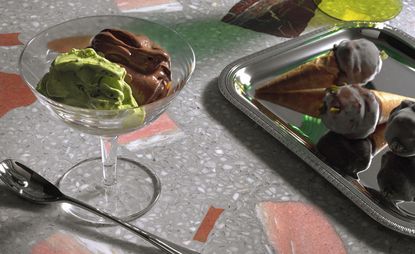 (Image credit: John Pawson)
Wallpaper* Newsletter
Receive our daily digest of inspiration, escapism and design stories from around the world direct to your inbox
Thank you for signing up to Wallpaper. You will receive a verification email shortly.
There was a problem. Please refresh the page and try again.
Dig into the best food and drink posts of 2021 as picked by Wallpaper* entertaining director Melina Keays. The selection is a veritable feast of exceptional liquors, delectable foods, and jaw-dropping restaurants. Discover the craftsmanship behind Japan's oldest whisky, learn how to make the perfect cup of coffee, sip fine wines surrounded by artworks of Louise Bourgeois and Jenny Holzer, step into the kitchen of John Pawson for some minimalist dishes, and more. We hope you're hungry.
Top 10 food and drink stories of the year
01. Loaf affair: South Korean bakery reinvents white bread
'White bread' might be synonymous with 'boring' but this story about a Korean white bread bakery was one of the most popular entertaining stories this year, and it is easy to see why. Whitelier is a new bakery chain that transforms the humble white loaf into an Epicurean delight. Visitors to its elegantly designed stores can indulge in ultra-thick, cloud-like hunks of white bread, coated in innovative spreads such as pink cherry blossom and spring mugwort herb paste, and tangy strawberry and rose jelly.
02. The Connaught's art-filled Red Room serves the world's finest wine
The Connaught Bar in London is already considered the best drinking spot in the world by many, but the opening of its new Red Room goes even further to prove what makes this location so special.
The new space focuses on wine, which is served from The Connaught's collection of 3,000 labels and over 30,000 bottles. The bar's revolutionary Coravin system (which allows wine to be poured without removing the cork) makes it possible to serve rare and exceptional wines by the glass (including a 1994 Petrus, the world's most famous Merlot).
This unparalleled wine selection is complemented by equally impressive interiors, with a collection of red-hued artworks by four female visionaries: Louise Bourgeois, Jenny Holzer, Trina McKillen, and young pioneering Vietnamese artist, Tia-Thuy Nguyen.
03. Adventures in whisky: immersive experience at reimagined Glenmorangie House
Deep in the rugged Highlands of Scotland, Glenmorangie Distillery and House offer an immersive whisky experience unlike any other. Visitors can elevate their single malt adventures with a stay at Glenmorangie House, a stunning 17th-century property surrounded by fields of barley and nestled in the stunning local landscape.
The house is only minutes away from the Glenmorangie Distillery, where a new extension has just opened, called The Lighthouse. A research and innovation lab designed by architects Barthélémy Griño, The Lighthouse is a groundbreaking multi-million pound addition to the distillery's existing stone buildings, which promises to revolutionise the whisky industry.
04. Aman Tokyo's new patisserie is a culinary destination
The Aman aesthetic of serene and gracious hospitality in beautiful, natural surroundings has been firmly planted in our consciousness since the first Aman retreat opened its doors in Thailand in 1988.
In 2021, the legendary hotel opened its first standalone patisserie and it is a no less impressive delight. The Tokyo-based shop is a culinary theatre where customers can watch highly skilled chefs craft sculptural French cakes and cookies.
05. St Pancras Renaissance Hotel opens Booking Office 1869 restaurant
One of the most astonishing restaurant openings of 2021 was The Booking Office 1869 in St Pancras Renaissance Hotel, London. The brainchild of Chiltern Firehouse founder Harry Handelsman, The Booking Office is, as its name suggests, located in the former ticket office of St Pancras station.
The historic space has been redesigned by the French-Mexican designer Hugo Toro with dazzling results. Majestic chandeliers illuminate the space, revealing cathedral-like ceilings flanked by palm trees and plush booths that recall the intimate nightclubs of Golden Age Hollywood.
It is a welcome addition to the London scene, whether for a glamorous night out or an intimate meeting with loved ones, or potentially soon to be loved ones, in a city that has surely missed the possibilities of those evenings.
06. Learn to cook like a minimalist with John Pawson
While cooking in a John Pawson kitchen might be a faraway dream for most, the chance to cook like the architectural designer in his own kitchen has just become achievable. In 2021, Pawson and his wife Catherine released Home Farm Cooking, a cookbook filled with recipes the pair regularly cook for family and friends.
Dishes include classic, hearty staples like fish pie and saffron chicken tagine with dried fruits, and simpler, yet no less delightful, recipes such as roast carrots with creamy tahini dressing.
07. It's time to savour the world's oldest Japanese whisky
2021 saw Japan's first whisky distillery, The House of Suntory, release the world's oldest Japanese whisky – Yamazaki 55. The whisky is, as its name suggests, 55 years old and it is the perfect distillation of what sets Japanese whisky apart from the rest: delicacy, balance, and complexity.
In this article, we visit The House of Suntory distillery to learn more about how this very special drink was made.
08. Tequila's reputational makeover is driven by design
Gone are the days when an order of tequila meant the night was about to take a different (potentially debaucherous) turn. In this article, we discover a new breed of tequila and mezcal brands that are investing in sleek packaging and quality agave to transform the liquors' reputation from the drink of the decadent to the drink of the debonaire.
Savour what they have to offer here.
09. Is this coffee machine the key to a perfect brew?
The Morning Machine is a new coffee maker from Singapore that transforms your morning brew into a high-tech science. Conceived by two pioneers of Asia's specialty coffee movement – Leon Foo, founder of Singapore's PPP Coffee, and Andre Chanco, co-founder of the Philippines' Yardstick Coffee – the machine is outfitted with so many features and in-built devices that you will be left to wonder how you ever thought coffee was as simple as some granules and water.
It is a dream come true for coffee lovers, although be warned – it'll have you drinking so much caffeine, you may never actually dream again.
10. Super scoops: cool gelato recipes
These elegantly prepared gelato recipes are the perfect way to top off a holiday celebration. From gelato in a brioche bun to sweet mini-cones, we share ideas that will suit every taste.
Receive our daily digest of inspiration, escapism and design stories from around the world direct to your inbox
Melina Keays is the entertaining director of Wallpaper*. She has been part of the brand since the magazine's launch in 1996, and is responsible for entertaining content across the print and digital platforms, and for Wallpaper's creative agency Bespoke. A native Londoner, Melina takes inspiration from the whole spectrum of art and design – including film, literature, and fashion. Her work for the brand involves curating content, writing, and creative direction – conceiving luxury interior landscapes with a focus on food, drinks, and entertaining in all its forms