Super scoops: cool gelato recipes
From a classic cone to a brioche bun, we share the best ways to serve your favourite gelato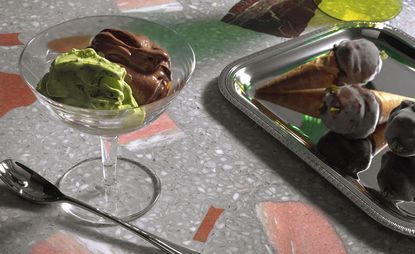 (Image credit: Gustav Almestål)
Our gelato habit – a beloved summer ritual – is picked up again now that the longer days are with us, and especially with the much-awaited, though gradual, re-opening of hospitality in the UK. Indeed, as it is usually a take-out item, (pandemic or not), a gelato fix brings us even closer to a sweet sense of some kind of normality.

In celebration of gelato time, let us present some of our favourite serving suggestions.
Gelato and coffee
Affogato. The simple but powerful combination of a hot shot of espresso poured over a scoop of cold gelato never gets tired, at any time of day or night. Try flor di latte gelato, with a double shot of espresso for a supercharged frozen latte hit.
Gelato in a bun
How do you like it? Straight out of the tub, atop a cone, or encased in buttery soft brioche? Try splitting a brioche bun and filling it with ricotta gelato, to create an unbelievably delicious sweet cheese sandwich. This suggestion is adaptable obviously – your choice of gelato in any bun you desire.
Gelato with fruit
Berries and cream have always been a winner – and all the better in frozen form, with the sharp sweet tang of luscious raspberry sorbet contrasting to fabulous effect with rich, softly whipped cream. We suggest adding a nice biscuit and a glass of champagne to complete the scene.
Gelato in a cone
As flavour combos go, chocolate and mint is still so very strong, with no more embellishment needed to make a perfect sundae. Here we have a scoop each of fresh mint stracciatella, and bitter chocolate sorbet – all you need now is a spoon.
INFORMATION
A version of this article first appeared in the May 2019 issue of Wallpaper* (W*242)
Melina Keays is the entertaining director of Wallpaper*. She has been part of the brand since the magazine's launch in 1996, and is responsible for entertaining content across the print and digital platforms, and for Wallpaper's creative agency Bespoke. A native Londoner, Melina takes inspiration from the whole spectrum of art and design – including film, literature, and fashion. Her work for the brand involves curating content, writing, and creative direction – conceiving luxury interior landscapes with a focus on food, drinks, and entertaining in all its forms
With contributions from