Manhattan Loft Corporation founder Harry Handelsman plots elevated living in east London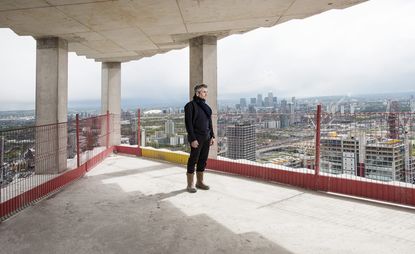 (Image credit: Tim Cutt)
Loft living once meant colonising an industrial space in a desolate part of town, filling it with statement furniture and learning to love the screech of goods trains as a non-stop backing track. That's how Harry Handelsman, an unusually high-profile property developer and founder of the Manhattan Loft Corporation, remembers it anyway. Twenty-five years ago, he was living in Bankside, on the wrong side of the Thames, with dodgy pubs and greasy spoons for company.

'At that time, London was in deep recession. The whole city was up for sale,' he recalls. Handelsman, then in his early forties, had returned from a stint in Manhattan, where he was working in finance and was starting to dabble in property, 'but nothing was selling'. In 1992, he had a light-bulb moment. He bought a building in a then similarly desolate Clerkenwell for £435,000 and turned it into the sort of lofts he had seen in New York. Artists, film producers, photographers and pop stars moved in, as Handelsman hoped, and the newly formed Manhattan Loft Corporation (MLC) became synonymous with a cool new way of living.

Since then, the loft proposition has been so exploited that it has come to mean anything from a first-floor shoe-box to a new-build with exposed bricks and no views. Imitation is the highest form of flattery, though, and of his copycats Handelsman says: 'I'm happy that loft living is more readily available. My prime motivation is always to add things that don't exist and have others follow my footsteps, as long as they do it with care and attention.' After creating loft developments all over London, from Chelsea to Canary Wharf, Fitzrovia to Fulham, came Handelsman's painstaking transformation of the former Midland Grand Hotel, a Gothic Revival landmark, into the St Pancras Renaissance Hotel, which opened in 2011.

Then in 2014, he collaborated with hotelier André Balazs to create perennial party spot the Chiltern Firehouse. Handelsman has thrown a regenerative lifeline to one overlooked, unloved neighbourhood after another and excitement and attention now follow his every professional move. His current project – the creation of a 42-storey, £300m apartment and hotel complex in Stratford, east London – is his most ambitious yet.

Roger Zogolovitch, architect and founder of similarly pioneering independent developer Solidspace, has known Handelsman for more than 30 years. 'Harry is a rarity among property developers in that he believes he is making the city a better place. His legacy lies in the buildings he has transformed over the last 25 years. They have been brave, innovative and always aspirational. When talking about developers, I often use the analogy of the restaurateur or the film producer – people who have a vision of what they want a project to become. This new breed of independent developer is working in the historic tradition of the patron. I would claim Harry as an unsung hero.'
Handelsman, 67, now lives in a 19th-century apartment overlooking Hyde Park, with his partner Elizabeth, their daughter Allegra and his expanding art collection. He skis and travels, and sits on the boards of the South London Gallery, Artangel and the Southbank Centre. So, in a city where development is complex, oversaturated and overheated, why is Handelsman still in the game? And why not in a new city? 'I love London,' says the Munich-born Handelsman from the top floor of Edison House, his Marylebone HQ. 'It has so much integrity and force behind it.

There are few cities that come close to matching the opportunities and quality of life it offers.' But the city has changed beyond recognition since Handelsman arrived in 1983. Property prices in the capital are 14 times Londoners' average annual salaries and prohibitively high for first-time buyers; according to a recent report by the Social Mobility Commission, the number of homeowners aged 25 to 29 has more than halved since 1990. And Brexit hangs, like the sword of Damocles, over anyone buying or selling.

'I recognise that Londoners face a dilemma; having the means to buy here is a challenge and unless you reconfigure it all, it's going to be difficult. Brexit is a word, a phenomenon, and will be forgotten over time. And rules are being made, but rules can be broken. But look, here we are in Marylebone, not far from the Edgware Road where property is marginally priced [developer speak for not eye-wateringly expensive]. If you hunt around and are brave, you can find good value in London. You need to make the first step.'

Handelsman was offered the Stratford site by London and Continental Railways in 2009, when the Olympic Park was just starting to take shape, but before the huge Westfield shopping centre landed. He knew immediately that he would build a tower. He also knew that the only firm he would entrust to build it would be Skidmore Owings & Merrill (SOM), the 81-year-old practice that has created Chicago's Willis Tower, Dubai's Burj Khalifa, and New York's One World Trade Center. 'SOM has a gift for construction, and solid engineering skills. Because of the building's complexity I didn't want separate architects and engineers.' With its double cantilevers and serrated façade, The Stratford is the most striking tower for miles around.

It's also the highest – views from the top stretch from Richmond Hill to Crystal Palace to Alexandra Palace, taking in Essex and Surrey along the way. The immediate vicinity, though, is less impressive; the carbuncle that is Westfield, and the dreary Mc-architecture of the former Olympic village are hard to love, but Handelsman, as always, has a vision. There's nowhere offering fine dining for people east of Shoreditch, he argues, and his tower's hotel restaurant will be a kind of River Café for the east. With good transport links already, and the first phase of Crossrail opening this year, Handelsman is banking on Stratford as a major retail hub. Culture too, is coming its way. The Victoria and Albert Museum's V&A East is scheduled to open in 2021, as well as a second Sadler's Wells Theatre and new campuses for the London College of Fashion and University College London, predicted to attract 1.5 million visitors a year.
In a city sprinkled with cookie-cutter residential towers with little in the way of architectural ambition, Handelsman insists The Stratford will be a cut above; boasting better design but also a more inclusive spirit. 'London has been seized by investors who haven't thought about how you actually live in these towers. They are all the same, and totally lacking in atmosphere. The focus is on selling to overseas buyers, on big advertising and marketing, and that's not what creates a city.' You only need to picture the glistening towers that stretch, soullessly, along the Thames from Vauxhall to Fulham, to know he's right.

Apartments within The Stratford, which are set to be completed in spring 2018 (the hotel will open later in the year), range from £495,000 studio flats to £15m penthouses. More than 50 of the 248 have already sold. Parisian architects Studio KO, designers of the Chiltern Firehouse, have created five floorplans, each of which has floor-to-ceiling glass windows, room enough for a sofa and a work of art, all the mod cons, and in some cases, a Juliet balcony.

For Handelsman, London's roof gardens, like its high-rises, are also ripe for reinvention, and the tower will have three floors of lush gardens by British designer Randle Siddeley. Incorporating windswept pines, mature olive trees, wild grasses and fire pits, they will host musicians and performances all year round and cater to hotel guests as well as residents. The 146-room hotel, designed by Space Copenhagen (creators of New York's 11 Howard), will occupy the first seven storeys of the tower, its buzzy bars and giant, art-filled atrium providing a glamorous entry point.

So how to keep the non-doms and speculators at bay, particularly given the price point of the The Stratford's apartments? Creating a harmonious community of residents is Handelsman's biggest challenge. Some apartments will be held back as rentals, at least in the short term, to encourage young, creative occupants. 'The stereotype of a high-rise tenant is someone who lives in isolation. Anyone can buy an apartment in the block, but I would prefer it if he or she has a bit of understanding about it, rather than just buying off-plan, on a whim.' Will he know the profile of potential occupants? 'Of course. I check every detail, down to the door handles. I want to curate a building that is relevant to those who will live in it.'

As originally featured in the July 2017 issue of Wallpaper* (W*220)

The Stratford was previously called Manhattan Loft Gardens. This article was amended in August 2019.
INFORMATION
For more information, visit the Manhattan Loft Gardens website (opens in new tab)
Emma O'Kelly is a contributing editor at Wallpaper*. She joined the magazine on issue 4 as news editor and since since then has worked in full and part time roles across many editorial departments. She is a freelance journalist based in London and works for a range of titles from Condé Nast Traveller to The Telegraph. She is currently working on a book about Scandinavian sauna culture and is renovating a mid century house in the Italian Lakes.