The Connaught's art-filled Red Room serves the world's finest wine
The new Red Room bar at The Connaught, London, showcases exceptional wines, and artworks by female artists Louise Bourgeois and Jenny Holzer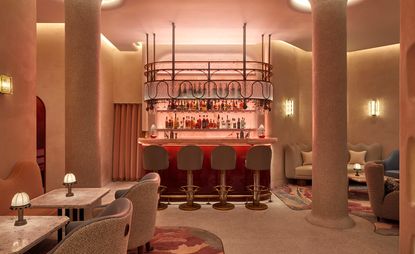 (Image credit: the-connaught.co.uk)
The opening of a new bar at The Connaught hotel (also known for its restaurants) in London's Mayfair is quite an event, especially as the existing Connaught Bar is heralded as the best in the world. This autumn, the Red Room will be the first new bar unveiled at the hotel in over a decade and will focus on wine.
The Red Room is named in reference to the red-hued artworks displayed within the space, a collection of pieces in various mediums by four female visionaries: Louise Bourgeois, Jenny Holzer, Trina McKillen, and young pioneering Vietnamese artist,
Tia-Thuy Nguyen.
Guests can find the bar nestled within the hotel, accessed, rather thrillingly, through a velvet curtained doorway from the Champagne Room. The space revealed beyond the curtain has the intimate feel of a collector's living room – a relaxing sanctuary in which you may contemplate an important art collection whilst sipping some of the world's best wines.
The Connaught hotel's wine cellar features more than 3,000 labels and over 30,000 bottles, and this extraordinary collection is showcased by the Red Room, which offers a carefully considered and highly impressive wine list overseen by the hotel's director of wine, Daniel Manetti. A revolutionary Coravin system (which allows wine to be poured without removing the cork) makes it possible to serve rare and exceptional wines by the glass (including a 1994 Petrus, the world's most famous Merlot).
The wine is decanted and served from marble trolleys, custom made for this purpose in the same red-veined Italian marble as the Red Room's striking fireplace. Designed by Bryan O'Sullivan in a palette of pinks, creams, and pastel green, the interiors are softly decadent, with a pink onyx bar as a focal point, and a constantly evolving collection of ceramics and jewel-like objets d'art.
No detail regarding the enjoyment of wine has been left unattended, from the seating to the Murano glassware and a bar menu created to complement the wine list. Guests may choose from a selection of charcuterie, British cheeses, and small plates, including carpaccio, chicken oysters, and kale tempura, and replete with these delights, they are also able to explore The Connaught's famous wine cellar.
INFORMATION
The Red Room opens 29 September 2021, the-connaught.co.uk (opens in new tab)
Melina Keays is the entertaining director of Wallpaper*. She has been part of the brand since the magazine's launch in 1996, and is responsible for entertaining content across the print and digital platforms, and for Wallpaper's creative agency Bespoke. A native Londoner, Melina takes inspiration from the whole spectrum of art and design – including film, literature, and fashion. Her work for the brand involves curating content, writing, and creative direction – conceiving luxury interior landscapes with a focus on food, drinks, and entertaining in all its forms