Tequila's reputational makeover is driven by design
Celebrate Margarita Day with these elegantly packaged tequila brands that look as good as they taste.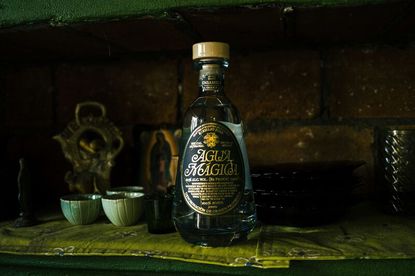 (Image credit: press)
Gone are the days when an order of tequila meant the night was about to take a different (potentially debaucherous) turn. A new breed of tequila and mezcal brands are investing in sleek packaging and quality agave, transforming the liquors' reputation from the drink of the decadent to the drink of the debonaire. Savour, don't shot, what they have to offer here.
Mijenta Reposado
Mijenta Reposado is a small batch tequila brand with a sustainable mindset. By working with Climate Partner, Mijenta has managed to run a completely carbon-neutral operation since 2021 with every aspect of its highly aromatic tequila produced within the Altos Planos Collective in Mexico.
Available in two varieties, Mijenta Blanco tequila is characterised by warm notes of vanilla and caramel, alongside bright hints of peach, melon, and pineapple that make it perfect for cocktails, while the richer Mijenta Reposado tequila is best served neat.
Agua Mágica
Agua Mágica mezcal is made from agave farmed in San Juan del Río, a mythical village said to be blessed by the gods with its fertile land.
The agave is made in partnership with a local farm run by a father and son team, who use traditional methods- cooking the agave with banana leaves, using a stone tahona to mash the piñas, and fermentating with water from the river- to create an agave with a stronger sugar concentration and richer depth of flavor.
VIVIR
Lovers of espresso martinis will be smitten with the latest release from VIVIR Tequila. The VIVIR Café VS is made using the brand's signature Tequila Blanco and is flavoured with coffee beans sourced from the distillery in Jalisco, Mexico.
The result is a liquor that blends the richness of coffee with the kick of tequila for an eye-opening drinking experience.
Tepozan
All of Tepozan's tequilas are hand-crafted, estate-grown, and made in small batches to create a remarkably smooth and easy-to-sip liquor.

The brand offers three different flavours: Blanco, a straight from the field blend best suited to those who prefer a clean agave taste; Reposado, a honeyed tequila that has been aged in bourbon barrels and finished with pineapple sage; and an even richer Anejo blend, which has been aged in bourbon barrels for 14 months and topped off with notes of butterscotch and pepper.
Maestro Dobel
Luxury tequila brand Maestro Dobel has just elevated their premium tequila blend to a new level with their new ultra-premium Dobel 50 tequila. This Extra Añejo tequila is matured casks selected from the private cellar of eleventh generation Master Blender, Juan Domingo Beckmann Legorreta. The result is a complex and warm tequila that finishes off with an intense flavour.
OAX Original mezcal
OAX's sculptural mezcal bottles are sure to be the standouts of any drinks table. The ceramic bottles are designed by Brooklyn-based Bardo Industries, who were inspired by monolithic architecture of pre-Hispanic Mexico and the Modernist style of later innovators like Luis Barragán.

The mezcal itself is made from wild, single-origin foraged agave ranging from 12 to 25 years old. All of the mezcal's three flavours, Arroqueño (woody with hints of sweet coffee), Tobalá (with floral and herbal hints), and Tepeztate (an intense, smoky citrus) are created in limited quantities of about 900 bottles each.
Solento tequila
Solento is a new tequila designed to be sipped and savoured, rather than mixed or taken as a shot. The brand offers three distinct flavours: Solento Añejo, with rich maple and toasted hazelnut undertones, Solento Reposado, with sweet caramel and ginger, and Solento Blanco, a light vanilla and lemon blossom flavor.

The bottle's elegant design is inspired by men's cologne bottles and features curved ribbed glass meant to refract rays of the sun. Even better, the glass is 100 per cent recycled and labelled using FSC-certified recycled paper with 100 per cent recycled cardboard for shipping.
Volcan de mi Tierra tequila
A volcano named Tequila erupted in the Jalisco region of Mexico 200,000 years ago, creating the ideal conditions for the growth of blue agave. For its first foray into tequila, luxury liquor distributor Clos19 is returning to the origins of agave and harvesting the plant that still grows at the base of Tequila Volcano.

The result is Volcan de mi Tierra tequila, a unique blend of the liquor that contains herbal, citrus, spicy and floral notes for a one-of-a-kind taste. Unlike many other brands which use industrial factor methods, Volcan de mi Tierra's small Mexico-Based team use traditional extraction methods to get an unrivalled quality of tequila.
Mary Cleary is the Beauty & Grooming Editor of Wallpaper*. Having been with the brand since 2017, she became an editor in February 2020 with the launch of the brand's new beauty & grooming channel. Her work seeks to offer a new perspective on beauty, focusing on the pioneering personalities, product designs, and transformative trends within the industry.