Kakurega Omakase wins Best Hideaway: Wallpaper* Design Awards 2021
This Japanese restaurant in the Mexican jungle near Puerto Escondido, is designed by architect Alberto Kalach based on a concept by Bosco Sodi and Luis Urrutia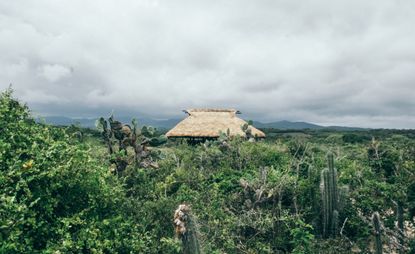 (Image credit: Karla Lisker)
Wallpaper* Newsletter
Receive our daily digest of inspiration, escapism and design stories from around the world direct to your inbox
Thank you for signing up to Wallpaper. You will receive a verification email shortly.
There was a problem. Please refresh the page and try again.
A patch of jungle on Mexico's Pacific coast is an unlikely site for an omakase restaurant, but artist Bosco Sodi (W*260) and his cousin, engineer Luis Urrutia, thought it the perfect plot.

'Normally you find omakase in the big cities of the world, in places like Tokyo, London and New York. This is the opposite, omakase in the middle of nowhere. The space is open to the senses – you can feel the wind, see the sunset, hear the crickets at night, and take in the scent of nature alongside the food,' enthuses Sodi.

Their idea has now materialised as Kakurega Omakase, designed by Alberto Kalach and operated by boutique hotel developers Grupo Habita. As befitting the name, which means 'hidden' in Japanese, the building is well concealed within the landscape, sandwiched between the ocean and the verdant Sierra Madre del Sur mountains. Visitors pass through low wooden gates, and meander along a dirt path that cuts across a garden overgrown with shrubs and cacti, until the two-level restaurant at the far end of the plot comes into view.
Crafted from local materials by the same artisans who built the nearby Casa Wabi, the restaurant is characterised by a prominent palapa roof – thatched from dried palm leaves according to an old Mexican technique. Underneath, the upper level, which houses a 12-seat chef's table, is framed in charred wood in a nod to Japanese tradition. Meanwhile the lower level, which houses a reception area and additional kitchen facilities, is a combination of brick (made from Oaxacan clay) and concrete.

'The proportions of the building take inspiration and pay homage to Japanese culture,' says Kalach. 'But it's still very much Puerto Escondido in its craftsmanship, materials, and sense of place. 'The two levels are connected via a pair of sculptural, open-air stairways, one on each side of the building, that runs parallel to the brick façade, so the panoramic views are gradually revealed as visitors climb the steps, heightening the sense of ascending to a temple of nature and food.
Carlos Couturier, co-founder of Grupo Habita, explains that Kalach was given free rein on the plot: 'Alberto doesn't really take briefs from anyone!' he recalls. 'He designed it by himself, and achieved what is hardest in any field: minimalist simplicity. We all liked it since day one.'

As with the building process, the menu was conceived with the goal of helping local communities. Despite the menu being Japanese, 'all the fish and produce we serve are completely local,' says Urrutia. 'We don't serve salmon because we'd have to buy it in Mexico City and bring it here. Everything is fished or bought in local markets on the same day we serve it.'

For executive chef Keisuke Harada, who hails from Kyoto and has been with Grupo Habita since 2005, the insistence on regionality was a welcome challenge. Peppers, a Mexican staple, turned out to be an ideal complement to Japanese flavours – jalapeño goes well with ponzu sauce and yuzu, while habanero pepper offers just the right kick when mixed in with ponzu and mayonnaise for tuna tostadas. Harada even found a local replacement for daikon radish, which is served with sashimi as a palate cleanser. Inspired by the surroundings, he is now using jicama.
Despite the pandemic-induced slowdown in tourism, Kakurega has had a long waiting list since its opening in August. 'The concept is ageless; it lasts due to its simplicity and authenticity' reflects Couturier. 'Oaxaca gives Kakurega its identity, but its originality gives the place universal appeal.'

On his part, Sodi explains that Kakurega is a major step in his ambitious plan for the development of Puerto Escondido. 'We are complementing the cultural project that is Casa Wabi, together with the new architecture of the region, with a culinary element. It completes the circle of experiences that we can provide here.'
A view of the Sierra Madre del Sur mountains from the upper level of Kakurega Omakase.
INFORMATION
Receive our daily digest of inspiration, escapism and design stories from around the world direct to your inbox
TF Chan is a former editor of Wallpaper* (2020-23), where he was responsible for the monthly print magazine, planning, commissioning, editing and writing long-lead content across all pillars. He also played a leading role in multi-channel editorial franchises, such as Wallpaper's annual Design Awards, Guest Editor takeovers and Next Generation series. He aims to create world-class, visually-driven content while championing diversity, international representation and social impact. TF joined Wallpaper* as an intern in January 2013, and served as its commissioning editor from 2017-20, winning a 30 under 30 New Talent Award from the Professional Publishers' Association. Born and raised in Hong Kong, he holds an undergraduate degree in history from Princeton University.
With contributions from