Summer party dresses: up your glamour game
How to navigate ocassion wear in a heatwave? These party dresses will dial up the drama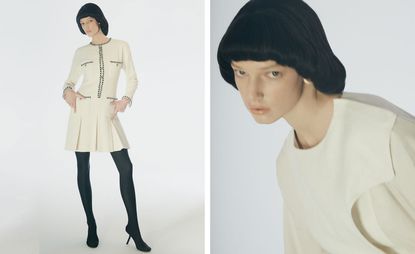 (Image credit: Valentino)
Slowly but surely, the pleasurable prospect of dressing up again is becoming a reality. But what do you do when all we can remember is how to snuggle into our sweatpants? From cocktail dresses to wedding guest dresses, there's a host of event get-ups for diving into this summer whether you're enthused about something streamlined or keen to show off dramatic and embellished forms.

Here, we present the strongest silhouettes for summer and beyond, from brands including Balenciaga, Valentino and Fendi.
Balenciaga: the chainmail party dress
Encouraged to embrace all out adornment? Look to the French maison's gold linked chainmail dress which will jangle as your get down on the dance floor.
Hermès and Jil Sander: the leather dress
Embrace luxurious fabrications after months of simply wearing cotton and jersey. Hermès and Jil Sander recommend minimalist and calf and ankle grazing dress shapes, with sumptuous leather accents.
Loewe: the voluminous dress
Turn up the volume at your first special ocassion. Loewe's two-tone party dresses flirt with dramatic and poufed-up proportions and also features artisanally-inclined knot details.
Emporio Armani: the transparent dress
Embrace the body and opt for gauzy and featherlight fabrics. Emporio Armani's transparent dress is formed from a breezy transparent fabrics, for lighter-than-air luxury.
Fendi: the cut-out dress
A cheeky cut-out detal witll turn heads. Fendi balances the coy with the classic, with this elegant knitted dress. Its alluring backless detail is scintillating for show offs.
Saint Laurent: the strapless dress
A strapless dress boasts a couture level of chic. Discover Saint Laurent's sophisticated style, accented with elegant draping and pleating.
Valentino: the floral dress
Floral details always have fine form in spring. Valentino's take on bold blooms has a graphic twist. The Roman maison's party dresses feature precise petal cut-outs.