Aman Tokyo's new patisserie is a culinary destination
The legendary hotel's first standalone patisserie is a culinary theatre where customers can watch the highly skilled chefs at work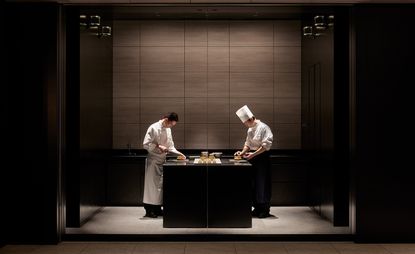 (Image credit: press)
The Aman aesthetic of serene and gracious hospitality in beautiful, natural surroundings has been firmly planted in our consciousness since the first Aman retreat opened its doors in Thailand in 1988. Since then, the brand's vision has expanded globally, with the Aman Tokyo taking its place as the first urban hotel in the collection. Now, in October 2021, Tokyo's Aman is launching its first standalone patisserie at the Ootemori Centre in the Otemachi Tower.
Designed by Tokyo-based Bond Design Studio Inc using a combination of traditional Japanese elements and dramatic modernism, with a variety of organic, textured materials layering the lofty space, La Pâtisserie by Aman Tokyo is a destination in itself. An uplifting guest experience was at the heart of the brief, and it is worth the trip for the culinary theatre alone, as a floor-to-ceiling glass-enclosed kitchen allows customers to watch the highly skilled chefs at work.
The patisserie counter is the focal point of the space. Formed from a monumental slab of igneous basalt stone, the counter places an unexpected piece of the organic outdoors in the centre of Tokyo's bustling business district, where office workers and city shoppers may now enjoy a taste of unique Aman style.
The new venture has been guided by the expert eye of executive pastry chef Yoshihisa Miyagawa, who has been creating exquisite delicacies at the Aman Tokyo since it opened in 2014. 'Opening a patisserie has always been a dream of mine, so I have put my heart and soul into this project,' says Miyagawa, who has left no stone unturned in pursuit of the very best suppliers in Japan.
Artisanal breads such as pain de campagne are made with organic wheat sourced from Tokachi in Hokkaido province, which is known for its quality. Every recipe has been honed to achieve an elegant simplicity that allows the outstanding ingredients to shine.
The talented patissiers create beautiful cakes and pastries such as mille feuille framboise, baba à l'Armagnac, and tarte au chocolat, while delectable sandwiches and artisan coffee are also available to go.
La Pâtisserie comes complete with a shop offering a range of exclusive branded gift items, including preserves and handmade chocolates, and small pastries presented in Japanese kōbako boxes. The whole experience offers visitors the chance to step outside the hectic rigours of daily life for a cup of soothing Aman serenity and a perfectly made croissant.
INFORMATION
aman.com (opens in new tab)
Melina Keays is the entertaining director of Wallpaper*. She has been part of the brand since the magazine's launch in 1996, and is responsible for entertaining content across the print and digital platforms, and for Wallpaper's creative agency Bespoke. A native Londoner, Melina takes inspiration from the whole spectrum of art and design – including film, literature, and fashion. Her work for the brand involves curating content, writing, and creative direction – conceiving luxury interior landscapes with a focus on food, drinks, and entertaining in all its forms