Tekla encourages slow living and buying for longevity
Wrap up in Copenhagen-based lifestyle label Tekla's new dove blue and winter white organic cotton percale weave bedding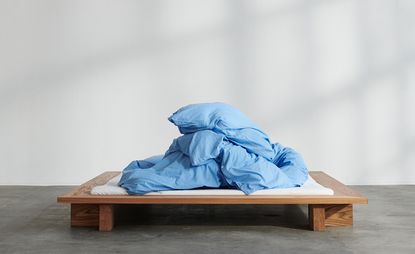 (Image credit: press)
'I bought a puppy!' laughs Charlie Hedin, of life in lockdown in Copenhagen. Despite the welcome of an energetic, barking presence into his home, the founder of sustainable lifestyle label Tekla has found the slowing down of life's pace soothing. 'I feel more efficient and have more quality in my life,' he says. 'I've wondered what I was running from before?'

Life quality is something that Hedin has bought to shoppers since 2017. Tekla's sustainably minded homeware textiles – which range from striped terry robes to the best blankets in merino tartan, French linen bedspreads to organic cotton towels – appeal to those with searching for timeless, eco-aware and affordable designs. Hedin, who is well versed in the frenetic pace of the fashion world (he was a former Acne staffer and a co-founder of Eyty's), launched the label in a bid for slower paced design, that subverted seasonal trends and bought a modern sensitivity to soft furnishings. 'We're creating pieces that are going to exist for a long time,' he says. 'We really sell feelings.'
Good feelings arise from the tones, textures and fabrics that Tekla use. Oeko-Tex-certified terry cotton dressing gowns are free from chemicals and are extra combed, for super soft touch on the skin. Organic cotton percale weave bedding is stonewashed for a matte slept-in sensibility. Colours are selected for long lasting appeal, and new sleeptime shades include a room warming winter white and dove blue, inspired by the hues representing the seasonal shift from winter to spring. 'Tekla is about creating a universe where people can come and be inspired,' Hedin says. Then they can make up their own world.'
The emotional importance of the world we build behind our four walls has never been more prescient. In recent years, consumers have become more attuned to the importance of buying for longevity, instead of relentlessly pursuing trends. 'You don't need to change your bedding every two seasons,' Hedin says. 'That's not the mentality when it comes to home textiles'.
RELATED STORY
It's a mindset that attunes with Tekla's recent collaboration with John Pawson – a series of mohair and merino wool blankets, which were inspired by the design of the British architect's Home Farm residence in the Cotswolds. The brand's first sleepwear collection is set to launch later this summer.

'People have started being much more considerate about meditation and taking care of themselves,' Hedin adds. 'I think the concept behind Tekla goes hand in hand with this.' As life today has become even more uncertain, we suggest a snuggle up inside something sustainable, timeless and tactile. Tekla's dove blue bedding provides a splendid acoutrement for spring.
INFORMATION