3D-printed portable toilet 'The Throne' offers a snazzier place to answer nature's call
3D-printed from upcycled single-use medical plastic, 'The Throne' by To.org and Nagami reinvents the portable toilet and brings an 'unsexy conversation' about sanitation to the forefront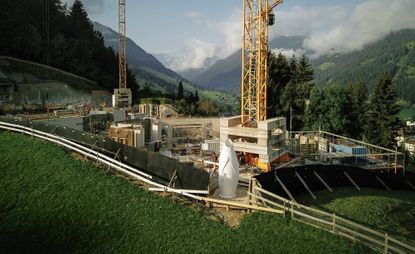 (Image credit: Dmitry Kostyukov)
Wallpaper* Newsletter
Receive our daily digest of inspiration, escapism and design stories from around the world direct to your inbox
Thank you for signing up to Wallpaper. You will receive a verification email shortly.
There was a problem. Please refresh the page and try again.
Portable toilets are unglamorous things. Often made from polyurethane, which is lightweight, easy to mould but notoriously difficult to recycle, they are designed for functionality rather than form, and one prefers to spend as little time in them as possible. Across the venues that require them – festivals, campsites and construction sites for example – they should ideally be concealed, lest they get in the way of work or pleasure.
The Throne: reinventing the portable toilet
A new portable toilet, installed amid the picturesque landscape of Gstaad in August 2021, aims to challenge this paradigm. Tagged 'The Throne', it has been commissioned by To.org – a foundation that creates, funds and cross-pollinates initiatives that address the world's most pressing social and environmental challenges – and made by Nagami, a Spanish studio that specialises in computational design. Its streamlined form vaguely resembles a rocket (tapered at the top and bottom, bulging at the core and with a slightly truncated base), and importantly, the bulk of the design has been 3D-printed from discarded single-use plastics from medical facilities, sourced by a Dutch company called Reflow.
'It was last October when we broke ground here on a new project,' says To.org co-founder and CEO Nachson Mimran of The Throne's genesis. 'As I arrived on the construction site, I needed the loo and walked into one of the portable toilets that we're used to seeing in these types of places. I didn't enjoy my few minutes in this cubicle, and came out wondering if we could do something different.'
To.org: from bottle brick to 3D-printing
To.org has worked extensively on the African continent, particularly in the impoverished neighbourhood of Kyebando in Kampala, Uganda. Through its Shadowman Van project, inspired by a Richard Hambleton artwork that Mimran had acquired at an Amfar auction (a 1977 Chevrolet ice cream truck, painted over by the artist and since transformed into a space for creative conversations), it installed replica, static ice cream vans with video conferencing equipment at these locations. The vans are connected with one another and with the original, which sits at The Alpina Gstaad, the hotel where Mimran serves as chairman and creative director (the Alpina won a Wallpaper* Design Award in 2013 for 'Best winter retreat').
A Shadowman Van, installed by To.org in the neighbourhood of Kyebando in Kampala, Uganda, enables dialogues between To.org's creative activists in Uganda and the rest of the world
'It was a way to have a dialogue remotely with our friends, using the vans as a hub to bring forward ideas and discuss the challenges they're facing,' Mimran explains. One of the realisations was that there was really no sanitation in Kyebando; so in 2018, To.org orchestrated the creation of a toilet building made from plastic bottles that had been stuffed with discarded polythene bags. The Bottle Brick Toilet, as it was called, wound up comprising 13,356 bottles and over a million bags, employing more than 400 people during its construction and offering a safe and private spot for locals to relieve themselves and attend to their menstrual needs.
The hype surrounding the Bottle Brick Toilet enabled To.org to partner with a non-profit called GiveLove, to construct further sustainable and hygienic public toilets in Kyebando that could simultaneously address the challenges of human and plastic waste.
Completed in 2018, To.org's Bottle Brick Toilet in Kyebando comprises 13,356 bottles and over a million bags, and employed more than 400 people during its construction
The Throne shares the same ethos as these earlier toilets, though its sleek, futuristic design places it on the opposite end of the visual spectrum. One of the core goals of the new project was to explore additive manufacturing, which has the potential to revolutionise construction especially in developing countries. Mimran and Nagami's CEO, Manuel Jimenez García, bonded over their shared interest in this technology at a London event in 2019 and have been bouncing around ideas since, including for a 3D-printed pavilion, inspired by igloos, that could serve a similar function to the Shadowman Vans. Alongside, it made sense to work on a portable toilet so the pavilion could be placed in remote locations that lack sanitary facilities.
RELATED STORY
Designing The Throne
The shape of The Throne nods to the similarly organic, clamshell-like form of the pavilion, currently a work in progress. The choice of colour, a brilliant white, serves to align their aesthetics, the widened core of The Throne gives the user more space to move around, while an almond-shaped sliding door helps keep its physical footprint to a minimum and adds a sense of ceremony to entering and exiting. A skylight enables natural illumination and, in fine weather, offers a vertical view to brighten one's day. Inside, an inbuilt shelf allows storage of toilet paper and a place for the user to put down their phone, while separate containers for solid and liquid waste facilitate eventual composting. An additional container accommodates wood chips to eliminate undesirable smells.
Using a seven-axis robotic 3D printer produced by ABB, Nagami was able to print the main components of The Throne in three days (the body, door, and a bucket for solid waste; the base and some smaller accessories were either injection-moulded or ordered). A rapid turnaround for sure, though Mimran admits that there is some way to go before a similar Throne can be produced in Uganda. While To.org, alongside local NGO You & I Foundation, runs a fab lab in Kyebando that has an advanced 3D printer, Nagami's printer has greater energy and maintenance requirements and requires more extensive training for a bigger team. There are other design challenges – unlike traditional portable toilets, The Throne is not stackable, which makes it more difficult to scale.
The Throne currently exists as an edition of one, but rather than treating it as a display piece, Mimran has put it to work on the same construction site where he had come up with the idea for its creation, and made it accessible to everyone. 'A public toilet is a public toilet. If our team at the construction site enjoy this moment, as much as I enjoyed testing it, they would probably be in a better mood to perform the work that they do.' He is thrilled with the response so far, both from leading architects and designers whom he recently hosted in Gstaad for a creative workshop, and from local kids whom he's seen 'running up and down the hill to pay their respects to this foreign looking object at the top'.
Creative activism and the future of manufacturing
Mimran would like The Throne to serve as a provocation: it brings an 'unsexy conversation' about sanitation to the forefront, and also encourages mass additive manufacturing providers to accelerate The Throne's path to existence in more remote places. He adds, 'We believe that this technology needs to go through the same kind of processes as photovoltaics went through – it used to be a luxury to harness the sun for its energy, and now it's probably one of the cheapest sources.'
Nagami's Jímenez Garcia concurs: 'We hope that this exercise of rethinking an incredibly banal object such as a portable toilet will inspire a new generation of designers and makers to really erase every preconception of what an object should be.'
To.org co-founder and CEO Nachson Mimran, and Nagami CEO Manuel Jimenez García explain the story behind The Throne. Video courtesy of To.org
INFORMATION
Receive our daily digest of inspiration, escapism and design stories from around the world direct to your inbox
TF Chan is a former editor of Wallpaper* (2020-23), where he was responsible for the monthly print magazine, planning, commissioning, editing and writing long-lead content across all pillars. He also played a leading role in multi-channel editorial franchises, such as Wallpaper's annual Design Awards, Guest Editor takeovers and Next Generation series. He aims to create world-class, visually-driven content while championing diversity, international representation and social impact. TF joined Wallpaper* as an intern in January 2013, and served as its commissioning editor from 2017-20, winning a 30 under 30 New Talent Award from the Professional Publishers' Association. Born and raised in Hong Kong, he holds an undergraduate degree in history from Princeton University.
With contributions from