Sustainable furniture: responsible chairs made from recycled materials
Designers such as Tom Dixon, Nendo and Konstantin Grcic have upped their sustainability efforts, with ongoing R&D resulting in sustainable furniture collections, including garden furniture, that merge good design with a responsible approach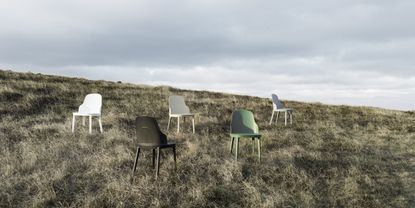 (Image credit: press)
If you're seeking sustainable furniture with timeless design, look no further: the design world has been channelling its efforts into material research, pushing towards a more circular way of producing furniture, and these chairs are the ready-to-use results of extensive experimentation. This next generation of sustainable chairs is modular, stackable, can be made with minimum waste and has durability at its core. Discover our pick of carefully considered furniture, including seats that are perfect for use everywhere in the home, as well as sustainable garden furniture for the warm season.
Sustainable furniture: chairs by the world's leading designers
'RCP2' chair by Jane Atfield
When the British designer Jane Atfield first created her now-iconic 'RCP2' chair in 1992, it was groundbreaking. Austere in form and made from recycled high-density polyethylene board derived from plastic bottles, the chair almost appears painted because of its speckled, multi-coloured surface. The board was made by pressing and heating plastic chips so that the fragments and shards were maintained in the material's final state. Atfield made the board herself, gathering bottles of suntan lotion, washing up liquid and shampoo from community collection points. New York gallerist Emma Scully has commissioned new limited-edition colours of the chair to celebrate its 30th anniversary. Working with Atfield's original plastic manufacturer, Yemm and Hart, whose recycled plastic board inspired Atfield's later version, Scully's new colourways include a multi-coloured confetti iteration of the original prototype, a blue version of the chair that's in the permanent design collection of the Victoria & Albert Museum in London and a completely new black and white version. Writer: Pei-Ru Keh
emmascullygallery.com (opens in new tab)
'The Everyday Chair 2021' by Yriö Kukkapuro for Spinnova
Finnish designer Yrjö Kukkapuro (opens in new tab) teamed up with material innovation specialist Spinnova to create a responsible seat designed to merge the needs of remote working (opens in new tab) with the comfort of a lounge chair. 'The Everyday Chair is based on the principles of minimalism and circularity,' says Kukkapuro. 'I didn't waste any virgin natural resources on it, but instead used components left over from my previous projects. Minimalism and practicality can also be seen in the product's weight, which is only 8kg and makes the chair easy to move around.' The chair's textile (opens in new tab) elements are made of Spinnova fibre, a fully recyclable natural fibre created without chemicals and boasting fresh-water and CO2 footprints significantly smaller than those of cotton.
yrjokukkapuro.com (opens in new tab)
Sustainable aluminium chairs
'Hydro' chair by Tom Dixon and Hydro
Tom Dixon has created the 'Hydro' chair using 100 per cent recycled aluminium in collaboration with Norwegian aluminium producer Hydro (whom Wallpaper* enlisted to create a trike in collaboration with Konstantin Grcic, Cake and Polestar for Re-Made in 2020). The chair forms an important innovation in manufacturing technology: to create its shape, it was blow-formed at high temperatures and then laser-cut by robots – a manufacturing method developed by the automotive industry, with the Hydro chair being manufactured in Canada by Tesla sub-suppliers.
The chair's ballooned pattern helps to make it firmer while contributing to its pop, humorous aesthetic. The final result (somewhere between a sculpture and a functional piece of furniture) is a sustainable chair that is light and stackable, suitable for indoors and outdoors. The chair was launched as part of Tom Dixon's '24 Hours in Milan' initiative, the Milanese stop in his ongoing series of virtual design events, paying tribute to the Italian design capital and its creative energy.
tomdixon.net (opens in new tab)
'Ultraleggera 1660' chair by Oskar Zieta
Polish designer Oskar Zieta was inspired by Gio Ponti's 'Ultraleggera' chair for his eponymous aluminium creation. 'The world's lightest chair,' is named after Ponti's design and its own weight, just 1660 grams. The monobloc design features a durable frame (perfect for indoor and outdoor) made with innovative FiDU technology, with a laser-cut perforated seat and backrest. Through this manufacturing method, air is used to expand and deform the metal, essentially designing with air through a technique that is both material and energy-saving.
zieta.pl (opens in new tab)
Contemporary sustainable chairs for the home
'N02 Recycle' by Nendo for Fritz Hansen
Danish furniture brand Fritz Hansen's 'N02 Recycle' chair by Nendo is made from 100 per cent recycled plastic household waste (a material that can also be recycled again). Nendo's simple creation is defined by the designer's ability to instil wonder in everyday items. His design for the sustainable chair features a round surface embracing the body, with a backrest characterised by a fold supporting the lower back. Available in seven nature-inspired colours, the chair design was developed as part of a five-piece family, including a four-leg stackable variant, an option with armrests, a sled base, and a swivel chair.
fritzhansen.com (opens in new tab)
'T07 Sling' lounge chair by Sam Hecht and Kim Colin for Takt
One of the brands leading the way in sustainability (and a certified B-Corp), Takt has launched a new chair designed by Sam Hecht and Kim Colin. The 'T07 Sling' lounge chair was designed as a response to how we live now: Hecht and Colin considered the way people sit and lounge in the home, and adjusted their design accordingly to create a comfortable lounge chair that can be picked up and moved around. The simple chair features a natural linen fabric seat, hung hammock-like between two solid oak sides. 'Although it is minimal in the sense that every shape and part of the chair has a functional reason for being, it still comes across with its very own personality,' says Takt design director Nicolai de Gier. Like all of the brand's products, 'T07 Sling' is easy to assemble and is certified with the EU Ecolabel (guaranteeing high environmental standards): Takt calculated that the production of Sling (model without armrest) generates 17.1kg CO2-e – equivalent to just 50 lattes or 1.6 pieces of steak.
taktcph.com (opens in new tab)
'Evolve' chair by Tom Robinson
Tom Robinson looked at discarded consumer electronics to source the 100 per cent recycled plastic for his 'Evolve' chair. The final material is the result of crushing the discarded equipment, breaking it down into pellets and fusing it to make strong plastic sheets – a process that doesn't produce any carbon emissions and that is perfect for sustainable furniture. The plastic sheets are machined into furniture components – in Robinson's case, domino-like elements he joined together to create the minimal design. The chair can be assembled and disassembled using an Allen key, making it easy to transport or store. It is ergonomic and weatherproof, making it ideal for indoor and outdoor use.
tomrobinson.cc (opens in new tab)
RELATED STORY
Sustainable garden furniture for an eco-friendly approach to your balcony
'Allez' chair by Simon Legald for Normann Copenhagen
Normann Copenhagen presents the café chair of the future – with numerous uses and created with sustainability at its core. Designed by Simon Legald, the 'Allez' chair is a versatile piece ideal for indoor and outdoor use. The chair is inspired by French bistro culture and Wiener chairs, updated with a contemporary design language. It is made in Italy by a specialist plastic foundry from a moulded polypropylene that can be recycled multiple times without losing its strength and durability. The manufacturing process is calculated to use only the exact material needed to make the chair without waste – it weighs in at only 3.6kg.
normann-copenhagen.com (opens in new tab)
'3D' chair by Komplot for Gubi
Prep your balcony for the warm season with this collection of sustainable garden furniture. In 2003, Komplot and Gubi collaborated on a chair that for the first time incorporated three-dimensional veneer technology into the Danish company's manufacture. Nearly two decades later, Gubi has gone back to the project and is now reissuing the chair in a new environmentally friendly version made of recycled plastic (a material that also makes it a perfect outdoor chair). The chair's new injection-moulded forms remain faithful to Komplot's original stackable design, defined by a curved shell with an organic appearance. 'The Gubi "3D" chair was designed with passion and a smile. The new recycled edition has an informal and welcoming aesthetic,' say its designers Boris Berlin and Poul Christiansen. The new model is made of post-industrial plastic, the company explains, a special compound giving a second life to discarded boxes, packaging and used technical components. The material is treated with a UV additive to protect it from sun damage, with a small percentage of virgin plastic added to the mix to ensure durability. The chair is designed to be disassembled and recycled at the end of its lifespan.
gubi.com (opens in new tab)
'Ocean' collection by Nanna Ditzel, reissued by Mater
A historical design updated for modern living, Nanna Ditzel's set of garden chairs and table (originally made of wood veneer) was recreated by Danish company Mater in ocean-waste plastic. 'I feel that manufacturers have a responsibility to look seriously into waste and upcycling – to take what has zero value, or what is, in fact, a problem for the planet, and mature it through nice designs from the past or present,' said Henrik Marstrand, Mater founder and CEO, when the collection first caught our eye and was awarded a 2019 Wallpaper* Design Award (opens in new tab). 'If we can create a product that is attractive, functional and durable, while cleaning up after the side effects of our collective consumerism, it's a win-win.' Nanna Ditzel's sustainable garden furniture merges a modern appeal with contemporary production methods, making it a perfect chair for today. Further projects by the Danish company include a series of furniture designs by Danish architect Eva Harlou, in a material created by Mater from low-value waste from Carlsberg's beer production.
materdesign.dk (opens in new tab)
Home to home office: multifunctional recycled furniture
'Phoenix' chair by Luca Nichetto for Offecct
Luca Nichetto's 'Phoenix' chair was created with Offecct's 'lifecycle philosophy' in mind: each detail was carefully conceived by the Italian designer to create a chair that has a long, sustainable and flexible life. The Y-shaped base of the chair is crafted from durable recycled aluminium, while the upholstered elements can be removed, recycled, and replaced to change the chair's look or function over time. 'The idea is based on the extremely strong and flexible structure,' says Nichetto, who was inspired by the frame of children's swings. 'To me, it's a perfect example of what design is all about: working in collaboration with the industry.'
'Bell' chair by Konstantin Grcic for Magis
Konstantin Grcic's new monobloc chair for Magis is made from a specially developed, patented polypropylene, recycled from the automotive industry and from the company's own furniture production. Weighing just 2.7kg (a good half-kilo lighter than similar plastic chairs on the market), the 'Bell' chair is characterised by a shell-shaped seat that makes it infinitely stackable. Magis also developed a system of logistics to ensure minimum waste, including a special delivery pallet that saves space during shipping and doubles as retail display. 'Our aim was to develop a high-quality chair with the bare minimum of material,' says Grcic. 'We did ask ourselves whether the world needed such a chair in the first place. I was quite critical at first, but the more I got into it, the more I could see a great opportunity for our project. We saw interesting potential in creating a very economical, but well-designed, well-engineered chair.' The chair is a 2021 Wallpaper* Design Award winner in the Best Use of Material (opens in new tab)category.
magisdesign.com (opens in new tab)
'Tip Ton RE' by Barber Osgerby for Vitra
British designers Edward Barber and Jay Osgerby revisit their 'Tip Ton' chair for Vitra, updating it with a sustainable spin. Defined by a forward-tilt movement (replicating that of office chairs), the design is now available in a new material made of local upcycled household waste. Both models follow Vitra's commitment to creating furniture using as few components as possible; the chairs are manufactured from a single mould and without mechanical components, are durable and recyclable. Material research is an essential branch of Vitra's work, and the new 'Tip Ton RE' is the first product to bear the result of these efforts. Says the brand's chief design officer Christian Grosen Rasmussen: 'We wanted to keep the material as clean as possible, so what you see is what you get. In the grey there are tiny speckles of other colours that will vary a little from chair to chair. But for me that adds interest, it pushes our perception of what plastic is. The slight variation in the recycled material adds depth and gives it a story, like the way the structure of a piece of wood tells you how the tree grew.'
vitra.com (opens in new tab)
Rosa Bertoli was born in Udine, Italy, and now lives in London. Since 2014, she has been the Design Editor of Wallpaper*, where she oversees design content for the print and online editions, as well as special editorial projects. Through her role at Wallpaper*, she has written extensively about all areas of design. Rosa has been speaker and moderator for various design talks and conferences including London Craft Week, Maison & Objet, The Italian Cultural Institute (London), Clippings, Zaha Hadid Design, Kartell and Frieze Art Fair. Rosa has been on judging panels for the Chart Architecture Award, the Dutch Design Awards and the DesignGuild Marks. She has written for numerous English and Italian language publications, and worked as a content and communication consultant for fashion and design brands.